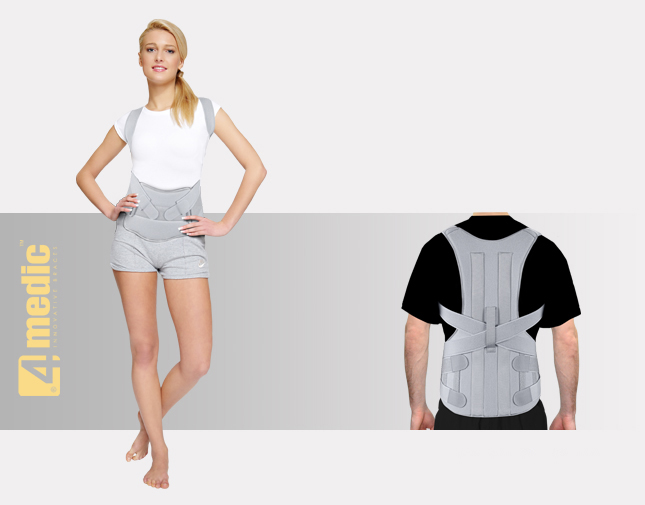 GRACE
OSTEOPOROTIC TLSO BRACE
Product description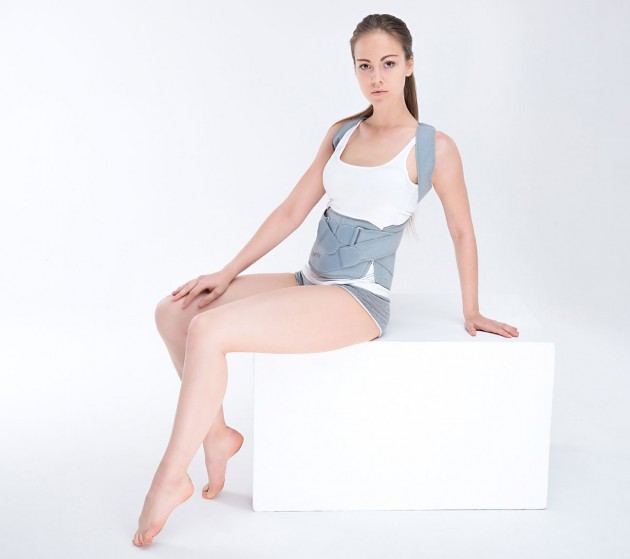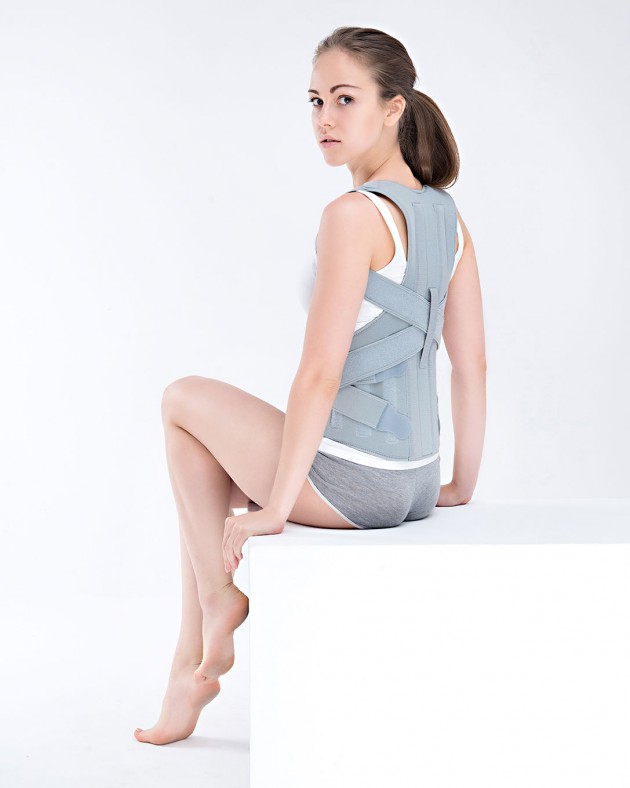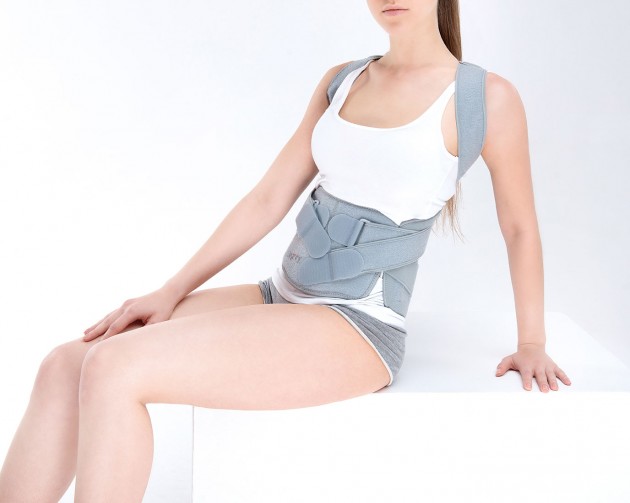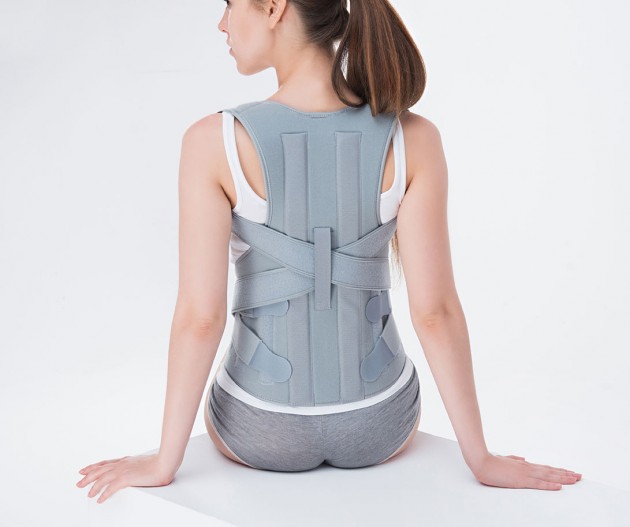 AM-WSK Osteoporotic Corset was developed as the supporting structure for immobilization and stabilization of spine affected by osteoporosis. The orthosis restricts the movement to the affected area taking the extra burden off the muscles.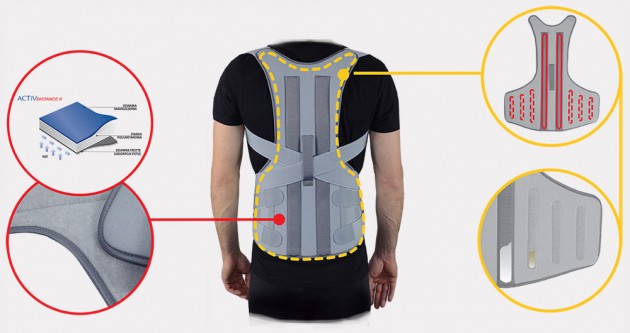 AM-WSK Osteoporotic Corset was made of ActivDistance II.
The back side of Corset was developed according anatomical shape, which is provided with two long orthopaedic stays made of aluminum. Furthermore, the orthosis is equipped with 6 plastic stays in order to improve stabilization on lateral and lumbar area. Whole range of adjustment on waist is obtained thanks to the front fastening tape with adhesion function.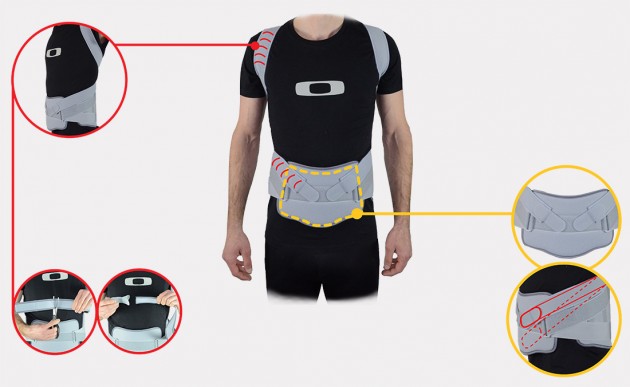 The orthosis is provided with non-elastic shoulder fasteners with regulation system (fit and cut-away). The regulation system consists in adherent Velcro tips on each shoulder fastener, which could be stick after first adjustment.
The semi-rigid front panel is assembled to the back construction by waist fasteners.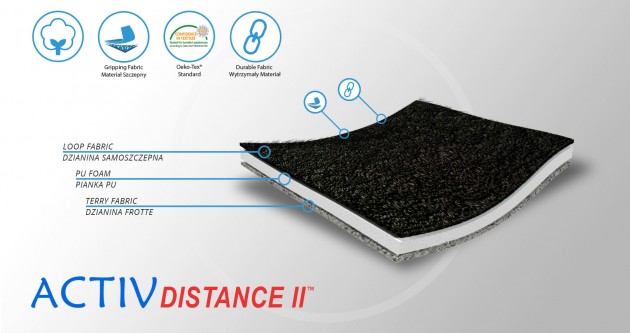 Available sizes
Size
Waist circumference
Distance from T3 to the coccyx
How to measure
S
min 65 cm – max 125 cm
(min 25,6″ – max 49,2″)
45-48 cm
(17,7″-18,9″)
M
48,5-51 cm
(18,9″-20,1″)
L
min 65 cm – max 145 cm
(min 25,6″ – max 57,1″)
51,5-54 cm
(20,1″-21,3″)
XL
54,5-57 cm
(21,3″-22,4″)
XXL
57,5-60 cm and above
(22,4″-23,6″ and above)
Properties
- SKIN-FRIENDLY PRODUCT – The lumbar support is made of Distance Active II, breathable and comfortable innovative fabric, with 100% cotton terry cloth in contact with the skin.
- HIGH EFFECTIVENESS OF STABILIZATION – thanks to six anatomically shaped plastic stays and two long aluminum stays on back the improves stabilization of spine affected by osteoporosis.
- SAFETY – the front securing tapes increase the use safety of the product and eliminate the possibility of the uncontrolled opening of the device.
-PROVIDES immobilization and great level of stabilization, back pain reduction, correct posture of spine.
Indications
- Pre- and Post-Surgical Stabilization
- Degenerative Spinal pathologies
- Osteoporosis
- Disc Hernia
- Spondylolithesis
- Spondylolysis
- Acute Back Pain
- Spine Instability
- Rehabilitation and Prevention
Setting up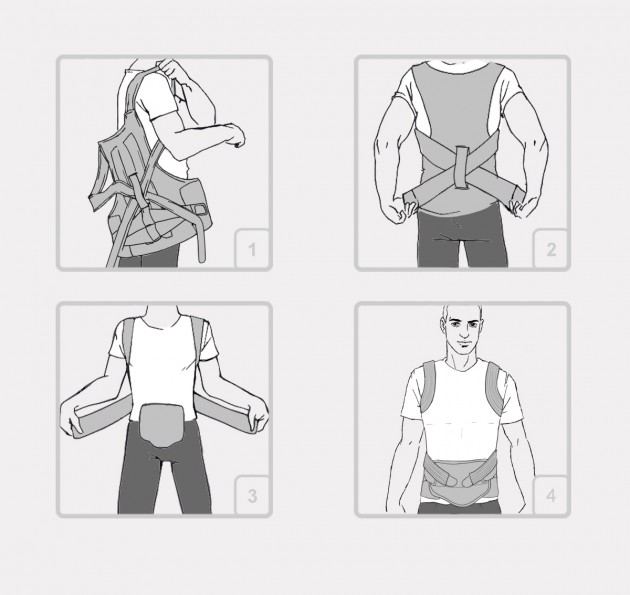 Downloads

Medical products class 1 – conforming the directive of the Board (93/42/EWG) concerning medical products. Producer of orthopedic and medical products, firma REH4MAT issued appropriate EC declaration of conformity.