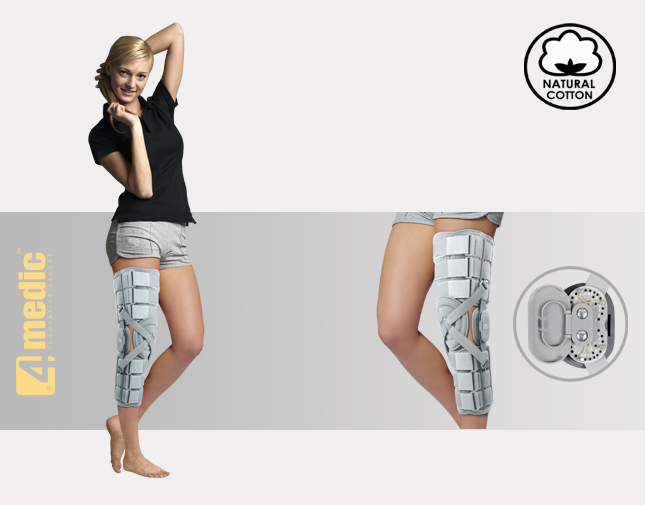 POST-OPERATIVE KNEE BRACE WITH POLYCENTRIC 20° ROM ADJUSTMENT AND KNEECAP SUPPORT
Product description
The Post-operative knee brace Startech 2R consists:
Two open sleeves – for tight and shin – which can be easily put on and precisely fitted to the size of the lower limb.
Orthopedic splints with system of fastening.
Set of Velcro straps.
Front knee cap with the fastening adjustment.
The product is equipped with 2 double-axis side splints with gear rack and adjustment of flexion and extension, made of high quality sanding aluminium. The splints are placed in form of X, which makes the product fit perfectly the protected limb and provide very good knee stabilization. The swivel of the splints is very similar to anatomical knee movement and is equipped with 20o ROM adjustment. This ROM adjustment is very easy and using the extra tools is unnecessary. The splints provide the side knee stabilization and their independent attachment system to the sleeves of tight and shin allows to fit the splints to the sleeves according to the patient's needs. Set of Velcro straps provides exact knee immobilization and stabilization. The frontal kneecap allows to use the immobilizer Startech 2R during the standing rehabilitation of the paraplegic patients. Additionally, special small cushions are used to protect the knee sidewise.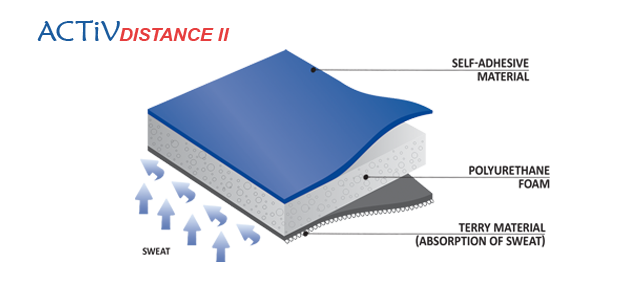 Purpose of use
The device should be used in following cases:
paraplegia or hemiplegia
in rehabilitation of gait (e.g. after stroke)
as an immobilizer during the knee injuries
in prevention against knee contractures
Available sizes
Size
(A) Thigh circumference 15 cm above the center of the patella
(B) Calf circumference 15 cm below the center of the patella
(C) Length of splint
How to measure
S
min. 44 – max. 75 cm
min. 34 – max. 55 cm
38 cm
M
47 cm
L
53 cm
Setting up

Splints 2R
The splints 2R are double axis polycentric splints, with rack gear which copies the anatomic knee movement. Such splints are used in all knee joint braces where is important ROM adjustment and lateral stabilization of the joint. The splints are manufactured with high quality of durable covered sanding aluminium, which is neutral for sweat and salt. The ROM adjustment is achieved by special pins in every 20o degrees. The splints are equipped with special oval covers to prevent the pins from falling out as well as from changing of the angle by unauthorized people. Standard length of the splint is 390 mm. The splint's construction and design is patent in European Union by Reh4Mat Company.