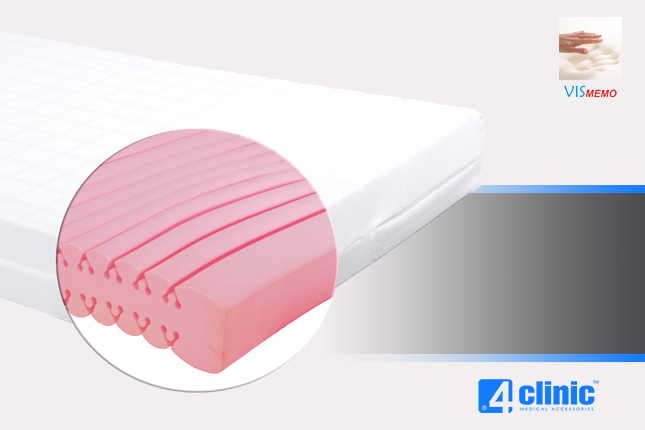 DOUBLE-SIDED ANTI-BEDSORE MATTRESS WITH COTTON COVER
Product description
Double-sided anti-bedsores Mattress MP-VM-D-B/B VISmemo was developed in order to prevent pressure ulcers, commonly called bed sores or pressure sores by dispersing pressure away from bone protrusions via alternating pressure. The mattress MP-VM-D-B/B is made of contoured thermoelastic memory foam. The own characteristics of memory foam softens in reaction to body heat, allowing it to mold to the shape of a body pressing against it, returning to its original shape once a pressure is removed. The pressure relief system helps to eliminate pressure points, provides comfort to the patient during sleep or lying down patients. The mattress is healthy for spine, joints, improves blood circulation and general patient mood.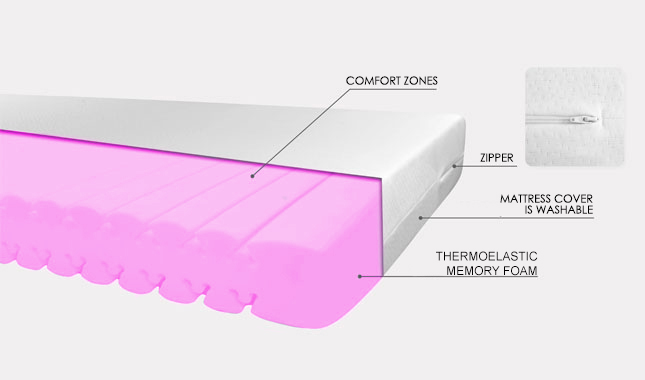 The mattress MP-VM-D-B/B is provided with Waterproof Cover which protects internal layer of foam from liquids which may spill on the mattress. Waterproof characteristic allows easy maintenance of the product and keep it dry, improving comfort of the lying down patient.


The MP-VM-D-B/B mattress overlay shapes to your body, thus creating the best possible pressure distribution.


"Normal" mattresses and pillows cause pressure points, creating discomfort.
The cover is made of soft cotton, which is airy friendly for patient's skin what allows to drain the warm out of the body. It ise quipped with the zipper which facilitates to maintenance and put it on the mattress on and off.
Thanks to its special construction you can use the both sides of the mattress what extends its using period.
Standard size of the mattress VISmemo: 200 x 90 x 15 cm. Dimension of the insert: 200 x 60 x 5 cm.
Note: The delivery period to 14 days
Downloads

Medical products class 1 – conforming the directive of the Board (93/42/EWG) concerning medical products. Producer of orthopedic and medical products, firma REH4MAT issued appropriate EC declaration of conformity.