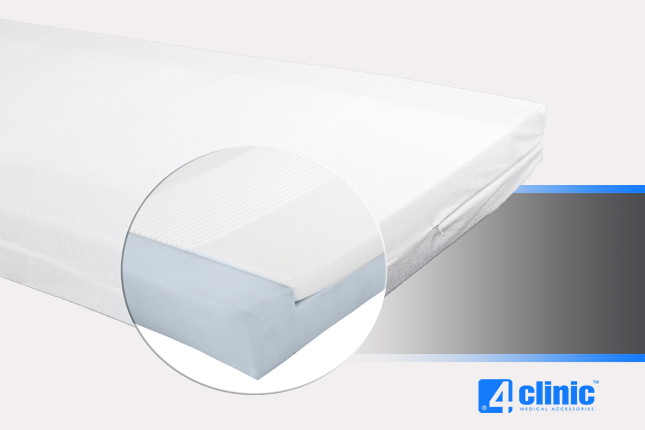 PRESSURE RELIEF MATTRESS VISMEMO IN FROTTE COVER
Product description
Anti-bedsores Mattress MP-VM-N/F VISmemo was developed in order to prevent pressure ulcers, commonly called bed sores or pressure sores by dispersing pressure away from bone protrusions via alternating pressure. The mattress MP-VM-N/F is made of contoured thermoelastic memory foam. The own characteristics of memory foam softens in reaction to body heat, allowing it to mold to the shape of a body pressing against it, returning to its original shape once a pressure is removed. The pressure relief system helps to eliminate pressure points, provides comfort to the patient during sleep or lying down patients. The mattress is healthy for spine, joints, improves blood circulation and general patient mood.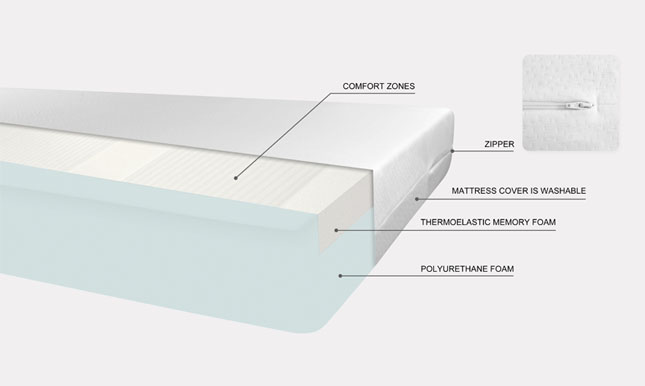 The mattress MP-VM-N/F is provided with Waterproof Cover which protects internal layer of foam from liquids which may spill on the mattress. Waterproof characteristic allows easy maintenance of the product and keep it dry, improving comfort of the lying down patient.


The MP-VM-N/F mattress overlay shapes to your body, thus creating the best possible pressure distribution.


"Normal" mattresses and pillows cause pressure points, creating discomfort.
The cover of the mattress was made of high quality polycotton fabric that is fully safe for patient's skin. The cover is really easy to clean and disinfect, so it may be used by few patients. The polycotton fabric is extremaly light and soft. The additional advantage of this material is being water resistant and permeable. The cover is equipped with a zipper what expedites putting the cover off and on. Thanks to that solution a patient is able to keep the it clean.
The cover is the perfect equipment destinated for health service, social welfare centres, pensions and nursing homes.
Maintenance of the anti-bedsore mattress
wash in maximum 90 °C,
do not disinfect with chlorine,
do not iron,
dry in unfolded position,
do not dry clean,
clean it from grime
The cotton side of the product should contact with the patient's skin. The cover is water resistant – at water pressure 250daPA in 5 minutes. Moreover, it is resistant to weak acids and alkalis, as well as disinfectants. The cover does not causa allergy or skin problems.
Standard size of the mattress VISmemo: 200 x 90 x 15 cm. Dimension of the insert: 200 x 60 x 5 cm.
Note: The delivery period to 14 days.
Downloads

Medical products class 1 – conforming the directive of the Board (93/42/EEC) concerning medical products. Producer of orthopedic and medical products, firm REH4MAT issued appropriate EC declaration of conformity.