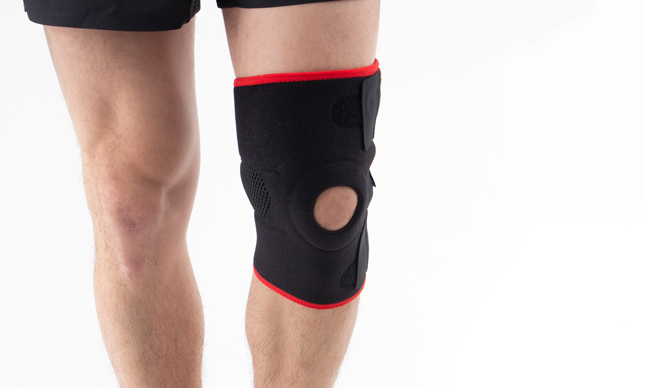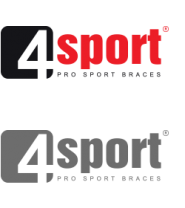 Knee brace

Anatomic patella donut

Breathable

Class 1 medical device

Compression

Double-sided

Latex-free

Skin-friendly

Universal size
WRAP-AROUND BREATHABLE KNEE BRACE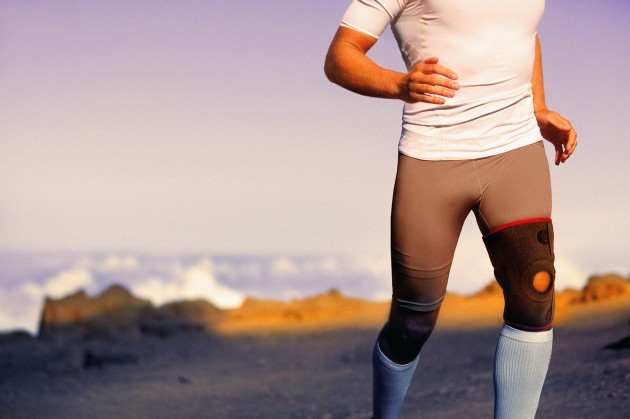 Common knee injuries
Knee joint is complex and susceptible to many types of injuries. It may occur in sport but also in case of daily activities such as physical or garden activity.
Knee is one of the largest joints in the human body. It can receive fractures, sprains, tears, dislocations, and other injuries. Usually, knee injuries are common among athletes who do not engage in proper form and technique or do not wear the correct equipment for their sport such as professional knee brace.
Where are common injuries located? Mostly, it seriously affects ligaments and the most common injury is torn anterior cruciate ligament (ACL). What's more, meniscus injuries, torn tendons and patellar dislocation are also common. All of them, even not serious, may lead to joint degeneration.
To avoid it, we recommend to use our excellent wrap-around breathable knee brace OKD-Z/F. It provides compression and prevents injuries on the one hand, on the other it allows skin to breath and increases the comfort of use.
Product description
Our knee brace OKD-Z/F is made of unique, innovative fabrics.
First is called UniPren.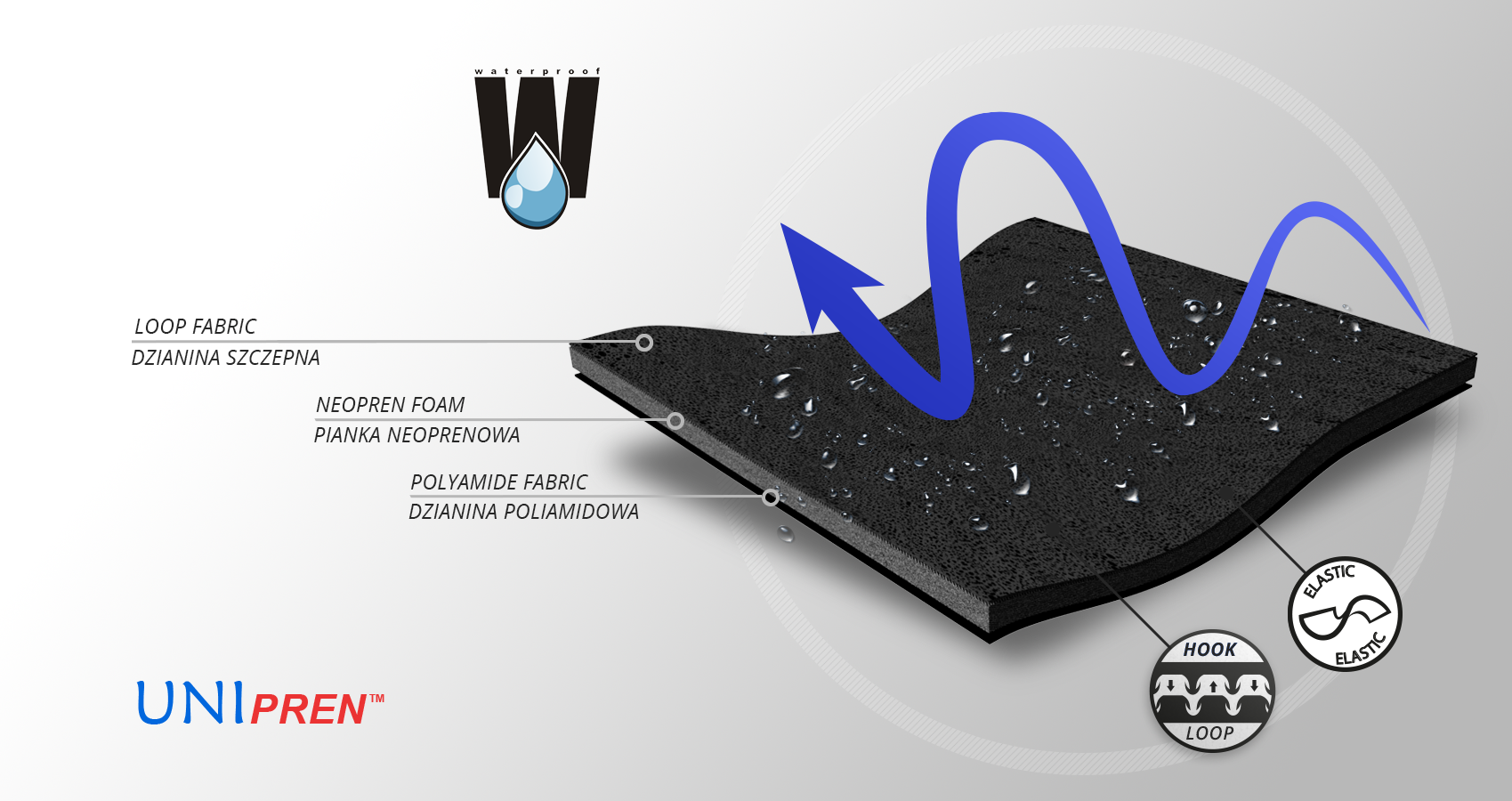 UniPren™ is universal 3-layered fabric made of external elastic polyamide self-gripping layer and internal perforated neoprene foam with elastic jersey. Foam's perforation improves the air circulation and maintains great skin's condition. Our fabric is soft and elastic and not knitted, what prevents skin against the skin abrasions in the compression zones. The braces made of UniPren provide the best stabilization in market. Self-gripping function of UniPren allows to fit the brace precisely. WATERPROOF MATERIAL.
Our second fabric is ActiveSpace.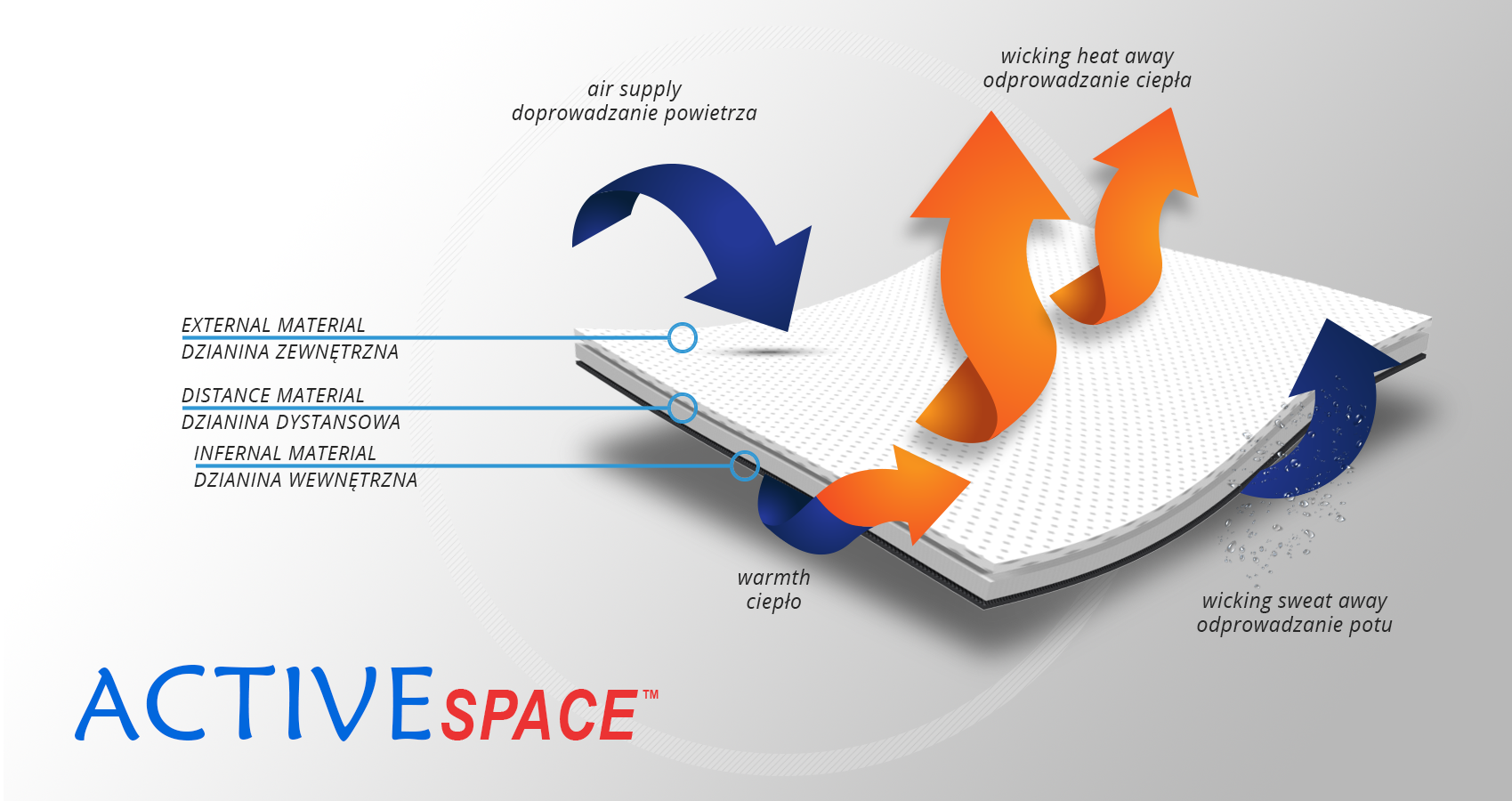 ActiveSpace™ is a spacer, polyamide 3D lamination with high skin ventilation. It is very lightweight, consisted of 2 layers. Between them, we use polyamide braids with 4 mm width. ActiveSpace™ is not elastic what improves stabilization. Inside the lamination, between 2 layers, the air flows freely, maintaining minimal water and moisture absorption. Waterproof material.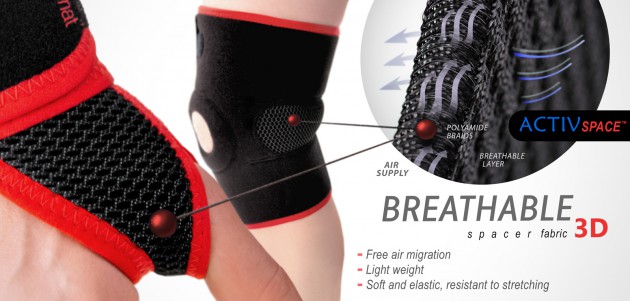 Wrap-around design of our OKD-Z/F knee brace allows to offer only one, universal size. You can fit it perfectly to your body's shape. Slightly elastic UniPren fabric regulates the temperatures and improves healing after injury.
What's more, our knee brace is equipped with patellar donut which maintains the proper kneecap alignment and prevents Patellofemoral Tracking Syndrome (PFTS), called "Runner's Knee".
Purpose of use
Knee dislocation,
Knee twist and sprain,
Side instability of the knee joint,
Knee ligaments LCL, MCL and ACL injuries
Knee ligaments reconstruction,
Other surgeries (orthopedic),
Acute and chronic patellar dislocation,
Lateral patellar dislocation after injury or innate,
Mild and medium knee pain syndrome,
Patellar maltracking.
Available sizes
Size
Knee circumference
How to measure
Universal
min 30 cm – max 45 cm
min 11,8″ – max 17,7″
Fits for both knees.
Total length of the product: 26cm
Downloads


Class I medical device in accordance with Regulation (EU) 2017/745 of the European Parliament and of the Council of 5 April 2017. on medical devices.