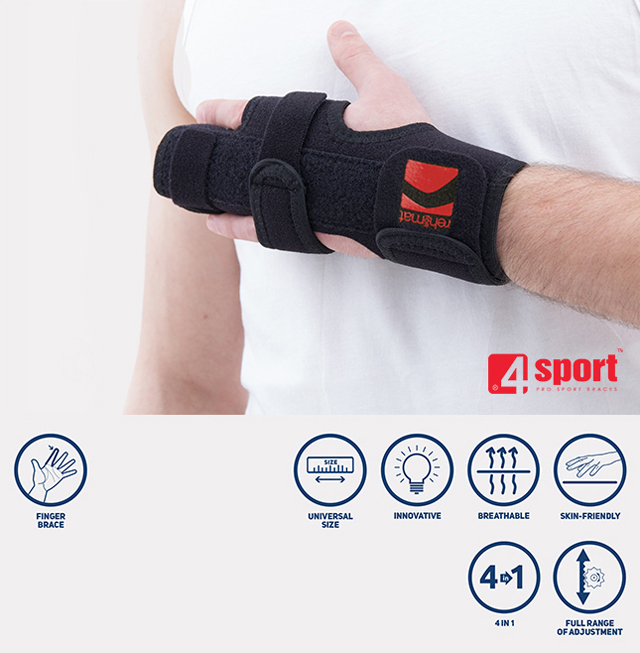 FINGERS BRACE FOR BOXER'S FRACTURE
Boxer's fracture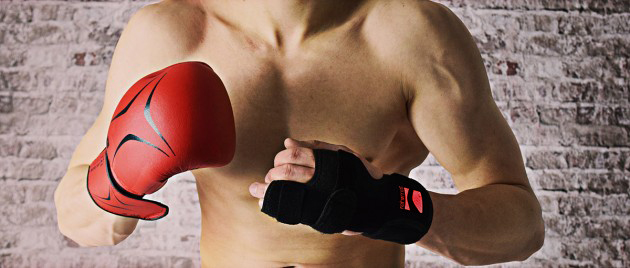 Boxer's fracture is a common condition also in daily activities, not only in sport. It is a fracture at the neck of the fourth and fifth bones that forms the knuckles of a hand. It occurs when patient strikes an object with a closed fist.
Boxer's fracture is divided into 2 types:
Brawler's fracture – the fracture occurs at the neck of the fifth metacarpal forming the knuckle of the little finger
Bar Room fracture – occurs at the neck of the fourth or fifth metacarpal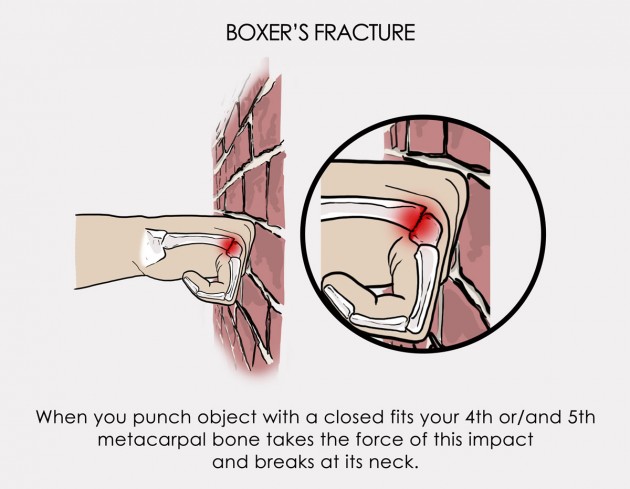 Typical symptoms of fracture are pain, swelling and bruising around the fourth and fifth bones. The first goal of treatment is immobilization the fingers to permit proper healing and reduce the pain. It's very important to remember about immobilization the joints above and below the site of injury.
For this purpose we highly recommend our fingers brace AM-SP-01 dedicated for boxer's fracture. Our fingers brace can be used for immobilization all fingers, except the thumb.
Product's description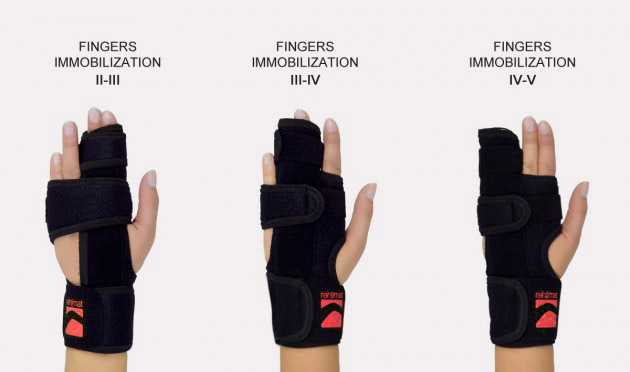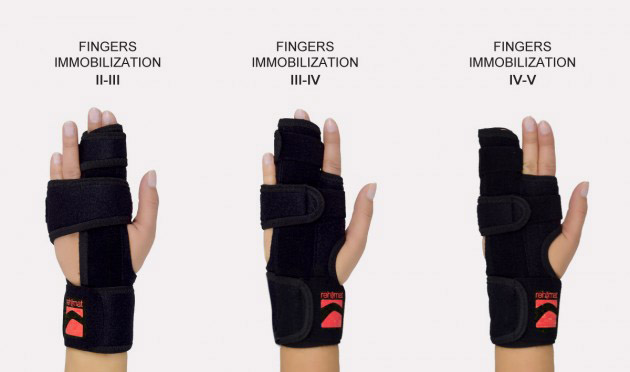 Our fingers brace AM-SP-01 is a great solution for treatment of fracture or dislocation of second to fifth fingers. Our brace immobilizes particular fingers, provides stabilization and range of motion control. Also, it can be used after surgery. It's the most universal fingers brace that can be used in all types of injuries such as: fractures, dislocation or strain ligaments.
AM-SP-01 is one size and can be used for both hands (left and right) for all fingers, except the thumb.
As opposed to plastic splints, our AM-SP-01 brace is lightweight and comfortable to use at day and night. The brace is elastic and self-gripping with Velcro tapes providing great fitting.
The brace is made of UniPren.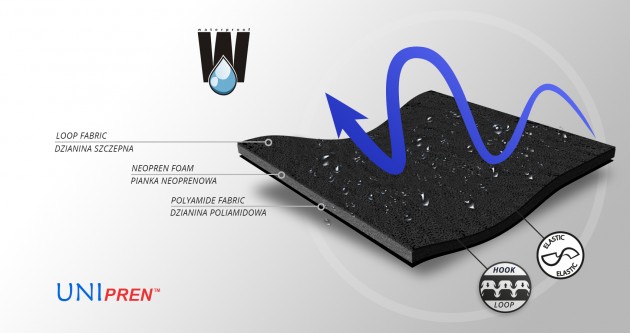 UniPren is universal 3-layered fabric made of external elastic polyamide self-gripping layer and internal neoprene foam with elastic jersey. Our fabric is soft and elastic and not knitted, what prevents skin against the skin abrasions in the compression zones. Self-gripping function of UniPren allows to fit the brace precisely.
Our fingers brace AM-SP-01 is waterproof device and can be used in water environment and hand wash. The brace is equipped with formable aluminum splint stabilizing the fingers. It has two independent places for splint and, depends on the injury, we can immobilize particular fingers. Our formable splint can be easily adjusted by physician in the required position.

Purpose of use
fracture of fourth to fifth fingers – Boxer's fracture (Bawler's and Bar Room fracture)
fractures of second to third metacarpal bones
cracked of second to fifth metacarpal bones
dislocation of second to fifth metacarpal bones
sprain of ligaments in metacarpal area
Available sizes
Size
Wrist circumference
How to measure
Universal,
fits both left and right hand
min 13 cm – max 26 cm
(min 5,1″ – max 10,2″)
Setting up
Downloads

Medical products class 1 – conforming the directive of the Board (93/42/EWG) concerning medical products. Producer of orthopedic and medical products, firma REH4MAT issued appropriate EC declaration of conformity.