The product is available while stocks last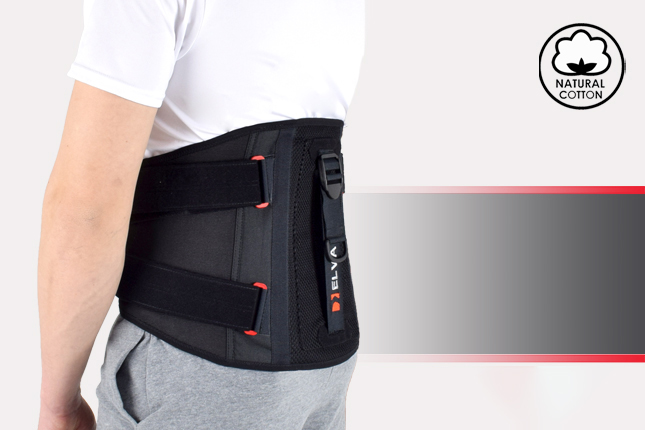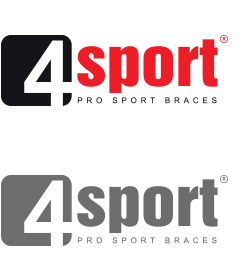 ELVA
ACTIVE LOWER BACK BRACE
The product is available while stocks last
Low back pain (LBP)
Lower back pain can be caused by a variety of problems with any parts of the spinal muscles, nerves, ligaments and lumbar discs.
Typical sources of low back pain include:
Irritation of the nerve roots
Strain of the large paired lower back muscles (erector spinae)
Damage of the bones, ligaments or joints
Degeneration of intervertebral discs
This kind of back problems cause discomfort and instability and also severe pain that goes to the buttocks, leg and foot (this symptom call sciatica).
There is necessary to remember that most back injuries do not occur due to a single event. In the majority of cases, repeated or sustained positions and activities, such as sedentary work or spine bending and twisting over many hours, day after day, make the low back more prone to injury.
People, who suffer from LBP, are mostly physical or office workers. One of the professions, who feel lower back pain the most, are construction and warehouse workers. In apprentice construction workers, 36% of LBP injuries were related to either prolonged static positions or bending and twisting movements1.
Furthermore, lifting and bending leads to lower back pain in 60% warehouse workers2.
Careers involving operations on vibrating tools (e.g. pneumatic drill) and driving the machine excavator or crane were also reported as high risk3.
Is back pain felt all the time?
Ironically, spine is the most painful in the morning, about 1-2 hours after raising from bed. It is because there is significantly greater pressure and stiffness in the discs of our spine in the morning. The discs absorb water during the night, and this is gradually squeezed out when we are in upright position during the day. Bending stresses in the morning can be up to 300% greater in the discs and 80% greater in the ligaments, compared to later in the day4.
How can I help myself?
The best way to preventing and treatment the spine in physical workers is using our active lower back brace ELVA. The brace, in contrast to ordinary spine braces, is equipped with dynamic lumbar pad with Pull&Go system, which can be shaped by Patient. In the morning, when the backbone is more stiff, the user can adjust the lumbar pad to slightly smaller curve (lordosis). Whereas, when the day goes by and spine is more 'elastic', the Patient can make the pad more curved to achieve a great lumbar support and stabilization.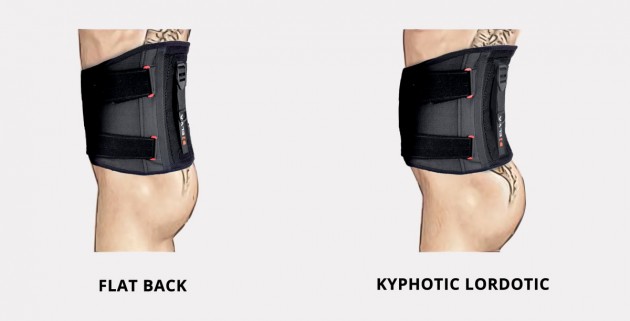 Product's description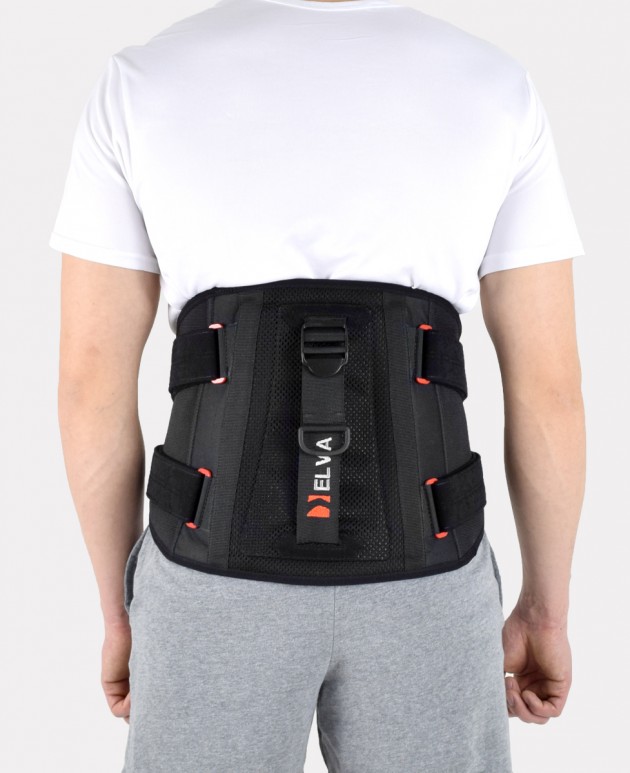 Active lower back brace ELVA is the most effective back braces on the orthopaedic market. It stabilizes and supports lumbar spine precisely and also, together with tighten abdominal muscles, it helps to protect lumbar spine during lifting. This is the reason, why it should be used by physical workers.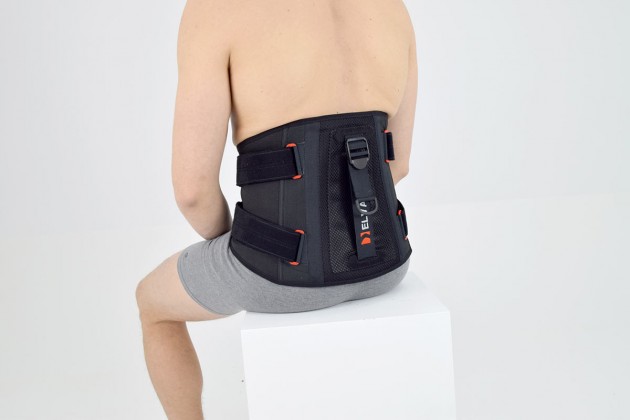 The brace is equipped with semi-rigid abdominal pad and elastic back orthopaedic splints.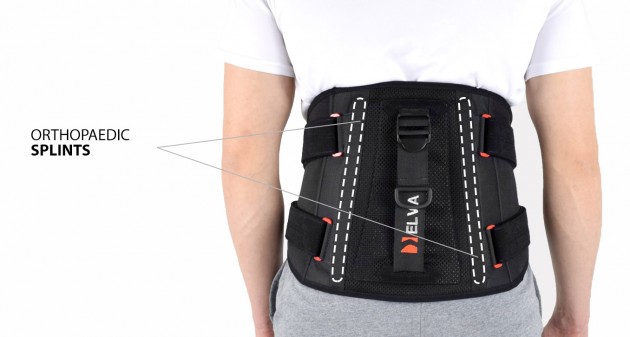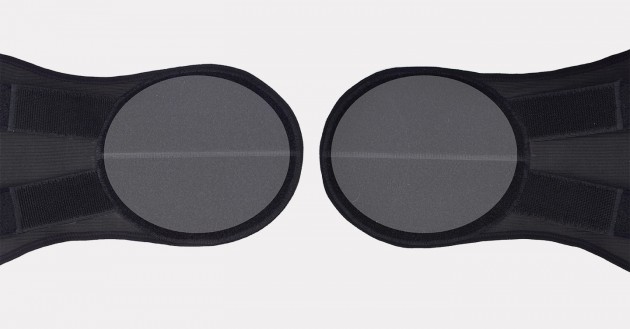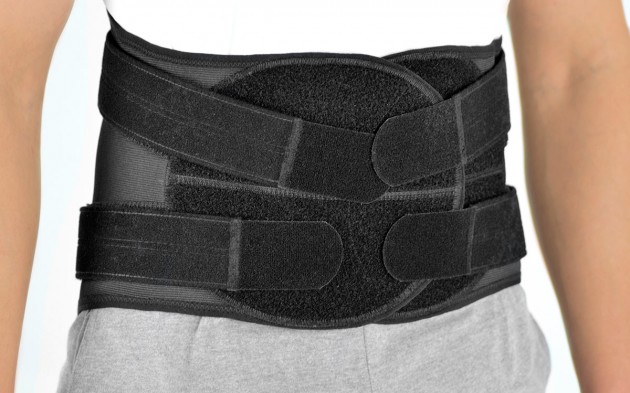 These elements protect the spine against tne involuntary movement that can lead to injury. In addition, ELVA brace is equipped with unique system of straps that are easy to attach and provide excellent fitting in the back. They are elastic that's why you can move and breath wearing brace freely.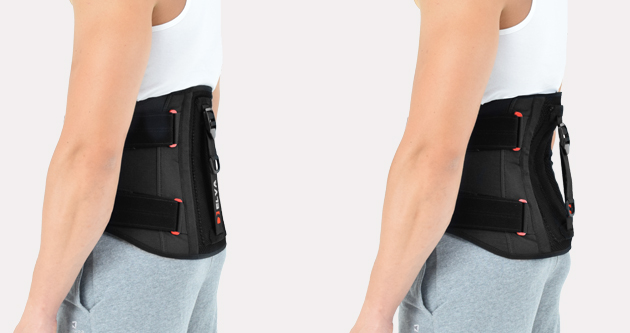 Lateral parts of the brace are made of elastic, airy fabric with small holes. Because of elasticity of straps and using airy material, ELVA brace fits to every anatomic shape.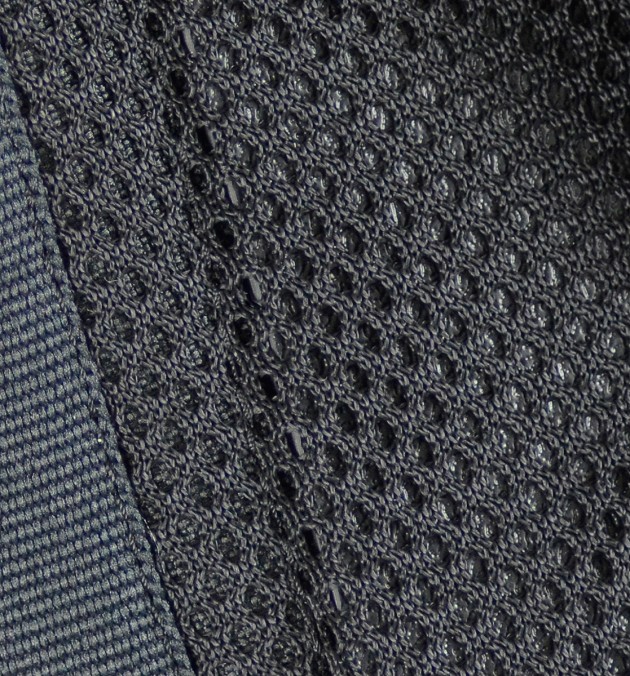 Rear part of the brace is equipped with innovative, dynamic lumbar pad with Pull&Go system.
The system allows to adjust and fit the pad to every lumbar curve. Additionally, Pull&Go system provides smooth adjustment with only one hand.
With our innovative system, every Patient can fit the ELVA brace precisely to his anatomic shape for perfect lumbar support and stabilization during all kind of physical activities.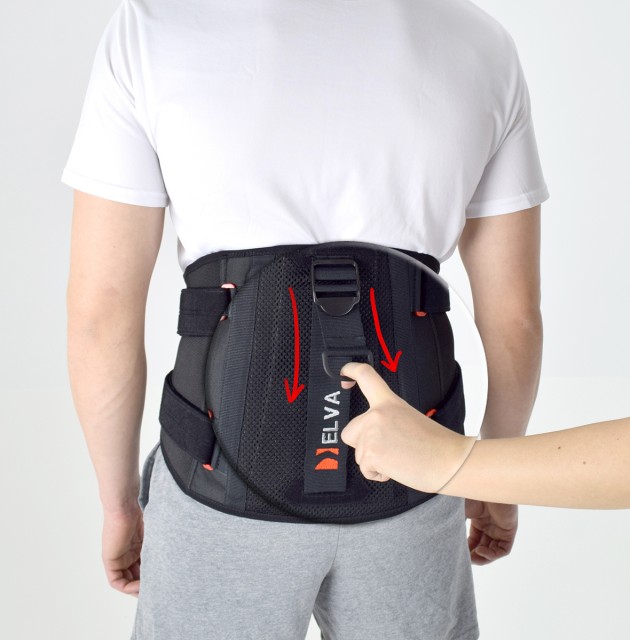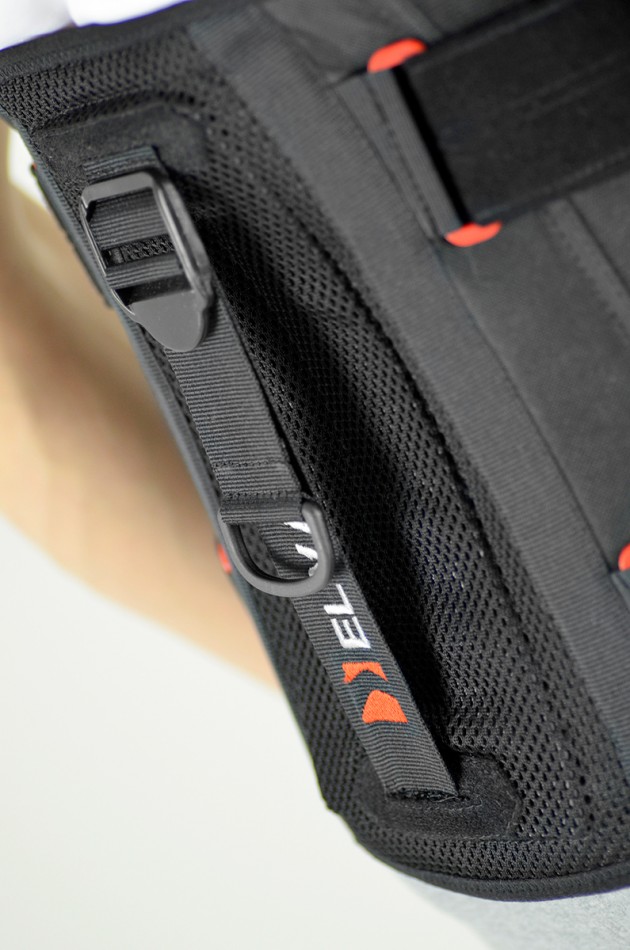 STABILIZATION T12-L5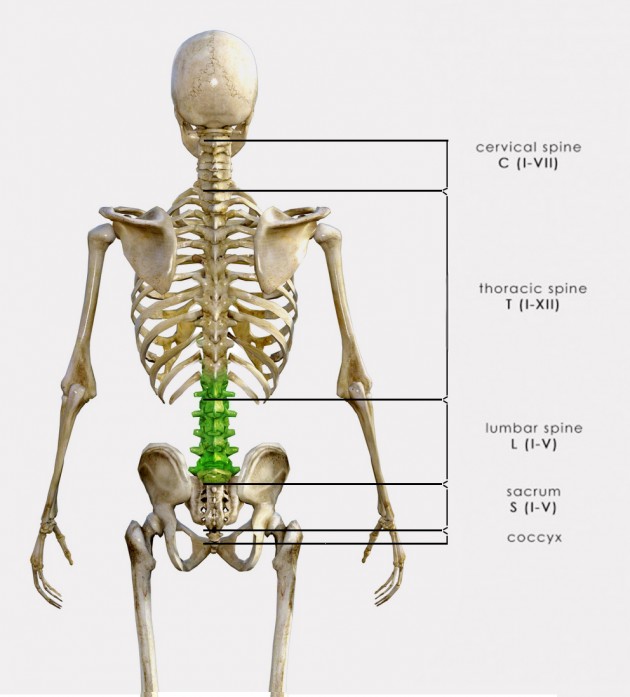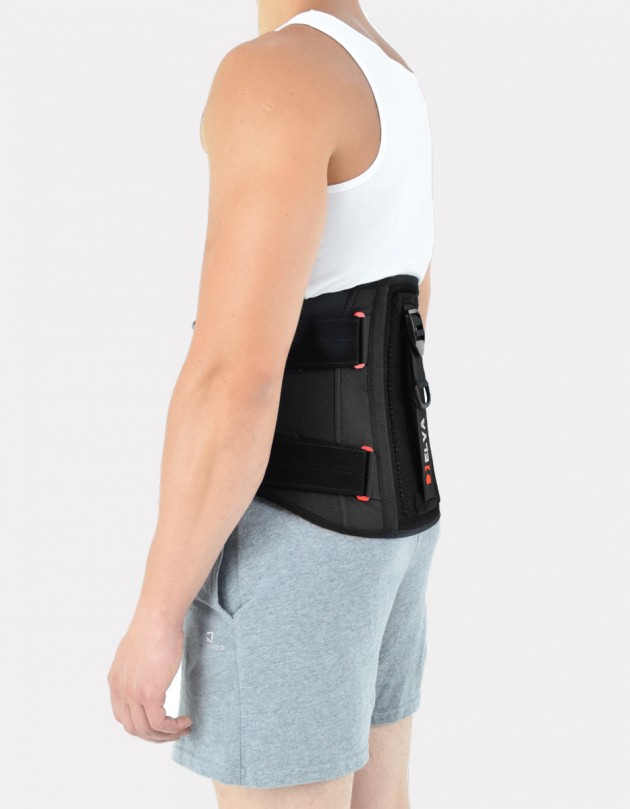 Indications
– Pre- and Post-Surgical Stabilization
– Degenerative Spinal pathologies
– Disc Hernia
– Spondylolithesis
– Spondylolysis
– Acute Back Pain
– Spinal Instability
– Rehabilitation and Prevention
Available sizes
Size
Waist circumference
How to measure
S
65-75 cm
(25,6″-29,5″)
M
75,5-85 cm
(29,5″-33,5″)
L
85,5-97 cm
(33,5″-38,2″)
XL
97,5-110 cm
(38,2″-43,3″)
XXL
110,5-125 cm
(43,3″-49,2″)
XXXL
125,5-145 cm
(49,2″-57,1″)
Total height of the product:
front: 20 cm (7,9″)
rear: 31 cm (12,2″)
____________________________________
1 Merlino, L et al (2003). Symptoms of musculoskeletal disorders among apprentice construction workers. Applied Occupational and Environmental Hygiene, 18, 1, 57-54
2 Cole, M & Grimshaw, P (2003). Low back pain and lifting- a review of epidemiology and aetiology. Work, 21, 2, 173-184.
3 Perich, D et al (2011). Low back pain in female adolescent rowers: a multi-dimensional intervention study. Knee Surgery, Sports Traumatology & Arthroscopy, 19, 1, 20-29
4 McGill, S (2007). Low back disorders – Evidence based prevention and rehabilitation (2nd ed). Human Kinetics, Champaign, Il.
5 Snook, S et al (2002). The reduction of chronic, nonspecific low back pain through the control of early morning lumbar flexion: 3 year follow-up. Journal of Occupational Rehabilitation, 12, 1, 13-19
Technology
TECHNOLOGICAL SYSTEMS
Downloads


Class I medical device in accordance with Regulation (EU) 2017/745 of the European Parliament and of the Council of 5 April 2017. on medical devices.