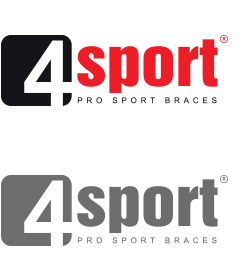 Wrist brace

Cast replacement

Class I medical device

Compression

Double-sided
WRIST BRACE WITH REMOVABLE THUMB SPICA
Description
Wrist sprain
Wrist sprain occurs due to excessive joint movement which leads to the injury to the ligaments of the wrist region. Wrist sprains are caused most often by a fall onto an outstretched hand. This might happen during everyday activities, but frequently occurs during sports and outdoor recreation. In case of sprain or strain, wrist immobilization with professional wrist brace AM-OSN-U-09 is required.
Product description
Wrist brace AM-OSN-U-09 is a professional orthopaedic brace offering wrist immobilization. It is equipped with plantar aluminum splint and supports the join by limiting palmar and dorsal flexion. The brace maintains the wrist in optimal, neutral position when joint capsule and other soft tissues are relaxed. The aluminum palmar splint may be removed and insert on the other side. Due to this innovative construction, our wrist brace fits for both, left and right, hands.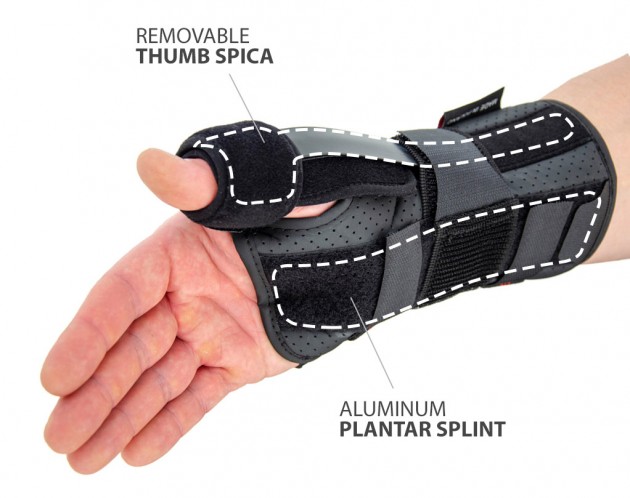 Additionally, wrist brace AM-OSN-U-09 is equipped with removable thumb spica which can be attach or not, according to the therapeutic recommendations.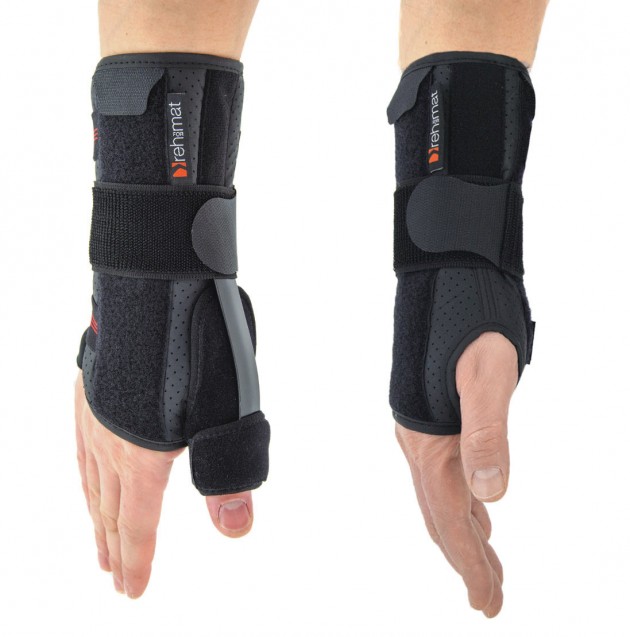 Aluminum design of the thumb splint offers smooth modeling possibilities. Using the wrist brace AM-OSN-U-09 together with thumb spica, supports and immobilizes saddle joint and will be excellent solution in case of thumb collateral ligament treatment.
Wrist brace AM-OSN-U-09 is made of innovative, waterproof fabric AirSanmed II™ and AeroSpace III™. Straps are made of AirRubber III™ material.
Using of elastic wrap around straps provides smooth adjustment of compression and is helpful in case of swollen wrist after injury.
Due to removable palmar splint, wrist brace AM-OSN-U-09 is a universal device and fits for both hands. What is more, it's better solution than traditional cast because allows to control the skin condition and prevents against necrosis.
Purpose of use
– immobilization after wrist injuries (fracture, dislocation)
– bursitis
– wrist instability
– stressed joint with degeneration and inflammation
– thumb collateral ligaments injuries

Sizes
Size
Wrist circumference
How to measure
S
13-15 cm
(5,1″-5,9″)
M
15-17 cm
(6,1″-6,7″)
L
17-20 cm
(6,9″-7,9″)
XL
20-23 cm
(8,1″-9,1″)
Fits for both wrists.
Total length of the product without the thumb element:
S: 20 cm (7,9″)
M-L: 21 cm (8,3″)
XL: 22 cm (8,7″)
Gallery
Technology
MATERIALS
AeroSpace III™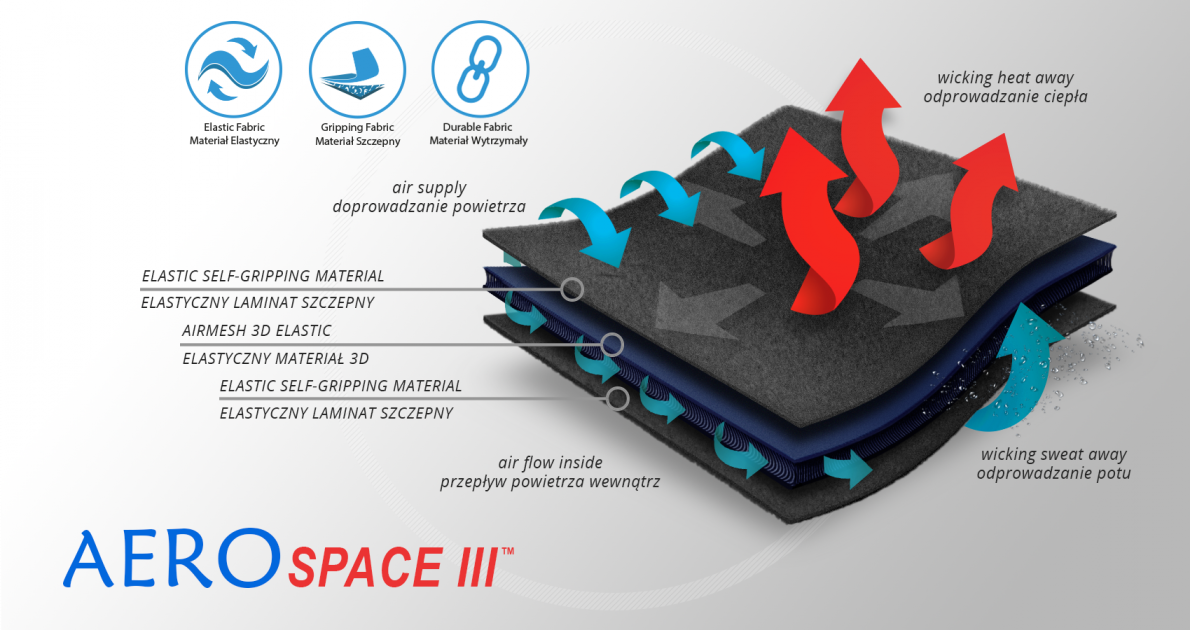 AeroSpace III™ is an innovative new generation raw material. It is a distance elastic 3D knitted fabric consisting of two layers of facings and an interlacing that creates the appropriate thickness of the raw material and has relieving properties. The knitwear is made of the highest quality polyester yarn - guaranteeing high mechanical strength and spandex ensuring its proper flexibility. AeroSpaceIII ™ has an external and internal self-gripping layer what makes it easy to adjust each product to individual patient's needs. This material is characterized by a very low weight, high flexibility and a very large openwork structure, allowing for very easy drainage of sweat from the body and bringing fresh air to the skin. Products made of this raw material are neutral to the secured joint, do not heat or cool it, but ensure its proper compression and fit and reduce muscle vibrations generated during physical exertion. Its thickness and 3D structure perfectly relieves the orthopedic splints, stays or other elements mounted on the product and guarantees velvety softness to the touch.
AirRubber III™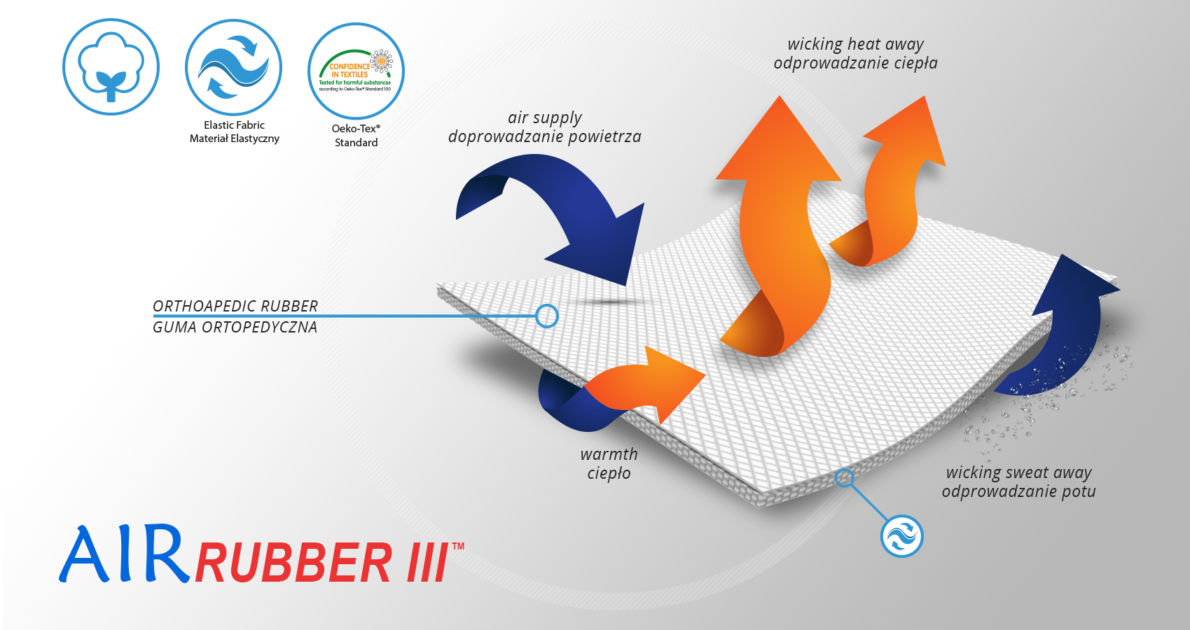 AirRubber III™ has unidirectional elasticity. It can be stretched, increasing the length, not width, what improves compression. Between the braids air flows freely and skin can breathe. In addition in high compression, these rubber braids provide a gentle massage for skin. Our orthopedic rubber is very friendly for skin.
AirSanmed II™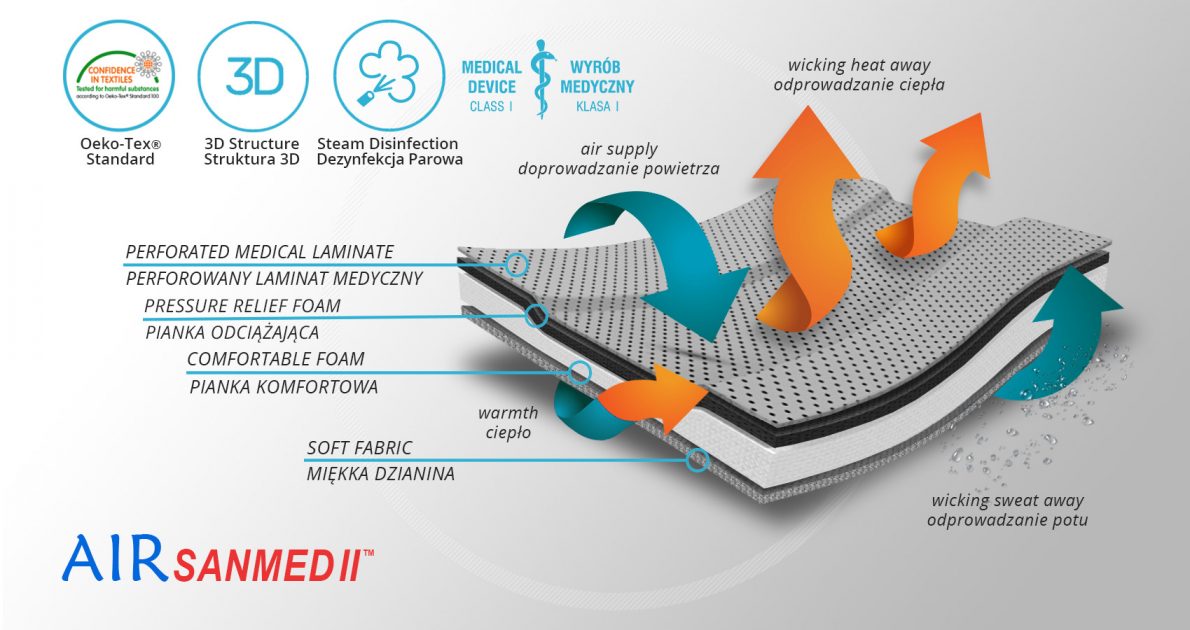 AirSanmed II™ is a multi layered intelligent orthopedic textile which is perfect for orthopedic braces production. It helps to maintain its functionality and high comfort of use. External vapour barrier is washable and possible to chemical or vapour disinfection. It is perforated and laminated with off loading foam. Due to this fact, the fabric is breathable and reduces the pressure of aluminum stays and splints. Off-loading foam is connected with soft, comfort foam improving the comfort of use. It's laminated with soft, breathable cotton with pH neutral for human's skin. This knitted cotton is certified with OekoTex Standard100 and fully skin-friendly.
ALLOWABLE DISINFECTANTS !!!
Type of active agent or surface-active agent
Maximum content in disinfectant
Spray the surface of the device with disinfectant, leave it for disinfectant's activation, then wash the device and dry it.
2-propane
35%
1-propane
25%
Ethanol
10%
Alkyl Dimethyl Benzyl Ammonium Chloride
0,2%
Glucoprotamine
25%
STIFFENINGS
Palm strip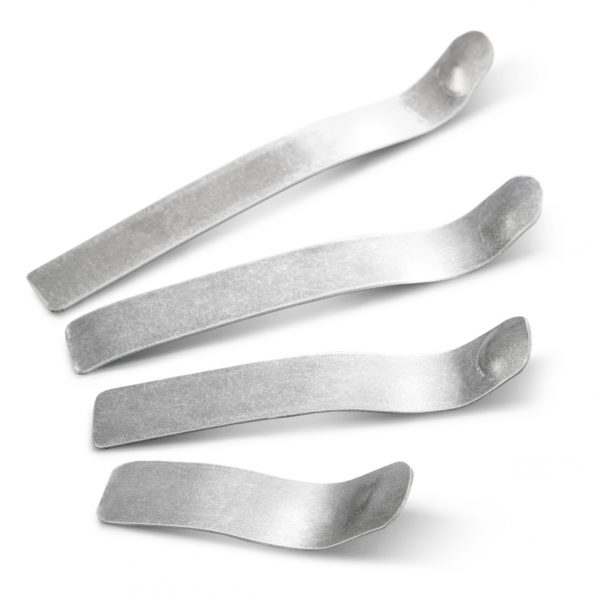 Thumb splint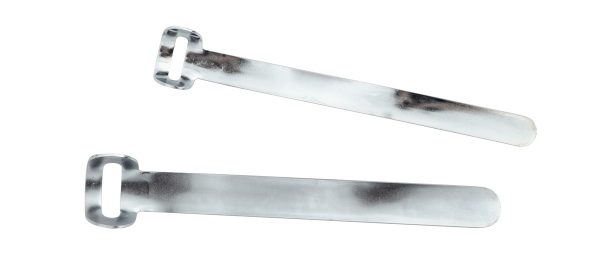 Setting up
Downloads
Accessories
ACCESSORIES / PRODUCTS TO BE USED WITH
ON OUR WEBSITE WE PRESENT MEDICAL DEVICES.
USE THEM ACCORDING TO THE INSTRUCTIONS FOR USE OR LABEL.


Class I medical device in accordance with Regulation (EU) 2017/745 of the European Parliament and of the Council of 5 April 2017. on medical devices.
MANUFACTURER / ADVERTISING ENTITY: REH4MAT SŁAWOMIR WROŃSKI