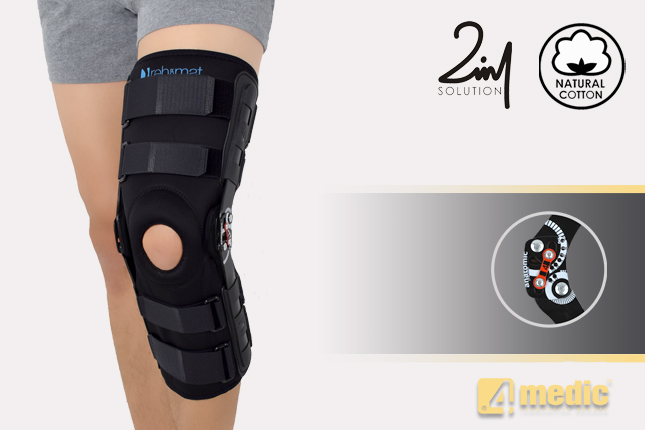 REAR OPEN LONG KNEE BRACE WITH ANATOMIC ROM ADJUSTMENT
Product description
AM-OSK-ZL/2RA-02 long knee brace is made of innovative, providing compression and skin-friendly fabric called CottonPren. The fabric is made of neoprene foam, laminated with polyester and internal elastic cotton terry.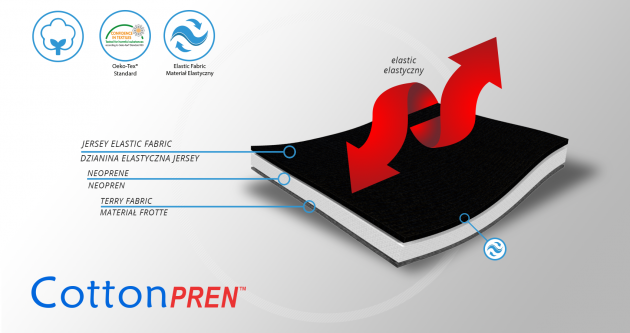 Our brace construction is unique because it has wrap around knee brace function (it's easy to putting on) and closed brace function (very good patella and knee stabilization because of anatomic-shaped patella donut).
In addition, the brace has open popliteal fossa, what improves comfort of use and allows skin to breath.
AM-OSK-ZL/2RA-02 is equipped with four sets of circumferential straps and two lateral splints with 2RA Precision drop-lock.
Purpose of use
AM-OSK-ZL/2RA-02 knee brace should be applied in cases of:
knee dislocation,
knee twist and sprain,
side instability of the knee joint,
knee ligaments LCL, MCL and ACL injuries
knee ligaments reconstruction,
other surgeries (orthopedic).
Available sizes
Size
(A) Thigh circumference 15 cm above the center of the patella
(B) Calf circumference 15 cm below the center of the patella
How to measure
S
40-44 cm
(15,7″-17,3″)
30-34 cm
(11,8″-13,4″)
M
44,5-48 cm
(17,5″-18,9″)
34,5-38 cm
(13,6″-15″)
L
48,5-52 cm
(19,1″-20,5″)
38,5-42 cm
(15,2″-16,5″)
XL
52,5-56 cm
(20,7″-22″)
42,5-46 cm
(16,7″-18,1″)
XXL
56,5-60 cm
(22,2″-23,6″)
46,5-50 cm
(18,3″-19,7″)
Setting up

Downloads

Medical products class 1 – conforming the directive of the Board (93/42/EEC) concerning medical products. Producer of orthopedic and medical products, firm REH4MAT issued appropriate EC declaration of conformity.