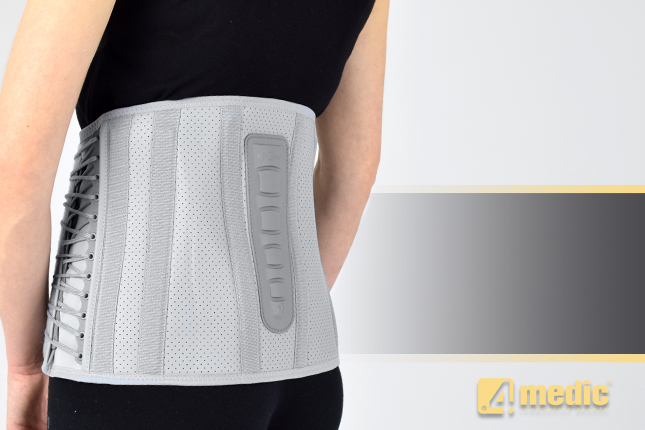 LACED LUMBAR BACK SUPPORT
Product description
Lace-up Lumbar Back Support AR-S0-03 was made of non-elastic materials, as well as provided with lace-up system which function is to improve the functionality, stabilization level and comfort for the patients during its use.
The orthosis was developed according to the anatomical shape, providing the optimum fitting and adjustment on the patient body, also and increases the stabilization level of lumbar area.
An Asymmetric closure allows the perfect fitting on the patient body. The panel of closure is made of velcro laminate with comfortable semi-rigid foam located inside and two plastic stays. The system GRIP & OPEN makes the orthosis easy to assemble and disassemble.
The supporting system is obtained by front reinforced panel and back orthopaedic stays, offering circumferential stabilization of Lumbo-sacral part of the spine.
The lateral parts of support are made of auto-adhesive fabric and terry-cloth cotton, additionally equipped with lateral stays to increase the stabilization level.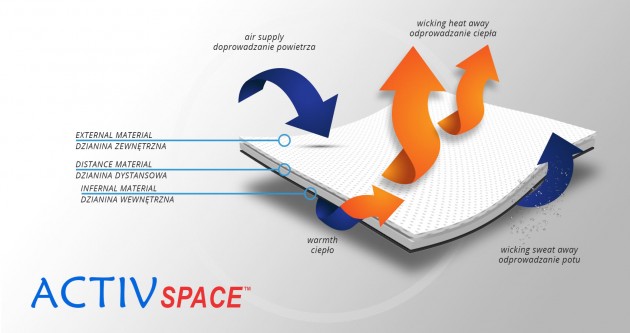 The application of Cotton terry cloth, make the orthosis friendly to the patient skin.
In order to offer maximum adjustment of the product and provide the proper support of area, the orthosis is equipped with two lacing-up systems with velcro straps.
The Back part of support is made of innovative material AirSanmed.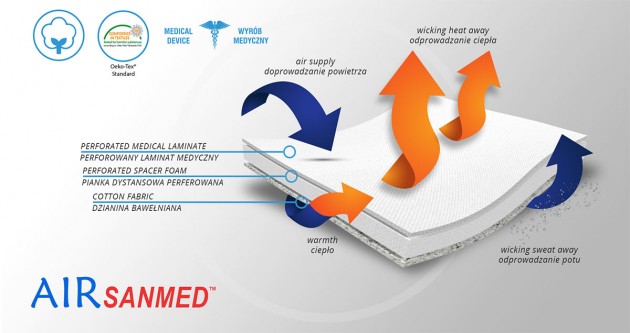 The Orthosis is provided with anatomically shaped metal stays (sweat-resistant coating), which quantity depends on the size; 4 or 6 metal stays in the Back.
Available sizes
Size
Waist circumference
How to measure
S
65-75 cm
(25,6″-29,5″)
M
75-85 cm
(29,5″-33,5″)
L
85-97 cm
(33,5″-38,2″)
XL
97-110 cm
(38,2″-43,3″)
XXL
110-125 cm
(43,3″-49,2″)
XXXL
125-145 cm
(49,2″-57,1″)
Indications
- Pre- and Post-Surgical Stabilization
- Degenerative Spinal pathologies on Lumbar area
- Disc Hernia-Lumbar Muscles and Ligamentous Strains and Sprains
- Postural Support
- Chronic Low Back Pain
- Rehabilitation and Prevention
Setting up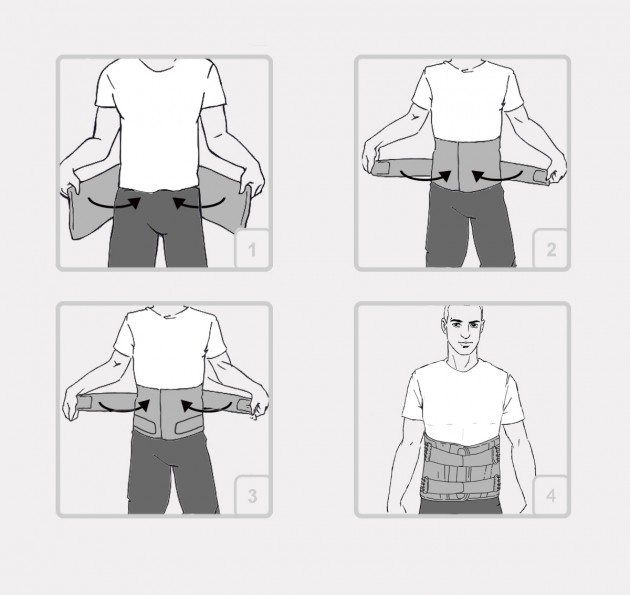 Downloads

Medical products class 1 – conforming the directive of the Board (93/42/EEC) concerning medical products. Producer of orthopedic and medical products, firm REH4MAT issued appropriate EC declaration of conformity.