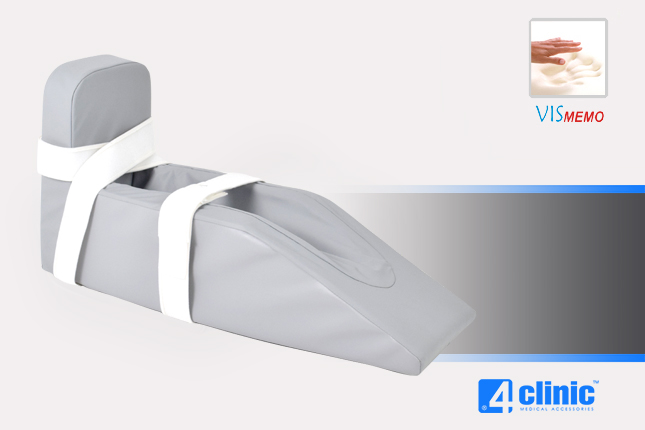 Anti pressure Braun splint VisMemo with foot support in washable cover
Product description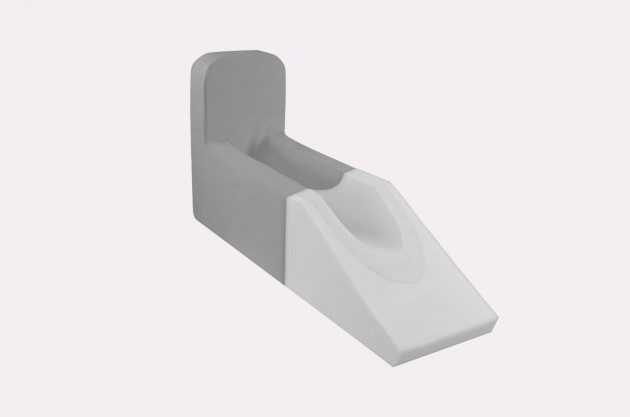 PP-FF-02 Braun splint is made of anatomic-shaped polyurethane foam and soft memory, thermoactive VisMemo foam.
Density and rigidity of polyurethane foam allows to maintain the patient's leg in the required position, providing relaxation and support. The surface that contacts with skin is made of thermoelastic memory foam VisMemo.
VisMemo memory foam works according to two steps:
1.First step – it adjusts to pressure which is put by patient's leg. It is first as well as introductory level of adjustment. In case of ordinary polyurethane foams, it is both first and last level.
2.Second step – it is not immediate but it is spread over time. Our Braun splint additionally softens due to patient's body warmth. This effect is not the same on the whole surface where leg has contact with pillow. For this reason foam softens first and foremost in the hottest places, these 'red points' where body pressure on pillow is still too strong. Places of excessive pressure are spread because of this additional reaction of splint.
While lying on the back, daily use of Braun splint guarantees excellent support for lower limb and provide slightly leg elevation. Our leg pillow is often use to support and relaxation in post-injury, anti bedsores and anti-varicose veins therapy. Its anatomic shape provides full satisfaction and prevents against the bedsores and lower limb swelling.
This Braun splint is innovative because of foot stabilization in lying position. Our splint prevents against the thigh external rotation that is excellent lower leg immobilizer after hip joint replacement.
The washable cover is made of innovative fabric called Sanmed C463, which is very safety for patient and easy to disinfection.
C463 fabric is light, soft and shapeable. It is excellent solution to use in places where infection risk is high. It consists of antibacterial components based on silver zeolite (AgZ). It provides long-term efficiency and prevents againts even the most infectious bacerias such as MRSA or E.coli.
Sanmed C463 meets the condition according to the Health Minister`s ordinance of 3 November 2004 and Council Directive 93/42/EWG of 14 June 1993.
Additional asset of the fabric is vapour permeability and water-resistance. The Sanmed is the best solution as an waterproof cover of anti bedsore mattresses in hospitals.
Our C463 fabric holds Oeko-Tex Standard 100 certification what proves about its chemical neutrality for human skin.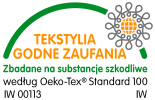 The cover is vapour permeability what allows to breath the patient's skin. It is equipped with the zipper which facilitates to maintenance and put it on the mattress on and off.
Thanks to its special construction you can use the both sides of the mattress what extends its using period.
Maintenance of the anti-bedsore mattress:
It is necessary to sterilize the mattress with chemicals used in health service. The table below shows methods and disinfectants for sterilization.
ALLOWABLE DISINFECTANTS !!!
Type of active agent or surface-active agent
Maximum content in disinfectant
Spray the surface of the device with disinfectant, leave it for disinfectant's activation, then wash the device and dry it.
2-propane
35%
1-propane
25%
Ethanol
10%
Alkyl Dimethyl Benzyl Ammonium Chloride
0,2%
Glucoprotamine
25%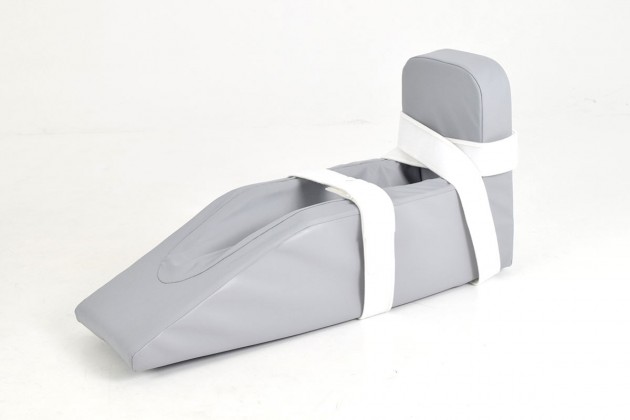 Available sizes
Braun splint is available in two sizes:
Size
Width
Length
Height
Patient's height
1
19 cm
(7,5″)
61 cm
(24″)
35 cm
(13,8″)
below 165 cm
(below 65″)
2
22 cm
(8,7″)
81 cm
(31,9″)
40 cm
(15,7″)
above 165 cm
(above 65″)
Purpose of use
after joint hip replacement
after surgeries and orthopaedic injuries
in functional fracture treatment
in post-injury physical therapy
for legs support and relaxation
anti-bedsore prophylactic
for pregnant women with swollen legs
in the vascular conditions
The Braun splint should be applied with cant under the thigh.
Special indentation simplifies to maintain the legs immobilized.
Downloads

Medical products class 1 – conforming the directive of the Board (93/42/EWG) concerning medical products. Producer of orthopedic and medical products, firma REH4MAT issued appropriate EC declaration of conformity.