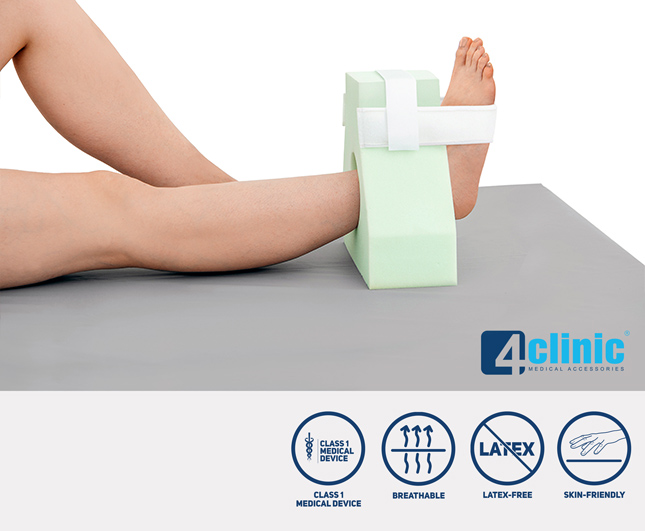 FOAM FOOT ELEVATOR PILLOW
Foot ulcers
Foot ulcers are common complication of metabolic diseases. Pressure sores are wounds that develop when constant pressure or friction on one area of the body damages the skin. Constant pressure on an area of skin stops blood flowing normally, so the cells die and the skin breaks down. Other names for pressure sores are bedsores, pressure ulcers and decubitus ulcers. Foot ulcers occur in the heel, toes and bunion area. When patient spend long time in his bed, the circular system works poorly. What's more, poor management of diabetes result in diabetic foot without good blood flow. It takes longer for a sore or cut to heal. If the infection occurs the diabetic foot will not heal because of poor blood flow and it is high risk for developing ulcers or gangrene. In this case, foot ulcers may be presented after one night. Due to this fact, prevention and good management is essential for ulvers treatment. Our foam foot elevator pillow PP-K-04 is an excellent product which helps prevent foot ulcers.
Product's description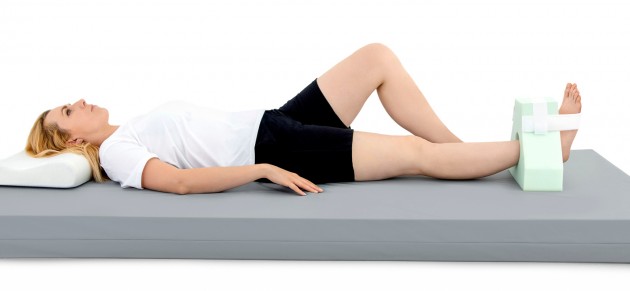 Foam foot elevator pillow PP-K-04 has a special design for proper foot stabilization and keeping heel from touching bed and pressure which may result in ulcers. Our foam elevator stabilizes ankle and Achilles tendon but the area with high risk of ulcers is "free". It allows to prevent against the tissues pressure and improves blood circulation. Our anti bedsore foam elevator has shape of trapezoid and offers stability and safety.
Our foot elevator is made of high quality 100% comfort, free of latex polyurethane foam. It doesn't absorb the moisture and prevents multiplying of bacteria and fungi. The foam makes the skin dry and better oxyganeted. These properties are crucial in ulcers prevention and treatment.
Our foam has many attests and certificates:
1. Hygienic Attest of Medical University of Gdańsk
2. Oeko-Tex Standard 100 certificate confirms our foam is human-ecological safe and there were no harmful substances used in the production process such as prohibited azo dyes, formaldehyde, pesticides, nickel etc.
Using the highest quality fabrics, approved with many certificates and attests ensures safety and is highly important in ulcers treatment.
The density of our foam is suitable for human's use. Our foam foot elevator PP-K-04 maintains the leg in proper position and offers even pressure of the tissues. An adjustable plantar strap offers secure the foot and a skid-resistant bottom. Also, it prevents against plantar flexion and Achilles tendon contractures. What's more, wide base our anti bedsore product helps prevent internal and external hip rotation.
Purpose of use
- ulcers prevention
- diabetes
- metabolic diseases
- poor blood circulation
- stroke
- paralysis
Size table
Size
Calf
circumference
Diameter (A)
Width (B)
Width (C)
Height (D)
How to measure
1
30 – 37 cm
6 cm
9,5 cm
24 cm
23 cm
2
37,5 – 43 cm
7 cm
11 cm
28 cm
26 cm
3
> 43 cm
9 cm
13 cm
34 cm
28 cm
Downloads

Medical products class 1 – conforming the directive of the Board (93/42/EEC) concerning medical products. Producer of orthopedic and medical products, firm REH4MAT issued appropriate EC declaration of conformity.