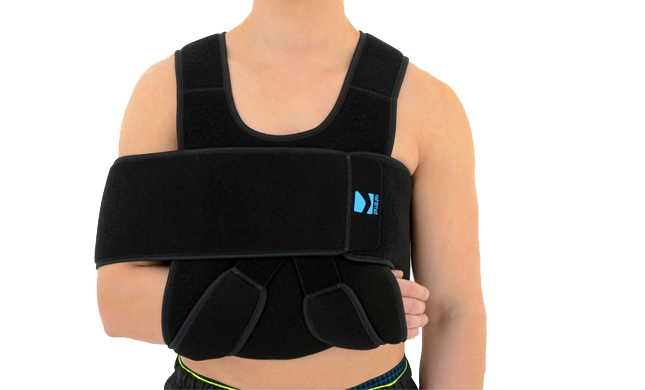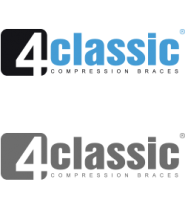 Upper limb brace

Breathable

Cast replacement

Class 1 medical device

Double-sided

Universal size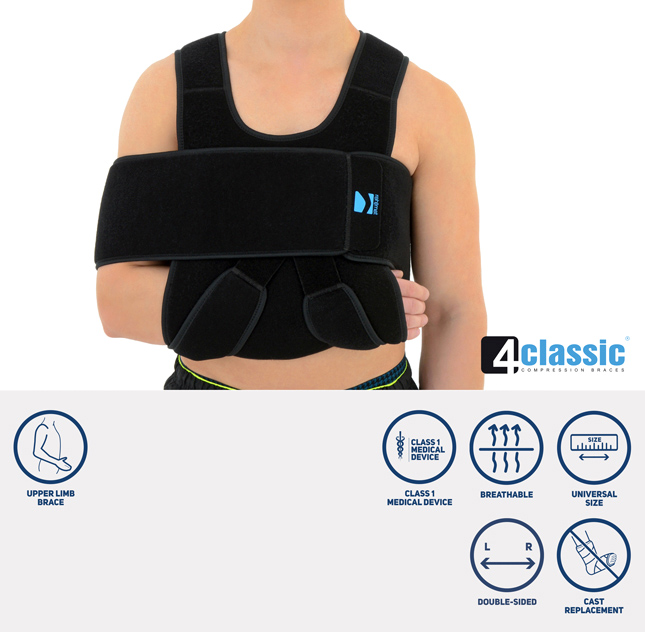 OKG-01 ONE SIZE SHOULDER BRACE
SHOULDER INJURIES
The shoulder consists of humerus, scapula and clavicle bones. They act together providing full range of motion. they are protected by many soft tissues such as muscles or ligaments which can be damaged due to e.g. work, sport or car accident.
The common shoulder injuries are: fractures, dislocations and fatigue or arthritis. In many cases, for decreasing inflammation, upper limb immobilization is required. To do that, we highly recommend one size shoulder brace OKG-01.
Product description
Our shoulder brace OKG-01 consists of 2 elements: main part and additional immobilizer band for extra protection.
Main element is made of innovative fabric ActiveDistance™.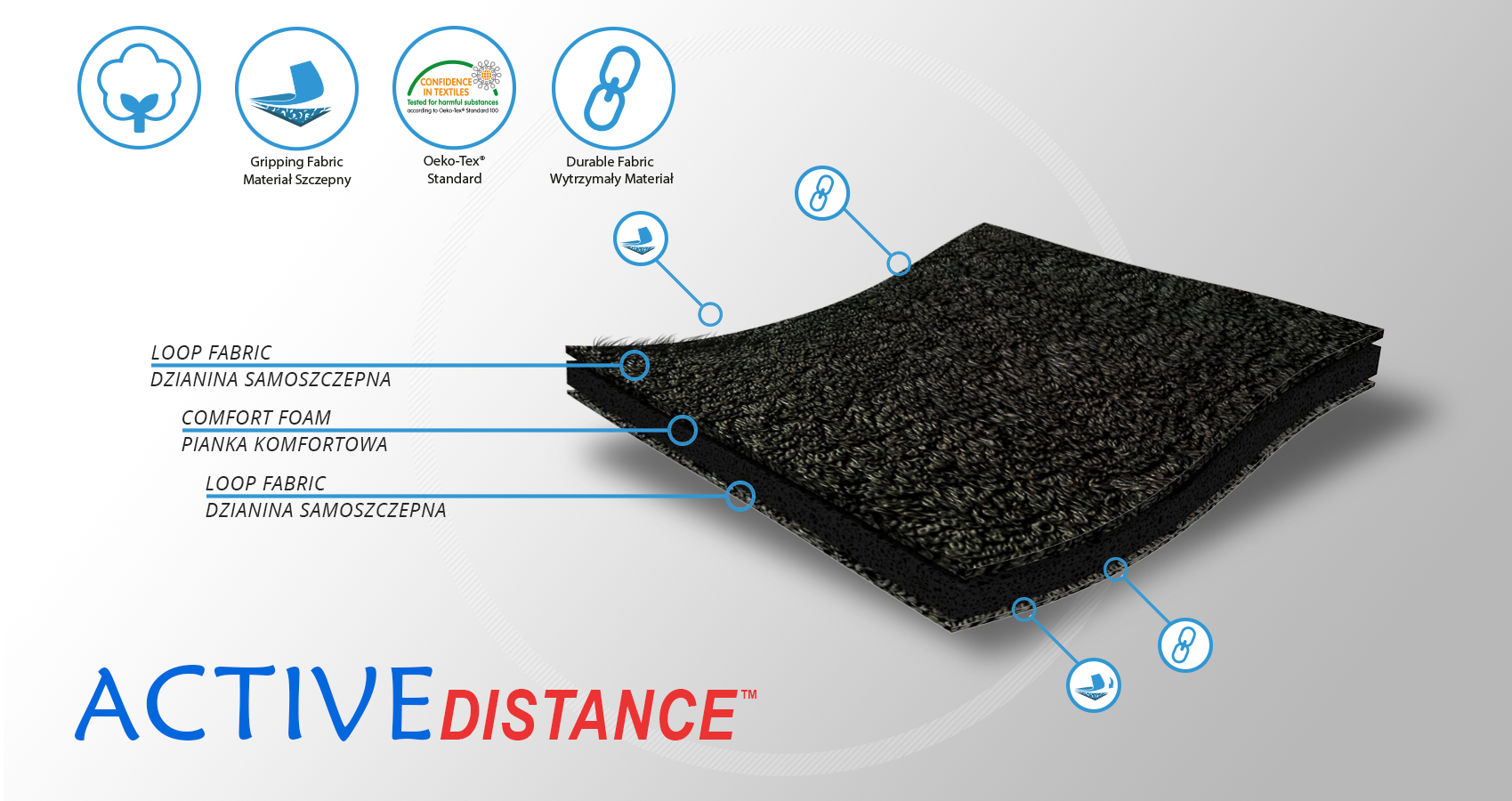 ActiveDistance™ is an technical off-loading lamination with 3-layered construction. It's made of EVA foam double-sided laminated with non-elastic polyamide layer that is easy to attach. This self-gripping function of ActiveDistance™ provides wide range of adjustment and perfect fitting. What is important, ActiveDistance™ is non-elastic fabric so it stabilizes your body in a perfect way. Thanks to using the comfort foam, the device is really soft what influences on the comfort of using it. Waterproof material.
Straps and immobilizer band is breathable material ActiveDistance II.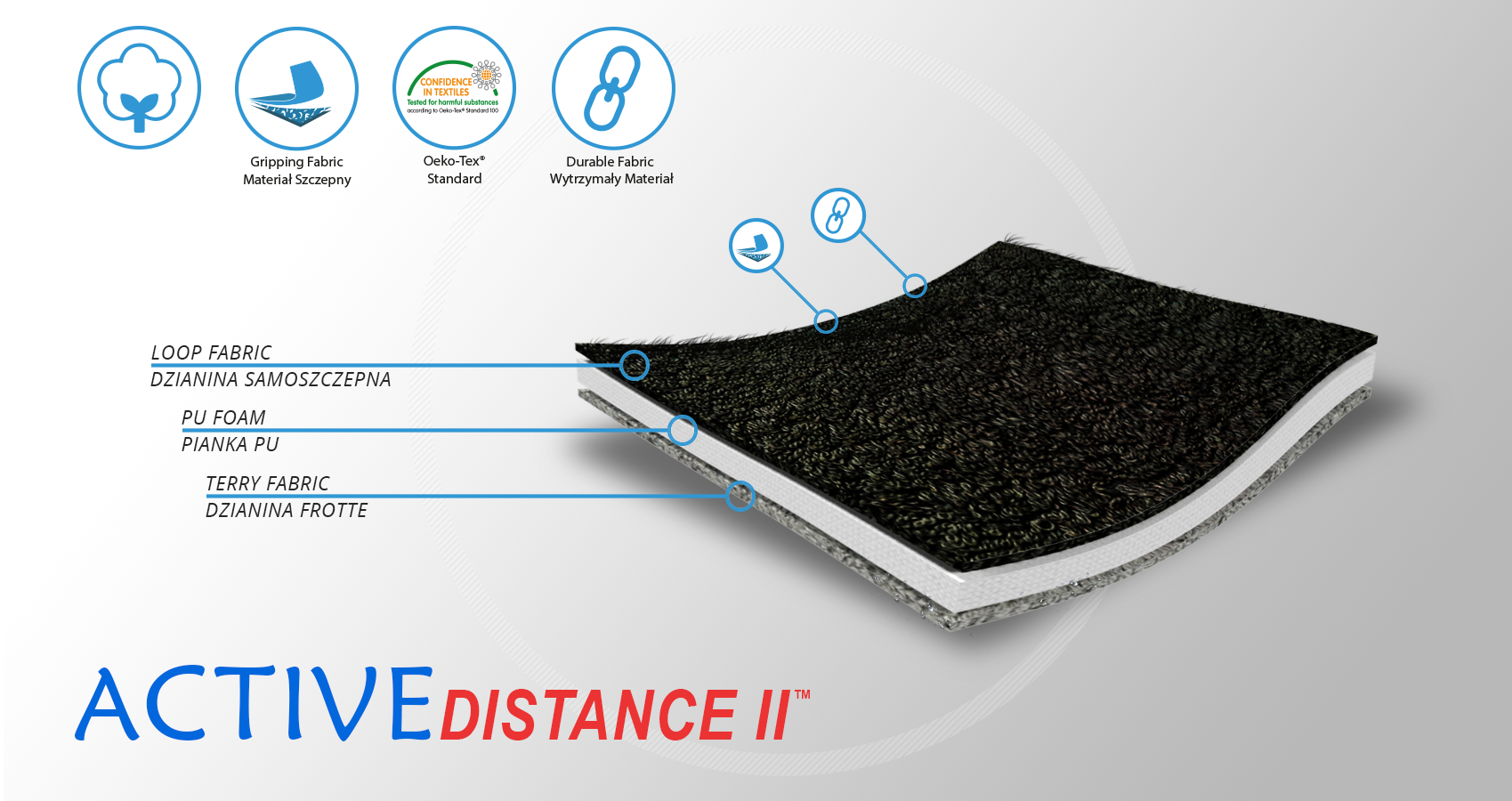 ActiveDistance II™ is an active 3-layered fabric made of non-elastic polyamide self-gripping layer, comfort foam and cotton terry. The last one layer is responsible for maintaining your skin dry. This material is skin-friendly and has the Oeko-Tex Standard 100 certificate. Self-gripping function of ActiveDistance II™ allows to fit the braces precisely.
Strong Velcros and self gripping materials make our brace easy to put on and take off.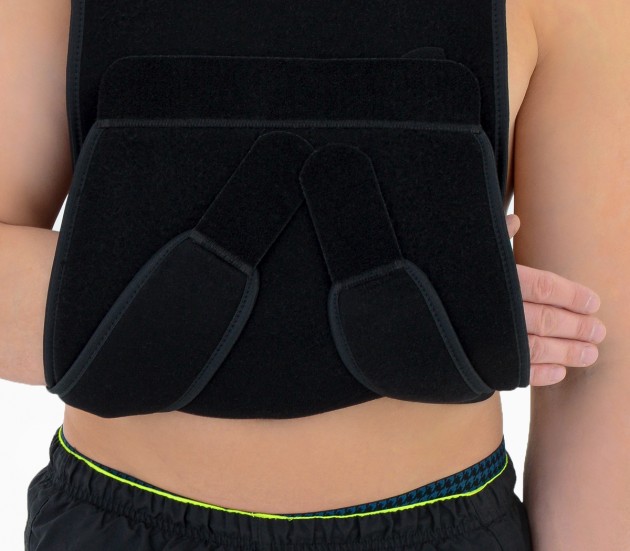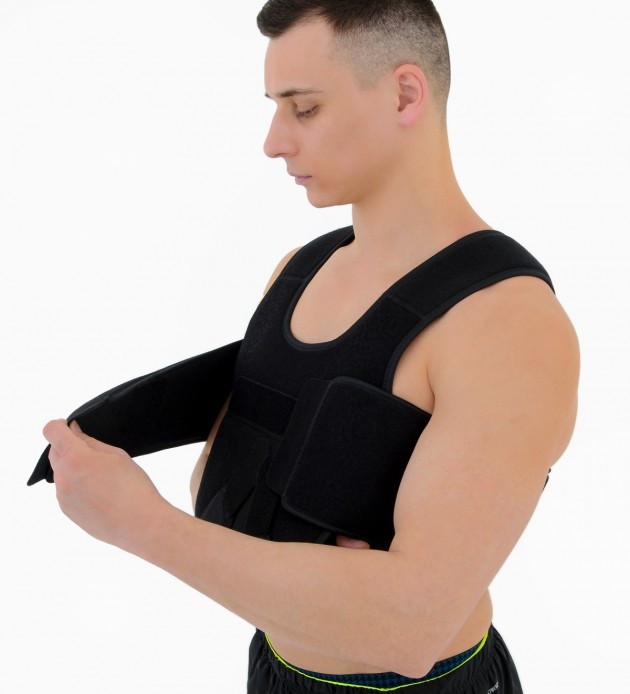 Wide, free immobilizer band holds the arm securely to the body and provides extra stability.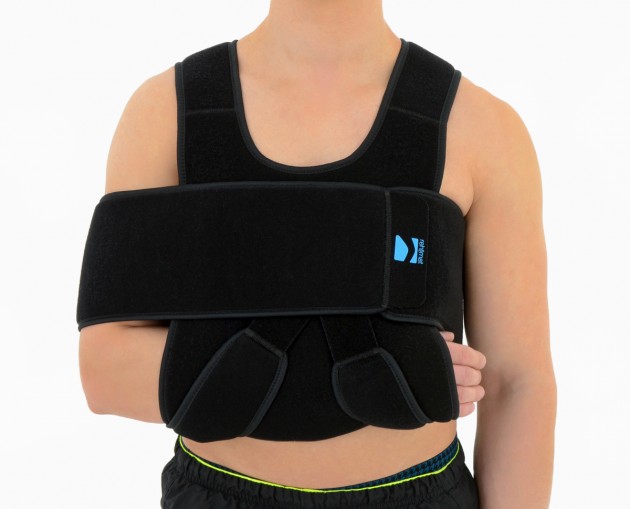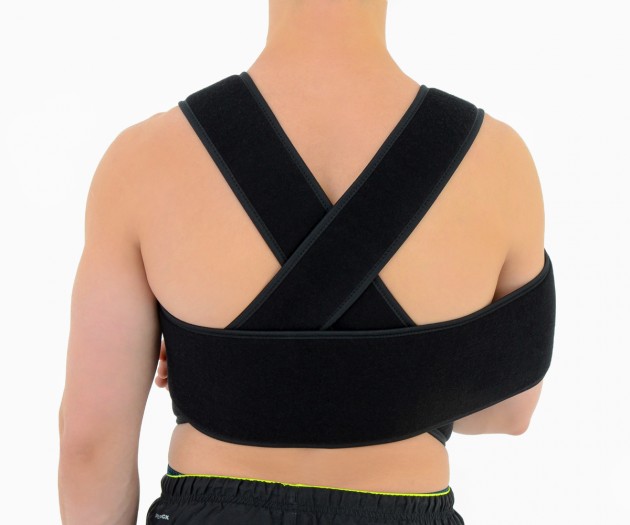 One size shoulder brace OKG-01 is equipped with attachable thumb loop. It provides perfect balance and improves recovery.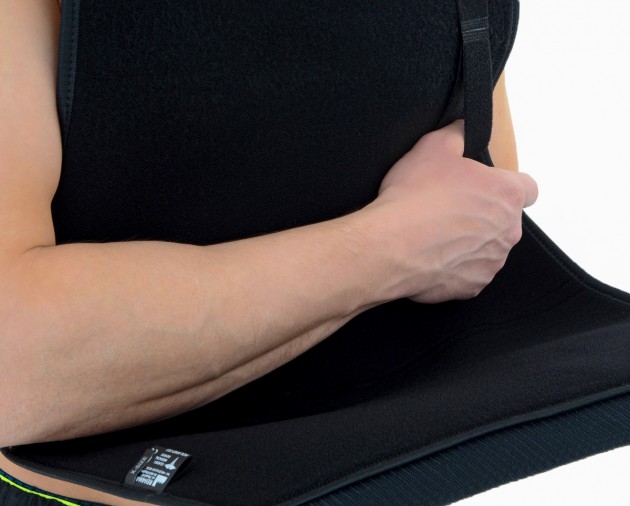 Our shoulder brace OKG-01 supports upper limb in case of dislocations, fractures and fatigues. The material is fully self gripping and easy to attach and you can fit the brace precisely. It provides stable immobilization and fast recovery.
Our universal shoulder brace OKG-01 has innovative design. It can be used for both shoulders. You can immobilize your limb in 2 therapeutic positions: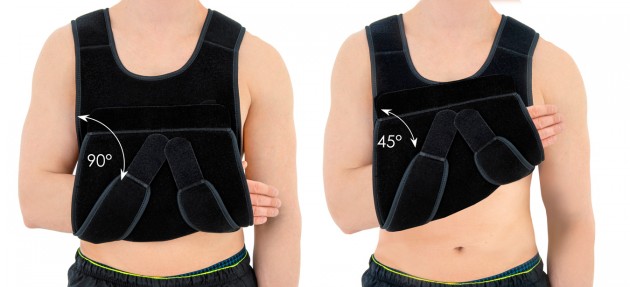 Our materials are extremely lightweight and comfortable. They are airy and allow skin to breath. Soft foam reduces the pressure on prominent bones and increases the comfort of use. Our brace doesn't cut off the blood circulation and patient doesn't feel uncomfortable with wearing it for a long time. Our shoulder brace OKG-01 is also especially suitable for sleeping.
strong breathable material
fully adjustable
straps without strangling neck
2 therapeutic positions
immobilizer band for extra protection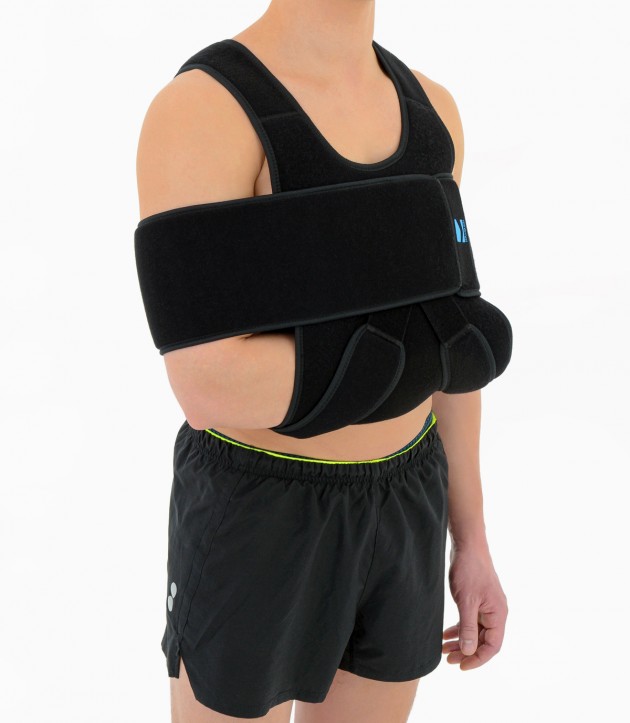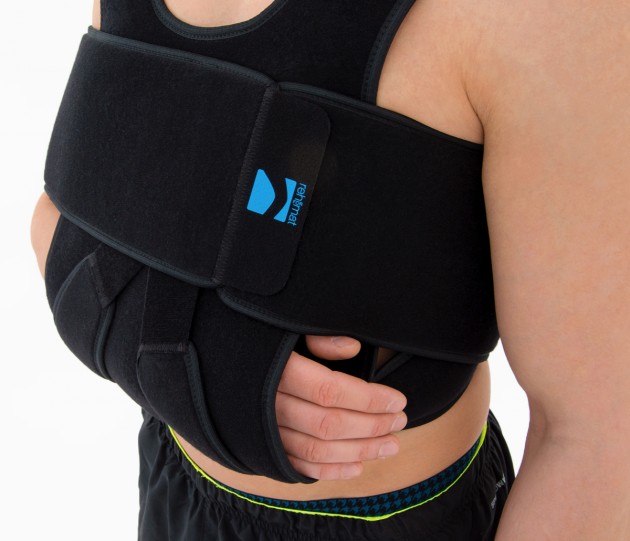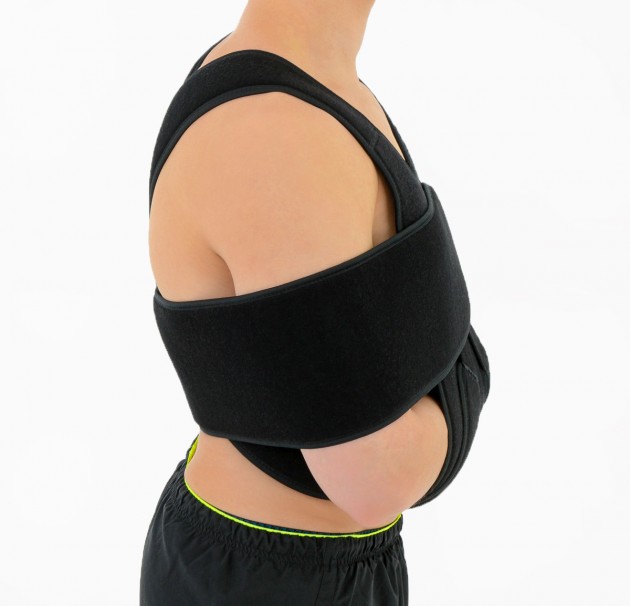 Purpose of use:
⦁    after surgery immobilization
⦁    upper limb bones fractures
⦁    rotator cuff injuries
⦁    shoulder dislocations
Available sizes
Size
Chest circumference
How to measure
Universal
min 70 – max 110 cm
min 27,6″ – max 43,3″
X-Size
min 110,5 – max 140 cm
min 43,3″ – 55,1″
Size
Total height of the product
(front)
Total length of the sling element
Universal
56 cm (22″)
33 cm (13″)
X-Size
57 cm (22,4″)
43 cm (16,9″)
Universal product for right and left forearms.
Downloads


Class I medical device in accordance with Regulation (EU) 2017/745 of the European Parliament and of the Council of 5 April 2017. on medical devices.