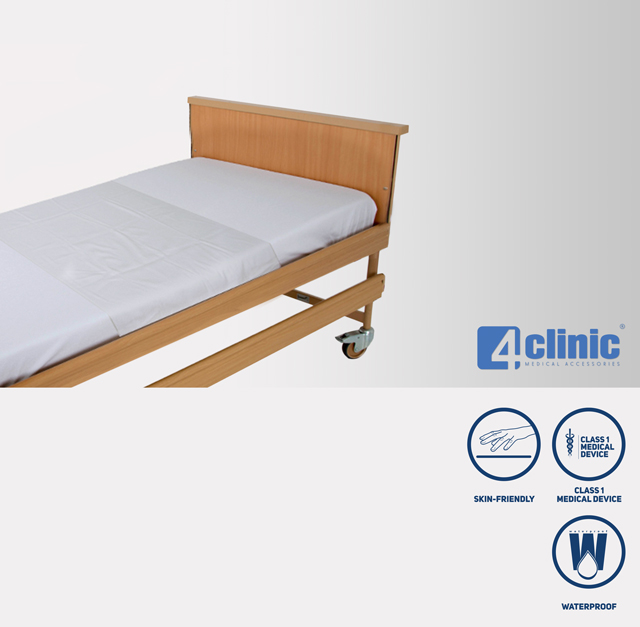 Reusable and washable waterproof bed pad
Product description
Waterproof bed pad relieves the effects of urinary incontinence. It is therapeutic support of incontinence's treatment for medication or positional therapy. It is the professional medical device 1st class and it does not cause bedsores and chafes.
It is useful in case of neurological disorders (Parkinson's disease, SM), urological conditions (bladder cancer, kidney stone) or while climacteric. Waterproof pad PN-01 is made of breathable (vapour-permeable) fabric and can be used by people with bedsores risk. Thanks to its waterproof feature, the cover is a protective barrier that prevents a patient's skin from pathogenic micro-organisms, impurities and liquids.
The bed pad is available in various sized and two options:
smooth with vapour permeable function
with terry layer and vapour permeable function
It is used together with hospital mattresses as reduce risk of urine ad feces absorption, oxygante the skin and prevent against the bedsores.
All pads consist of vapour permeable membrane and they are very easy to sterilize. It is possible to wash them in 60 degrees Celsius and to dry them in mechanic drier in 70 degrees Celsius.
The pads are slightly elastic what allows to fit them to mattress easy. They are waterproof, breathable and hold excellent allergen barrier. They are very useful both in patient's homes as an mattress prevention for children and senior and in hospitals, medical centers, clinics, nurses homes or sanatoriums.
Safety rules
pad must not be ironed,
not use bleaches and chemical preparations,
not clean chemical,
is it necessary to use ethyl alcohol 70% to sterilize
not use washing and sterilization preparations with chlorine
it is recommended to dry it spread
not allow to mess sheets
not use dehydrated machines
Available sizes
Width
Length
60 cm
(23,6″)
70 cm
(27,6″)
70 cm
(27,6″)
90 cm
(35,4″)
70 cm
(27,6″)
100 cm
(39,4″)
70 cm
(27,6″)
140 cm
(55,1″)
70 cm
(27,6″)
200 cm
(78,7″)
90 cm
(35,4″)
140 cm
(55,1″)
90 cm
(35,4″)
200 cm
(78,7″)
100 cm
(39,4″)
140 cm
(55,1″)
140 cm
(55,1″)
200 cm
(78,7″)
160 cm
(63″)
200 cm
(78,7″)
Downloads

Medical products class 1 – conforming the directive of the Board (93/42/EEC) concerning medical products. Producer of orthopedic and medical products, firm REH4MAT issued appropriate EC declaration of conformity.