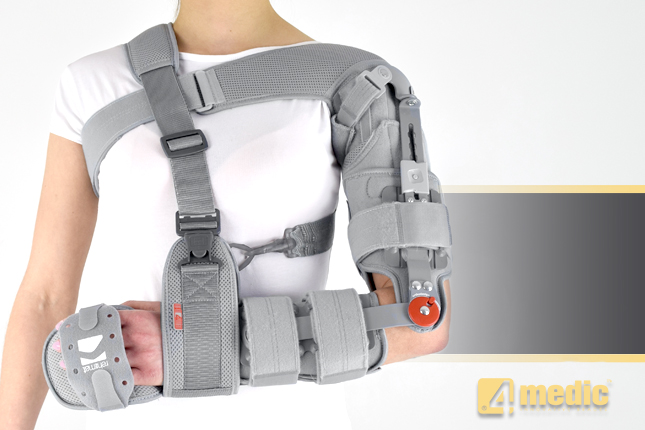 UPPER LIMB BRACE WITH HAND AND SHOULDER STABILIZATION AND ROM ADJUSTMENT
Product description
The device consists of anatomic shaped shoulder, arm and forearm sleeve and set of the orthopaedic splints connected with hand splint. This solution guarantees excellent joints stabilization. The splint 1R is the 1-axial splint with ROM adjustment in every 15o and control of hypewrextension in -15o and -30o. This splints are very light. The drop-lock provides adjustment without any tools. The splints are made of high quality aluminium and polymer with carbon fibres what make them neutral for the sweat. The hand anatomic shaped splint holds adjustment of the length and is covered by material called AirDistance II.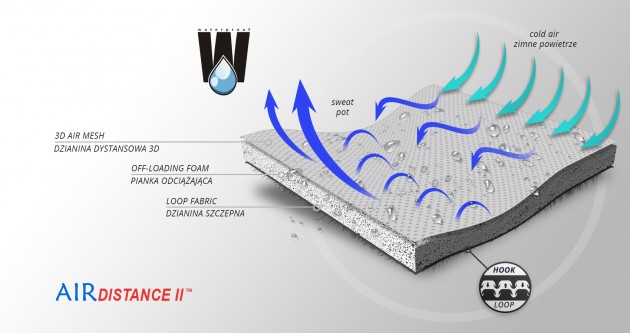 AirDistance II is an innovative technological fabric. It's 3-layered lamination, made of 3 parts: durable and self-gripping and polyamide layer, off-loading EVA foam and polyamide 3D spacer material. External part is used to attach hard components. EVA foam off-loads these splints and internal 3D spacer layer provides high air permeability and minimal water and moisture absorption. It is also waterproof.
Additionally, there is special finger separator and stabilizing strap. To size the brace precisely there is chest belt and two elastic polyethylene elements with stabilizing Velcro strap. There is also set of two circumferential straps on the forearm.
Per customer request, the standard separator may be substituted for neurological separator which stabilizes each finger separately. Extra price.
The device support shoulder, upper limb, wrist, elbow and interphalangeal joints.
Purpose of use
Postoperative and posttraumatic shoulder treatment
Arthroplasty and rotator cuff injuries
To prevent the chronic frontal shoulder dislocation
Subcapital humerus fracture
Shoulder arthroscopy
Bankart lesion
Frozen shoulder
Shoulder replacement
Postoperative immobilization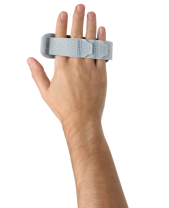 In addition, for this brace you can purchase special neuro-rheumathological fingers separator. It provides proper position of fingers and maintains optimal abduction of the proximal phalanxes in case of neurological or rheumatological disorders. When the spasticity occurs, the separator prevents the fingers against the excessive "squeezing". In case of Swan-Neck Deformity in Rheumatoid Arthritis (RA), the device construction with special fastening, correct the fingers from ulnar to neutral position. Maintaining of the optimal neutral hand position allows to stop the process of neurological or degeneration diseases.
Available sizes
Size
Length from the lateral epicondyle to the greater tubercle of the humerus (1)
Length from the lateral epicondyle to the wrist joint (2)
How to measure
M
25-32 cm
(9,8″-12,6″)
17-28 cm
(6,7″-11″)
L
21-32 cm
(8,3″-12,6″)
Size
Arm circumference 6 cm above the elbow pit (A)
Arm cirumference 6 cm below the elbow pit (B)
How to measure
M
24-44 cm
(9,4″-17,3″)
22-34 cm
(8,7″-13,4″)
L
Size
Chest circumference under the armpits
How to measure
M
80-140 cm
(31,5″-55,1″)
L
Left/right side available.
1R orthodesign splints

The orthopaedic splints 1R is the innovative solution with flexion and extension adjustment. The drop lock is very small (diameter: 30 mm) and provides 15° ROM adjustment. In addition, we apply the allen screws, which are mounted by steel pins and magnet. The most innovative is the blocking disk with the ratchet, which ensures required angle of ROM. In the short knee braces the splints 1R are universal.
Optional equipment
Downloads

Medical products class 1 – conforming the directive of the Board (93/42/EWG) concerning medical products. Producer of orthopedic and medical products, firma REH4MAT issued appropriate EC declaration of conformity.