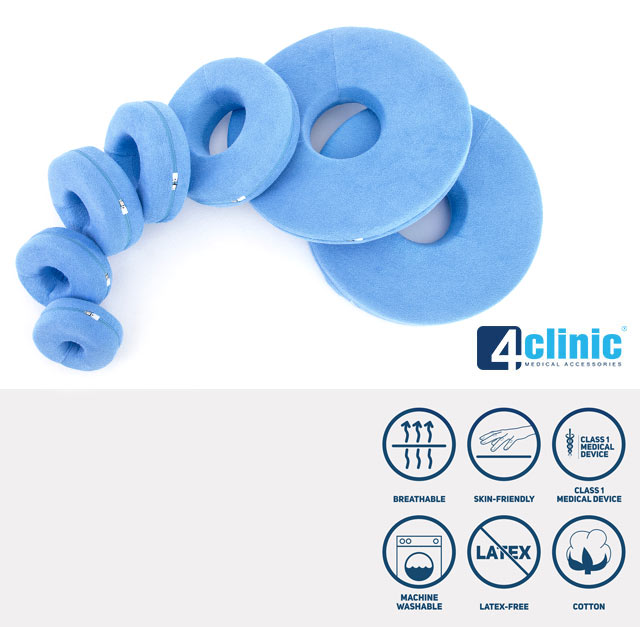 Anti bedsore round cushion
Product description
Bedsore occurs is the skin lesion which occurs as an consequence of pressure on the tissue especially over a bony prominence areas. Long-term pressure makes poor blood circulation with hypoxia and hypotrophy of the tissue. In effect, necrosis occurs with sores and infection. This condition can cause a lot of various complications such as: blood poisoning, osteomyelitis,fistulas or cancer.
Our anti bedsore round cusions are highly effective solution for sores. It is made of polyurethane foam in different sizes. It can be used to heels, elbows, buttocks, scapulas, head, knees and hips prevention.
Anti decubitus round cushions are covered with cotton terry and internal slot supports underbelly part of the patient's body. They don't allows for body's contact with the bed or wheelchair. The cover is fastening with zipping what allows to remove it to laundry.
Our PP-K-01 Anti bedsore round cushion are professional medical device 1st class and have ecotex certificate what guarantees neutrality for the human skin.
Size table
Size
Diameter (A)
Height (B)
Diameter (C)
How to measure
1
13 cm
(5,1″)
5 cm
(2″)
4 cm
(1,6″)
2
15 cm
(5,9″)
6 cm
(2,4″)
3
18 cm
(7,1″)
6 cm
(2,4″)
7 cm
(2,8″)
4
20 cm
(7,9″)
10 cm
(3,9″)
5
25 cm
(9,8″)
7 cm
(2,8″)
12 cm
(4,7″)
6
40 cm
(17,7″)
5 cm
(2″)
14 cm
(5,5″)
7
8 cm
(3,1″)
Downloads

Medical products class 1 – conforming the directive of the Board (93/42/EEC) concerning medical products. Producer of orthopedic and medical products, firm REH4MAT issued appropriate EC declaration of conformity.