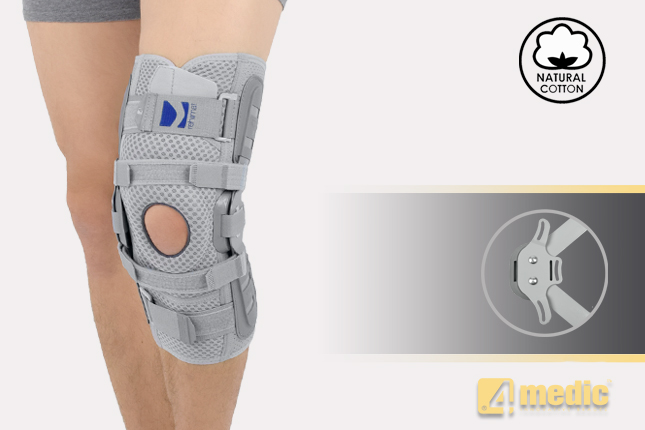 ANTI-HYPEREXTENSION KNEE ORTHOSIS
Product description
Closed, anti-hyperextension knee brace EB-SK/P is the professional 1st class medical device, which infcreases the gait quality and is the support in rehabilitation of the locomotor system. It stabilizes knee joint and reduces hyperextension of the knee. It is made of a structural material ProSIX.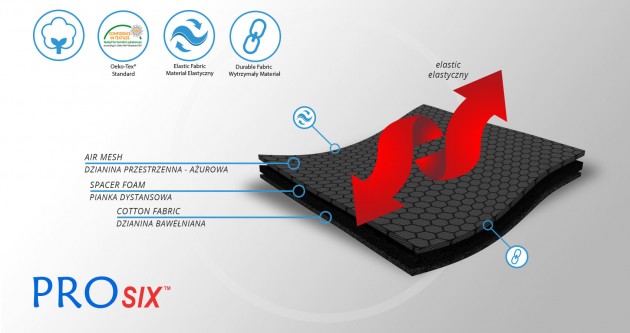 The parts are made of innovative material called AirSanmed.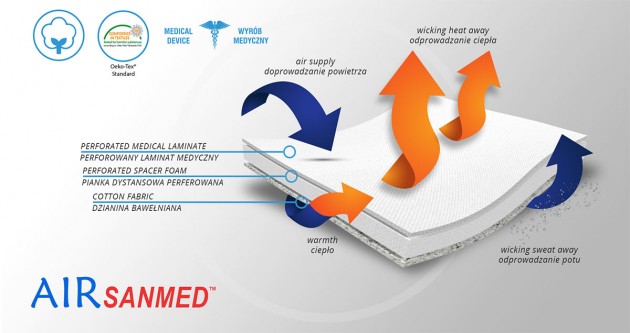 AirSanmed is not elastic what provides excellent stabilization. The skin has contact with cotton terry with Oeko-Tex Standard 100 certificate. There is semi-rigid perforated foam EVA inside that protect the skin against the metal splints influence. External side of the fabric is perforated medical laminate with antibacterial properties of Silver Zeolite. It provides long-term efficacy and prevents against the most dangerous infectious microorganisms such as MRSA and E.coli. AirSanmed is accordance with Health Minister`s ordinance of 3 November 2004 and Council Directive 93/42/EWG of 14 June 1993.
The device is equipped with aluminium sides splints, which stabilize knee joint in the frontal plane. They are equipped with 2-axial construction, which is similar to anatomical joint movement and have rack and pinion, what provide regular movement of the splints. In addition, the splints are equipped with 3 anti-hyperextension straps (2 front, 1 rear) and their innovative construction provides adequate blood circulation. Every splint has silicone, anatomical profiles cushions, what increase stabilization. The orthosis has 2 sets of circumferential straps, what maintain the brace on the limb. In the front of the brace is special knee pad support, what sets the patella in the central position.
Purpose of use
The anti-hyperextension orthosis can be used in case of:
knee hyperextension (after injury or congenital, e.g. Ehlers-Danlos Syndrome)
knee dislocation
knee twist and sprain,
side instability of the knee joint,
knee ligaments LCL, MCL and ACL injuries,
knee ligaments reconstruction,
other surgeries (orthopedic).
Available sizes
Size
Knee circumference
How to measure
S
30-34 cm
(11,8″-13,4″)
M
34-38 cm
(13,4″-15″)
L
38-42 cm
(15″-16,5″)
XL
42-46 cm
(16,5″-18,1″)
XXL
46-50 cm
(18,1″-19,7″)
Setting up

Downloads

Medical products class 1 – conforming the directive of the Board (93/42/EEC) concerning medical products. Producer of orthopedic and medical products, firm REH4MAT issued appropriate EC declaration of conformity.