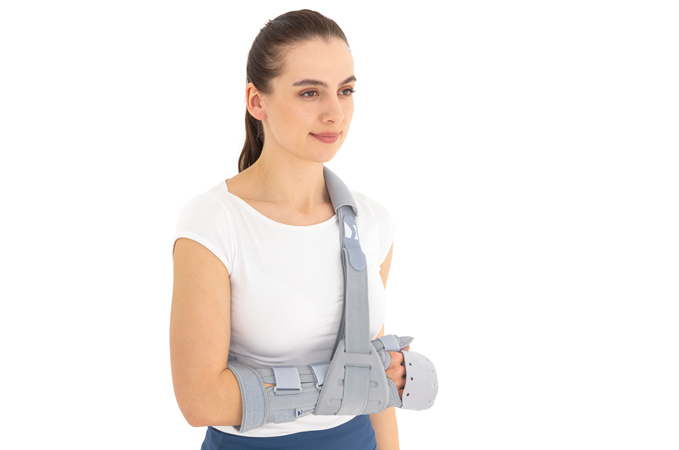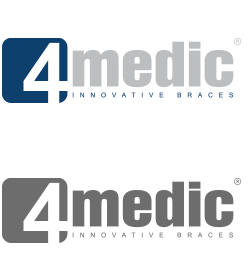 Wrist & forearm brace

Anatomic wrist splint

Cast replacement

Class I medical device

Innovative

Waterproof
LONG OPEN HAND AND FOREARM BRACE WITH THUMB ABDUCTION AND FINGER SEPERATION
Description
Hand and forearm brace made of AirSanmed II™ and equipped with VELCRO tape which enables perfect fit of the brace to the limb. It stabilizes the carpal joint, wrist, knuckle joint and second and fourth finger. Use: after injury of forearm, knuckle joint and wrist requiring stabilization of the thumb (even after breakage of forearm bones, wrist and hand) after surgery, in case of infective bursitis and paresis of upper limbs.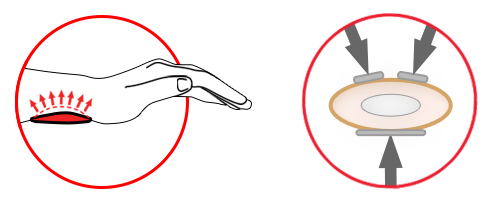 3 points stabilization
L3P (LOCK 3 POINTS)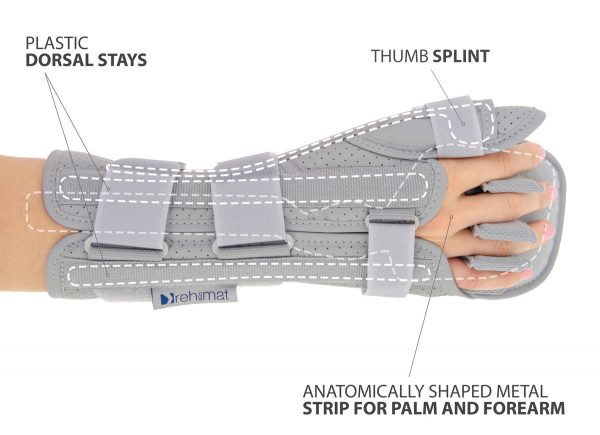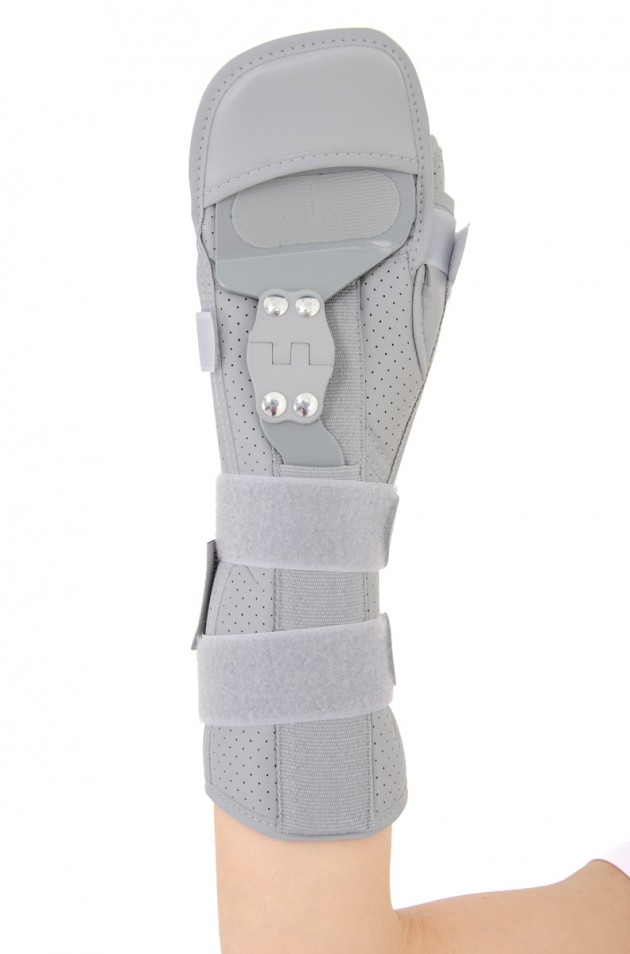 Purpose of use
Should be applied in cases of:
– dislocation of carpal joint,
– damages of tendon and tendonitis,
– severe pain of wrist,
– severe or chronic osteitis of wrist or metacarpus,
– operations ( orthopedic, rheumatologic),
– neurological illnesses of central or peripheral origin,
– fractures of bones that do not require plaster dressing.

Sizes
Size
Wrist circumference
How to measure
S
13-15 cm
(5,1″-5,9″)
M
15-17 cm
(6,1″-6,7″)
L
17-19 cm
(6,9″-7,5″)
XL
19-21 cm
(7,7″-8,3″)
Size
The length of the orthosis
S
30 cm
(11,8″)
M
35 cm
(13,8″)
L
38 cm
(15″)
XL
Left/right side available.
Gallery
Technology
MATERIALS
AirSanmed II™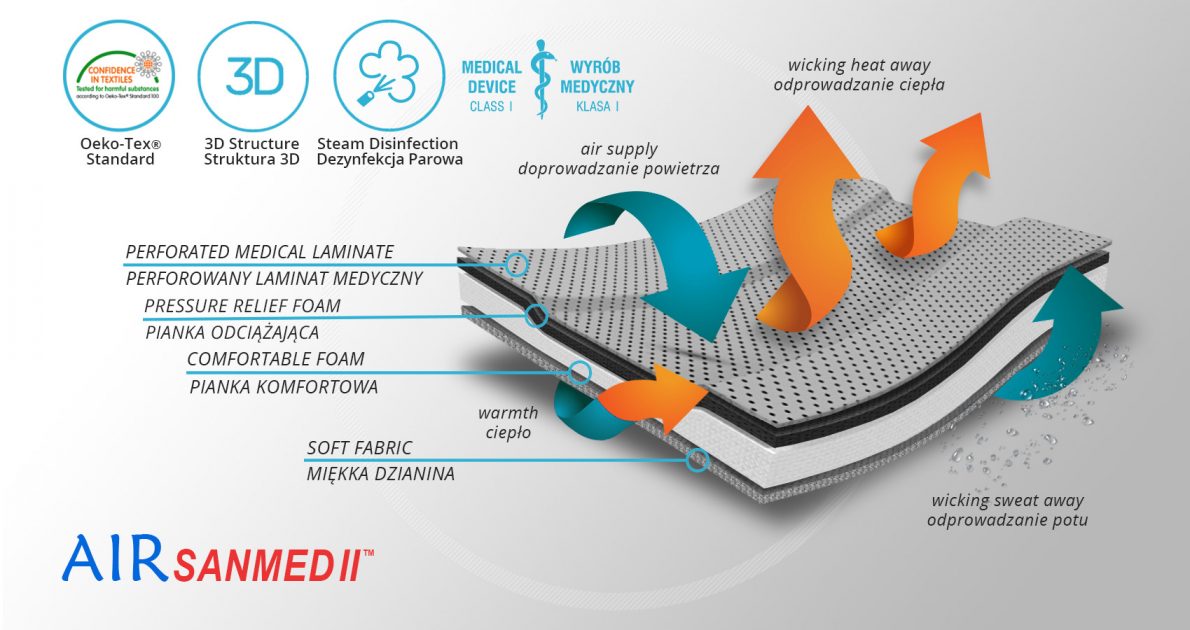 AirSanmed II™ is a multi layered intelligent orthopedic textile which is perfect for orthopedic braces production. It helps to maintain its functionality and high comfort of use. External vapour barrier is washable and possible to chemical or vapour disinfection. It is perforated and laminated with off loading foam. Due to this fact, the fabric is breathable and reduces the pressure of aluminum stays and splints. Off-loading foam is connected with soft, comfort foam improving the comfort of use. It's laminated with soft, breathable cotton with pH neutral for human's skin. This knitted cotton is certified with OekoTex Standard100 and fully skin-friendly.
ALLOWABLE DISINFECTANTS !!!
Type of active agent or surface-active agent
Maximum content in disinfectant
Spray the surface of the device with disinfectant, leave it for disinfectant's activation, then wash the device and dry it.
2-propane
35%
1-propane
25%
Ethanol
10%
Alkyl Dimethyl Benzyl Ammonium Chloride
0,2%
Glucoprotamine
25%
SoftComfort™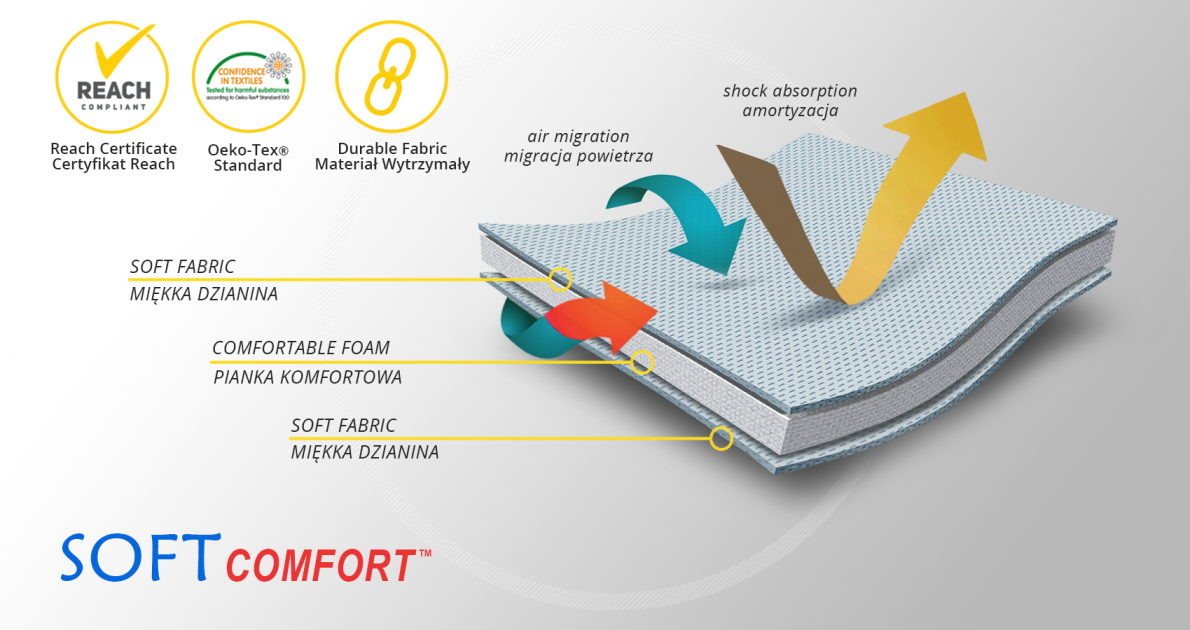 SoftComfort™ - a material specially designed to relieve very delicate places on the patient's body. The cover knit used in the production is made in such a way that it can come into contact with very sensitive skin. This raw material has the Oeko-Tex Standard 100 certificate and complies with the European REACH standard. The structure of the material consists of a very soft comfort foam laminated with a delicate cover knit. The fabric has a perforation that facilitates the flow of air through the material and allows the skin to breathe. The SoftComfort™ material is perfect for the production of linings relieving the rigid and inflexible elements of orthopedic orthoses.
STIFFENINGS
Anatomically shaped hand splint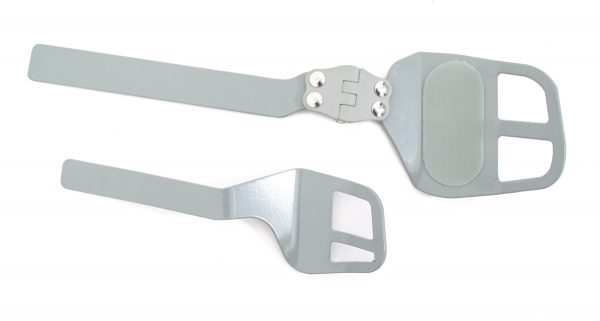 Plastic stays
They come in various widths and thicknesses, are made of various types of plastics, such as polyamide, ABS or acrylic, and these features determine their stiffness. Thanks to their design, they are resistant to water, moisture and sweat. Products equipped with them can be washed without having to remove them from the orthosis. Our plastic stays work only in one direction, perfectly stabilize the laterally protected part of the body, adjusting to it at the same time and have a memory function, thanks to which they always return to their original shape. This function causes the stays in the orthosis to stabilize the swollen limb immediately after the injury and after the swelling has come off. The plastic stays cannot bend and that is why, they cannot correct the body posture or the secured joint.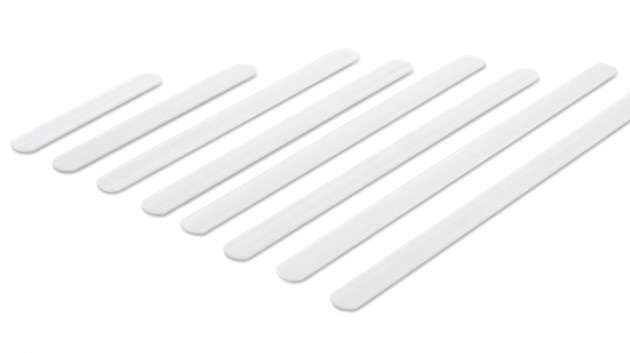 Thumb splint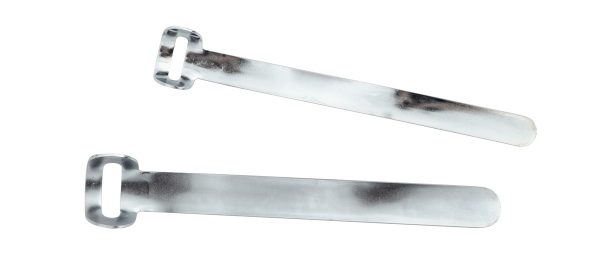 PADDINGS
3D supports
3D relief supports are independent technical solutions to relieve the rigid elements of a given orthosis. These elements are made of supporting foams or EVA foam. These foams are connected with various types of skin-friendly materials and materials with an adhesive function. These pads have the appropriate shape and color adapted to the type of orthosis. They relieve both metal elements of orthoses, such as splints, stays, underwires and orthopedic drop locks, as well as other elements that should not come into direct contact with the patient's skin. These pads have an anatomical shape and are made of comfortable foam with proper hardness and elasticity, guaranteeing the proper therapeutic effect.
Setting up
Downloads
Accessories
ACCESSORIES / PRODUCTS TO BE USED WITH
ON OUR WEBSITE WE PRESENT MEDICAL DEVICES.
USE THEM ACCORDING TO THE INSTRUCTIONS FOR USE OR LABEL.


Class I medical device in accordance with Regulation (EU) 2017/745 of the European Parliament and of the Council of 5 April 2017. on medical devices.
MANUFACTURER / ADVERTISING ENTITY: REH4MAT SŁAWOMIR WROŃSKI