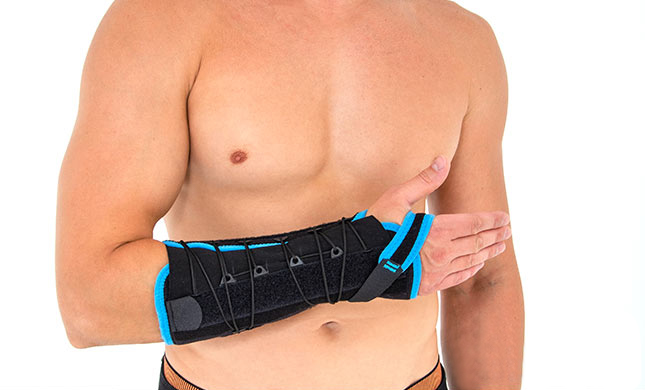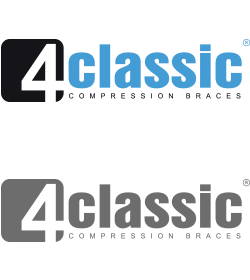 Wrist & forearm brace

Anatomic wrist splint

Cast replacement

Class I medical device

Compression

Waterproof
QUICK LACE WRIST AND FOREARM BRACE
Description
WRIST FRACTURE
Distal radius fracture is one of the most common type of bone fractures. It occurs at the end of the radius bone near the wrist. It happens in a sport activity, car or skiing accident. It is a result of falling on an outstretched or flexed hand. When you suffer from direct impact to the palm, it is called Colles fracture. If you are falling on a bent wrist, we call it Smith's fracture.

Immediately after injury the wrist is painful and swollen. The other symptom of the fracture is deformity and limited motion.
If the fracture is stable and doesn't require the surgery, the professional orthopedic wrist splint AM-OSN-L-04 is applied.
Product description
Wrist brace AM-OSN-L-04 is a professional medical device providing perfect fitting and immobilization. The brace is equipped with long aluminum splint which immobilizes and stabilizes radiocarpal joint and forearm.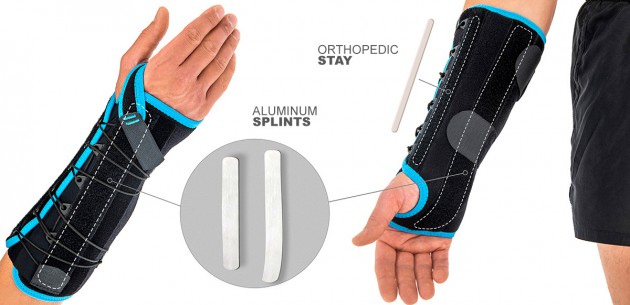 AM-OSN-L-04 provides immobilization for carpometacarpal (CMC) joint and it is highly recommended in case of distal radius fracture.
Quick lace closure provides fast and easy application. Also, it allows to adjust the level of compression.
On the dorsal side there is a thin orthopedic stay or additional stabilization.
Additionally, the brace is equipped with a spiral boning.
Quick lace wrist AM-OSN-L-04 is made of high innovative fabric UniPren™.
Our wrist brace AM-OSN-L-04 provides therapeutic compression and reduces bruises. It stabilizes the hand and provides all day comfort.
Purpose of use
• distal radius fracture (Colles' and Smith's fractures)
• carpometacarpal (CMC) joint injury
• bursitis
• wrist joint inflammation
• wrist sprain or strain
• wrist dislocation
Sizes
Size
Wrist circumference
How to measure
M
min 13 – max 17 cm
min 5,1″ – max 6,7″
L
min 17,5 – max 24 cm
min 6,9″ – max 9,4″
Right and left hand specific.
The total length of the product:
M: 27 cm / 10,6″
L: 30 cm / 11,8″
Gallery
Technology
MATERIALS
UniPren™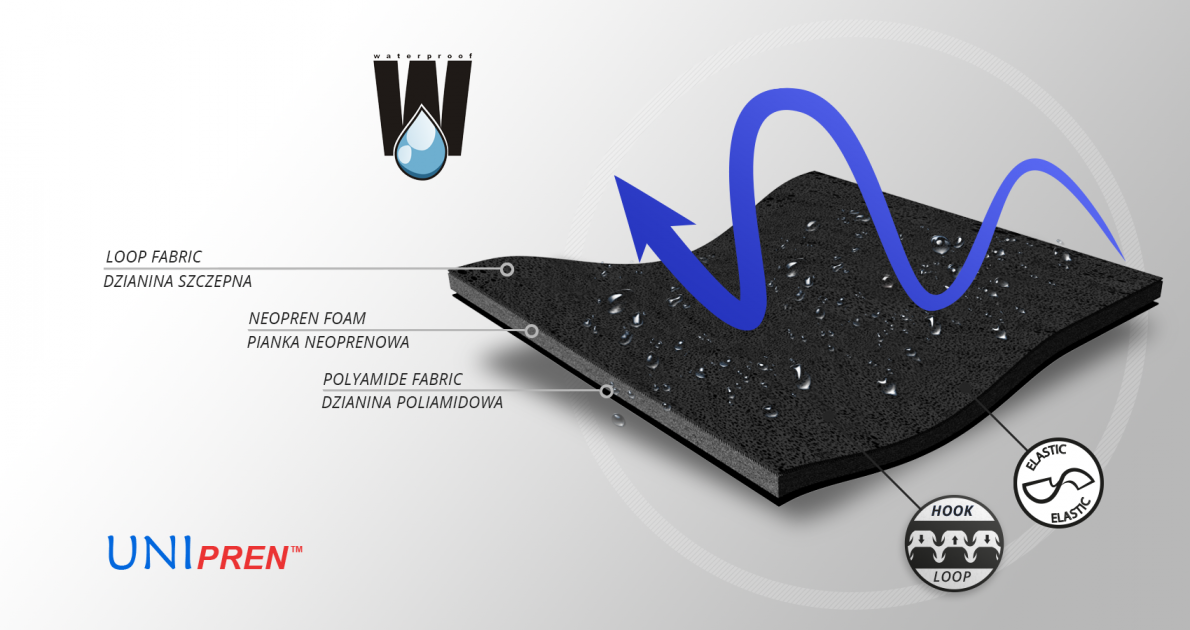 UniPren™ is a universal 3-layer material consisting of an external elastic polyamide cover knit with a self-adhesive function, an internal neoprene foam core and an elastic jersey cover knit. This material is characterized by softness and very high flexibility. A very important advantage of this material is the fact that it is not a knitted product, it does not have thick fibers, so that the weaves of the material do not imprint on the patient's skin and do not cause abrasionsin places of high compression. Products made of UniPren™ are the strongest and most effective stabilizing orthoses available on the market. Self-adhesive function, the raw material makes it much easier to use.
STIFFENINGS
Flat aluminum stays
Aluminum stays are made of a special aluminum alloy that guarantees proper stiffness with minimal weight. They have rounded ends to prevent the damage of the product and come in various widths and thicknesses. The level of stabilization of the orthopedic device is defined by proper selection of the width and thickness of the aluminum stays. The stays can be pre-profiled or flat. They do not adapt to the shape of the patient's body, an individual adjustment of the orthosis is required by proper bending of the aluminum stays in the product. Thanks to this function, it is possible to correct the position of the patient's body or the secured joint.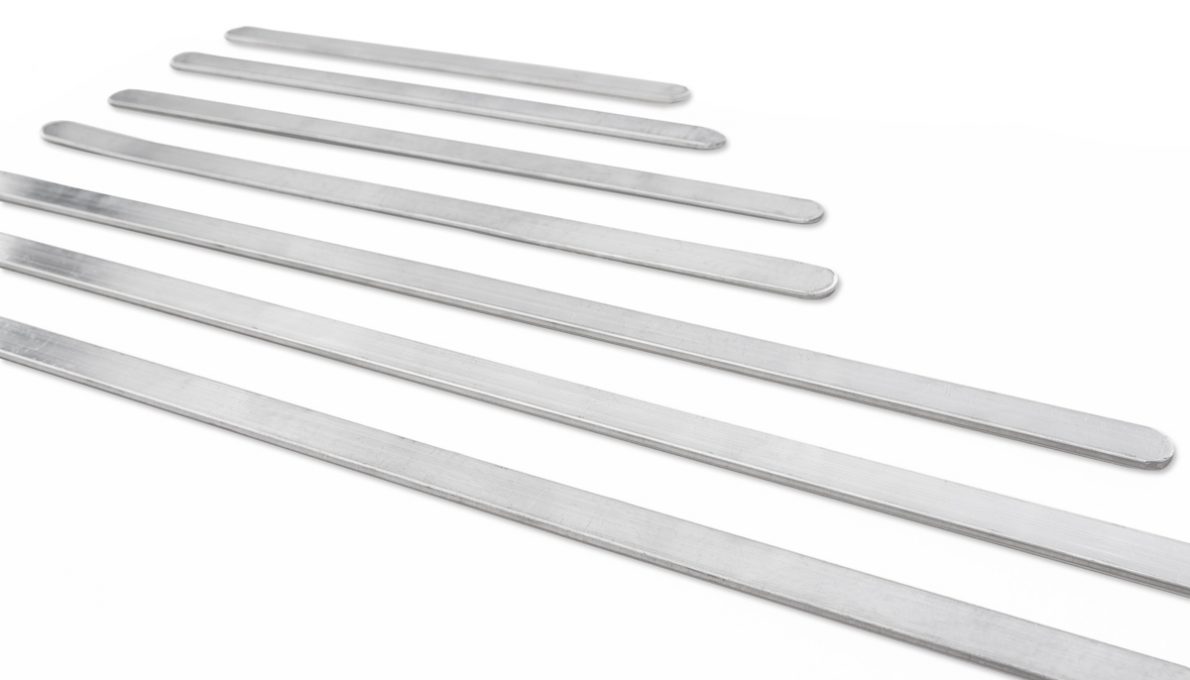 Palm strip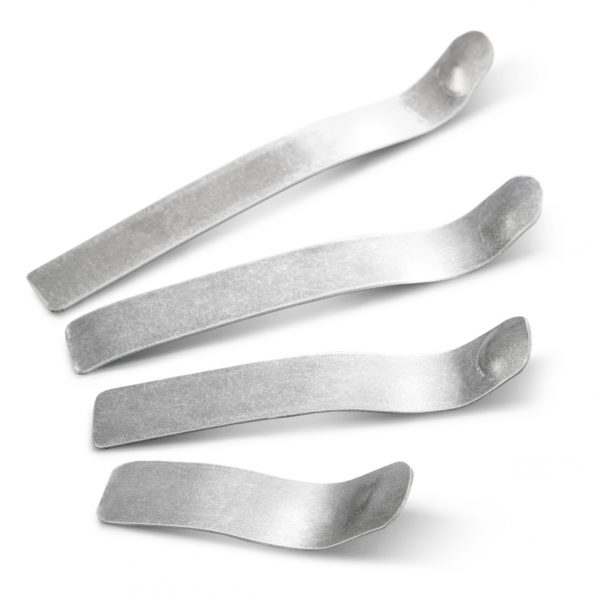 Plastic stays
They come in various widths and thicknesses, are made of various types of plastics, such as polyamide, ABS or acrylic, and these features determine their stiffness. Thanks to their design, they are resistant to water, moisture and sweat. Products equipped with them can be washed without having to remove them from the orthosis. Our plastic stays work only in one direction, perfectly stabilize the laterally protected part of the body, adjusting to it at the same time and have a memory function, thanks to which they always return to their original shape. This function causes the stays in the orthosis to stabilize the swollen limb immediately after the injury and after the swelling has come off. The plastic stays cannot bend and that is why, they cannot correct the body posture or the secured joint.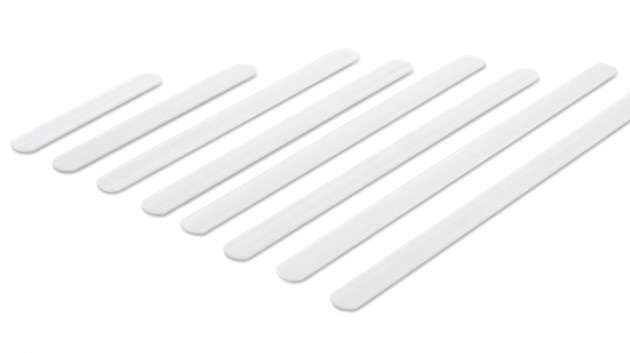 Downloads
Accessories
ACCESSORIES / PRODUCTS TO BE USED WITH


Class I medical device in accordance with Regulation (EU) 2017/745 of the European Parliament and of the Council of 5 April 2017. on medical devices.