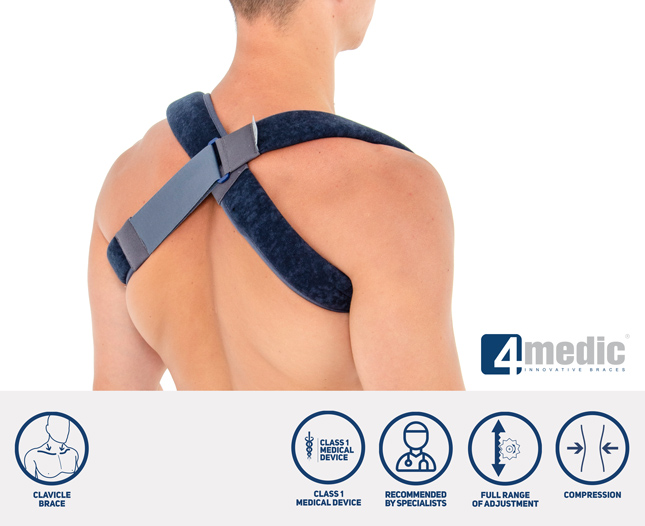 FIGURE 8 CLAVICLE BRACE
COLLARBONE FRACTURE
Clavicle, called collar bone, connects the sternum and scapula. It's a part of the shoulder girdle. Collarbone fracture is common injury in many athletes. Clavicle fractures are often associated with contact sports such as American football, rugby, hokey or wrestling. You might get hit or fall on your shoulder also. Collarbone fracture is painful and shoulder is visibly swollen. Upper limb mobility is limited.
Most of injuries need 4-6 weeks for recovery. Unfortunately, sometimes one of the common complication is shortened clavicle. To avoid this fact, using the professional clavicle brace AM-TX-06 is highly recommended. The brace immobilizes the collarbone perfectly and protects it against the further injury.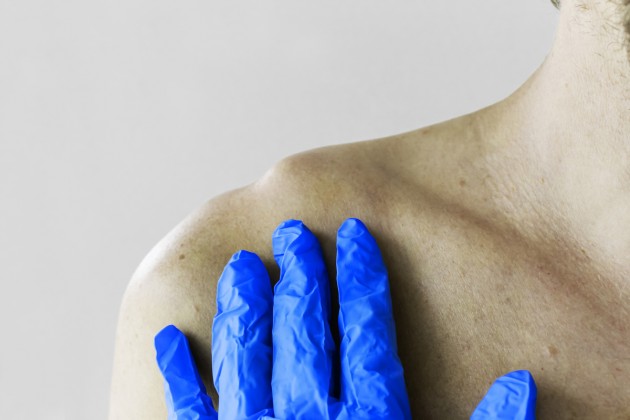 Product's description
Our figure 8 clavicle brace AM-TX-06 is a professional medical device. It immobilizes the collarbone and offers high level of stabilization. The figure 8 designed wraps around the both shoulders, help holds shoulders back, keeping collarbone stable.
Our 8 figure clavicle brace AM-TX-06 is made of soft, comfortable foam and innovative fabric ActivDistance™.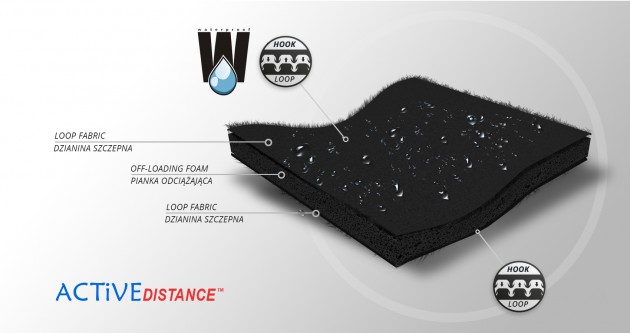 ActivDistance™ is 3-layered lamination, made of comfort foam and 2 non-elastic polyamide layers. ActivDistance™ is not elastic what improves stabilization. The foam inside makes our fabric very soft and comfortable. ActivDistance™ is self-gripping in both sides, so you can fit our devices perfectly.
Optimum wide straps provide excellent clavicle's stabilization and comfort of use. Our collarbone brace AM-TX-06 doesn't put pressure on user's armpits.
Our 8 figure clavicle brace AM-TX-06 offers perfect collarbone's immobilization and improves the healing.
Inside the brace is made of light weight, comfortable foam which is almost "invisible" for user. Due to this fact, our 8 figure collarbone brace is more comfortable than traditional casts. Durable Velcro closure allows to use it many times without loosing the level of stabilization.
Our 8 figure clavicle brace AM-TX-06 offers wide circumferential adjustment and perfect fitting.
Purpose of use
- collarbone fracture
- dislocation of the acromioclavicular (AC) joint
- improving the posture
Available sizes
Size
Chest circumference
How to measure
S
70 – 80 cm
M
80,5 – 90 cm
L
90,5 – 110 cm
XL
110,5 – 125 cm
2XL
125,5 – 140 cm
ATTENTION! To adjust the appropriate size, measure the chest circumference at the level of the armpits.
Downloads

Medical products class 1 – conforming the directive of the Board (93/42/EEC) concerning medical products. Producer of orthopedic and medical products, firm REH4MAT issued appropriate EC declaration of conformity.