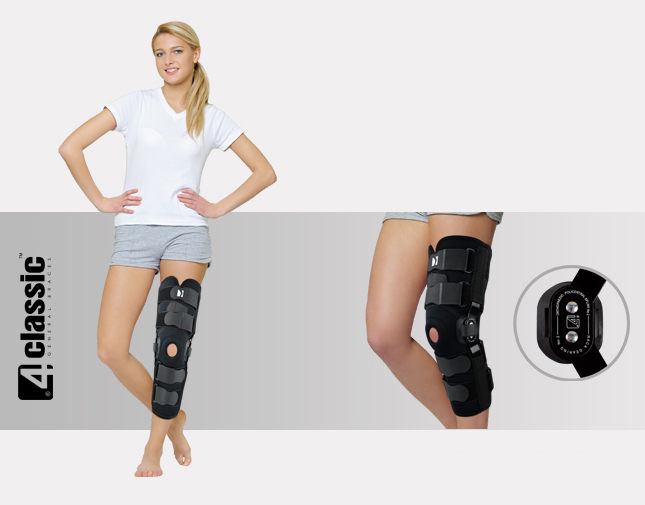 CLOSED LOWER LIMB BRACE WITH POLYCENTRIC HINGES
Product description
AM-OSK-ZL/2 is the closed brace, made of perforated neoprene foam, which is coated with lining fabric. This internal perforation allows skin to breath and reduces overheating. It has four independent sets of Velcro straps. The device is provided with 2-axial sides splints, which are made of high quality alloy of aluminium coated with permanent powdery cover. Length of splints and their system which is arranged in a shape of X letter, it allows to adhere perfectly to the limb and also enable to stabilize the joint excellently. Such precise adjustment of the device facilitates the process of rehabilitation of injured knee joint.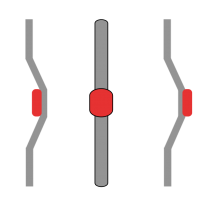 To achieve better fitting and limb stabilization we have provided anatomic profiled splint 2R. It allows to maintain the hinges in the axial knee joint. This kind of splints is universal so it is possible to use it for both legs.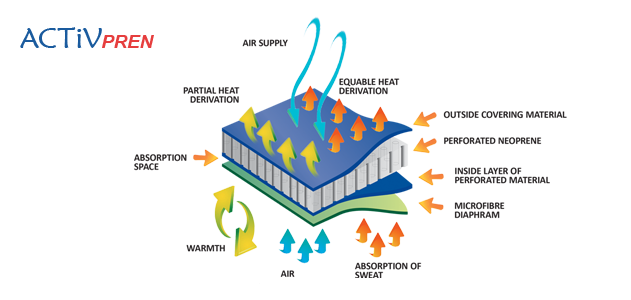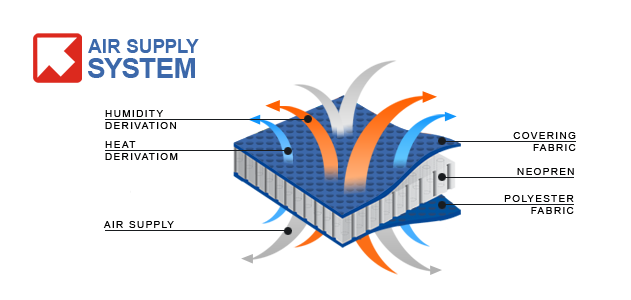 Purpose of use
AM-OSK-ZL/2 brace should be applied in cases of:
knee dislocation,
knee twist and sprain,
side instability of the knee joint,
knee ligaments LCL, MCL, ACL and PCL injuries,
after surgeries (orthopedic),
Available sizes
Size
(A) Thigh circumference 15 cm above the center of the patella
(B) Calf circumference 15 cm below the center of the patella
How to measure
S
40-44 cm
30-34 cm
M
44-48 cm
34-38 cm
L
48-52 cm
38-42 cm
XL
52-56 cm
42-46 cm
XXL
56-60 cm
46-50 cm
Setting up

Splints 2
Splints [2] – double-axis polycentric splints equipped with rack and pinion, which reflects the anatomic movement of the knee joint. It is made of high quality aluminium alloy, with durable sanded cover, which protects the splint from influence of sweat and salt. Splint is equipped with specially shaped silicone insert to stabilize the splint and additionally release stress from the knee joint.