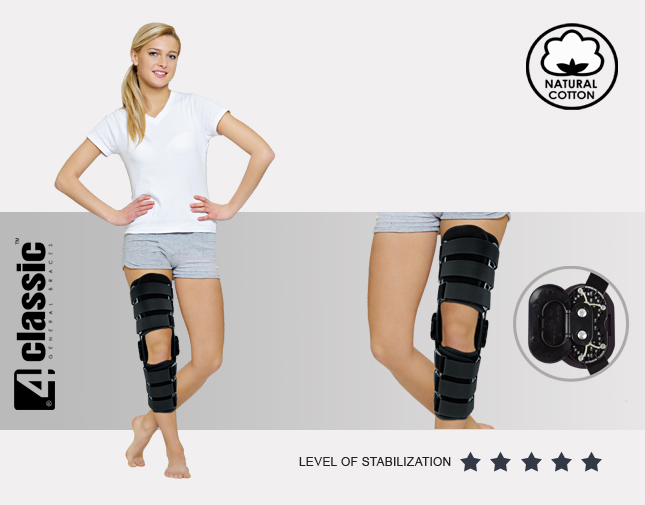 LOWER LIMB BRACE WITH POLYCENTRIC 20° ROM ADJUSTMENT
Product description
The device is provided with two biaxial side splints with a rack mechanism and flexion and extension adjustment. Splint are made from high quality alloy of aluminium coated with permanent powdery cover. The system of splints in Postoperative knee brace is arranged in a shape of X letter, which allows to adhere perfectly to the limb and also enables to stabilize the joint precisely. Biaxial working order of hocks inside splint is maximally similar to anatomical joint movement. Moreover, the flexion and extension angle can be adjusted in every 20°. Adjustment is very easy and you do not need any tools to perform it. Although the role of splints is side stabilization of limb, there is also installed a system of fixing to thigh sleeve and shin sleeve. It enables to attach the splints to the soft part of the brace in an individual, easy and precise way. The Velcro holds the device and assure exact adherence to the limb and stabilization of the joint. Additionally, there are soft cushions installed inside the hocks to protect knee from injuries.
The lower limb brace is made of:
Two open sleeves – for the thigh and shin part- enabling their easy installation and exact adjustment to sizes of bottom limb's measurements.
Orthopedic 2R splints with fixing system.
Set of Velcro tapes.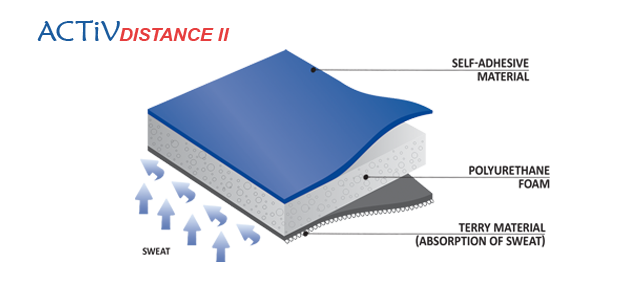 Purpose of use
after knee surgeries caused injuries (ACL/PCL reconstruction, internal joint fractures)
in severe knee instability or joint degeneration
in case of upright standing and walking learning caused neurological or orthopedic damages
in prevention and treatment of knee contractures caused paresis or joint degeneration
Size table
Size
(A) Minimum and maximum thigh circumference 15 cm above the patella
(B) Minimum and maximum calf circumference 15 cm below the patella
(C) Distance between knee joint interstice and groin
How to take measure
S
min 44 cm – max 52 cm
min 34 cm – max 42 cm
21,5 cm
M
min 52 cm – max 60 cm
min 42 cm – max 50 cm
25,5 cm
L
28,5 cm
Setting up

Splints 2R
Splints 2R – double axis polycentric splints, with rack gear which reflects the anatomic knee movement. Such splints are used in all knee joint braces where apart from angle adjustment lateral joint stabilization is also important. The splints are manufactured with high quality of aluminium alloy with sanded, durable cover which is neutral to the influence of sweat and salt. Required flexion and extension angle in every 20o is set by using the special pins. The splints are equipped with special oval covers to prevent the pins from falling out as well as from changing of the angle by unauthorized people. Standard length of the splints is 390 mm, but the braces with longer splints are additionally equipped with lateral stabilization of the knee joint. The splint and its design are patented in European Union by Reh4Mat Company.