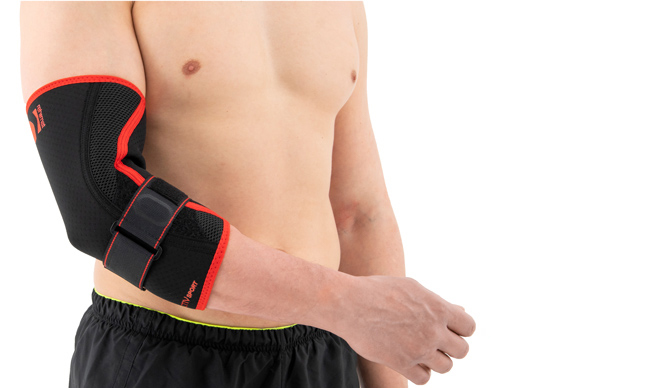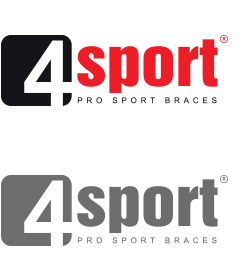 Elbow brace

Breathable

Class I medical device

Cotton

Skin-friendly

Spiral bonings
ANATOMIC ELBOW BRACE WITH ORTHOPAEDIC STAYS
Product description
Elbow brace is made of innovative, compression and skin-friendly fabric called AeroSpace™ with some elements made of ActiveSpace™.
AeroSpace™ is an innovative new generation raw material. It is a distance elastic 3D knitted fabric consisting of two layers of facings and an interlacing that creates the appropriate thickness of the raw material and has relieving properties. The knitwear is made of the highest quality polyester yarn - guaranteeing high mechanical strength and spandex ensuring its proper flexibility. This material is characterized by a very low weight, high flexibility and a very large openwork structure, allowing for very easy drainage of sweat from the body and bringing fresh air to the skin. Products made of this raw material are neutral to the secured joint, do not heat or cool it, but ensure its proper compression and fit and reduce muscle vibrations generated during physical exertion. Its thickness and 3D structure perfectly relieves the orthopedic splints, stays or other elements mounted on the product and guarantees velvety softness to the touch.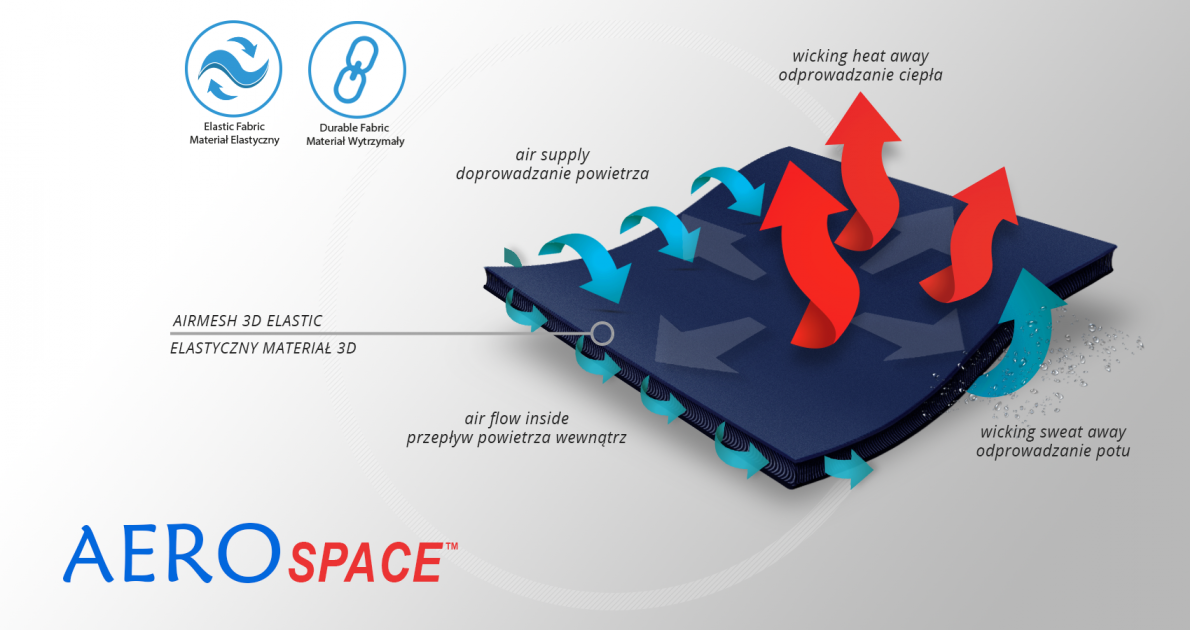 ActiveSpace™ is a spacer, polyamide 3D lamination with high skin ventilation. It is very lightweight, consisted of 2 layers. Between them, we use polyamide braids. ActiveSpace™ is not elastic what improves stabilization. Inside the lamination, between 2 layers, the air flows freely, maintaining minimal water and moisture absorption. Waterproof material.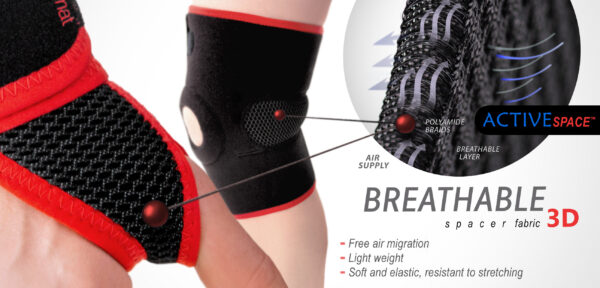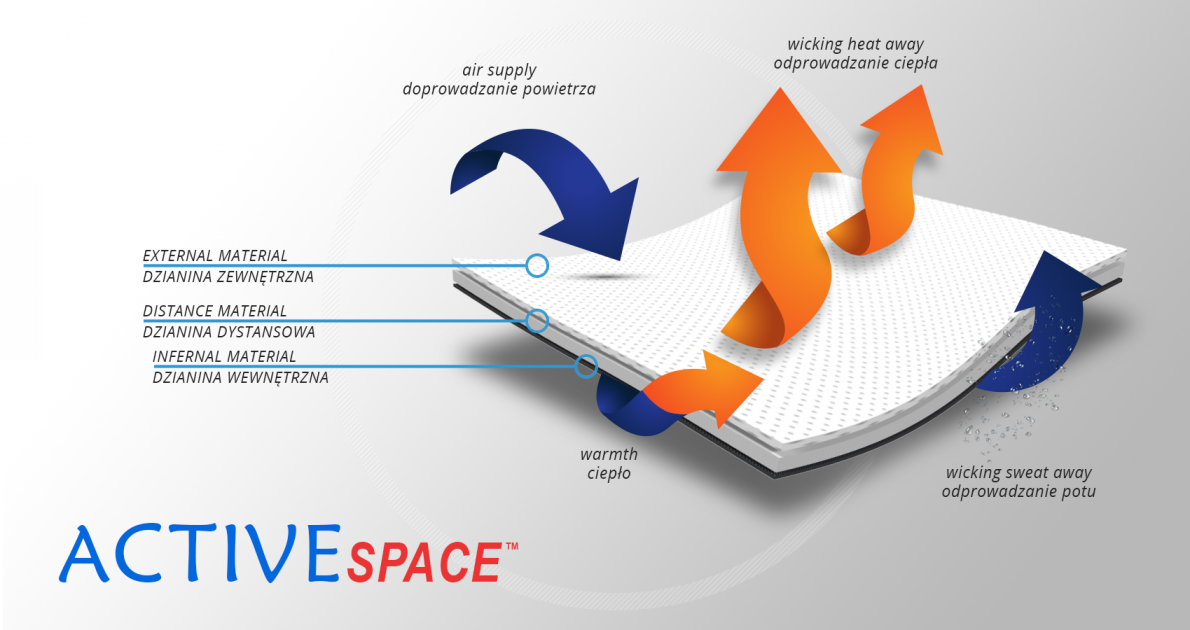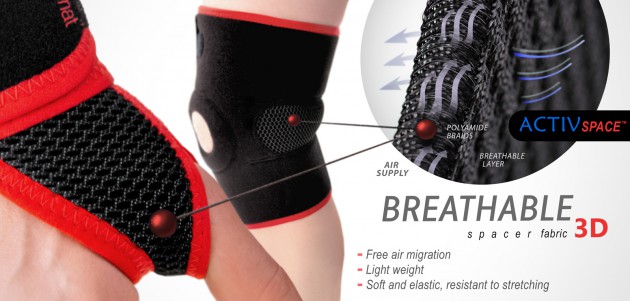 Properties
Perfect stabilization of elbow joint, ease of pressure on muscles of forearm and hand, reduction of pain caused by overstress and old injuries. Maintenance of stable temperature and elastic pressure results in reduction of swelling, helps in healing of post-injury effusions and hematoma. Enables faster come back to wok and training. Provides protection in contact sports. Detainment of warmth, preventing body overcooling and overheating, Comfort of use – the support contains no thick fibres which can cause abrasions if pressed firmly on patient's skin. Simplicity of use- simple way to put the support on and take it off by the patient. The design of this support guarantees maximum comfort of use, no movement limitation for both women and men. The product is equipped with fastening tapes which provide additional support to the joint, VELCRO tapes which secure the product from uncontrolled opening.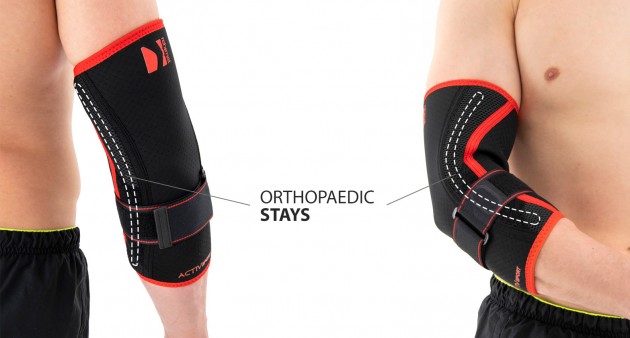 Applying
– after injury and treatment of elbow joint and forearm
– in chronic severe pain syndrome of elbow joint caused by injury or overstress;
– chronic overstress and inflammation of epicondylitis (tennis elbow) – reduction of problems, help in healing process
– in sport: injury prevention and to increase the strength of arm in tennis, golf, badminton, team sports
– hard physical work connected with rotating movement of fore-arm and hand against resistance.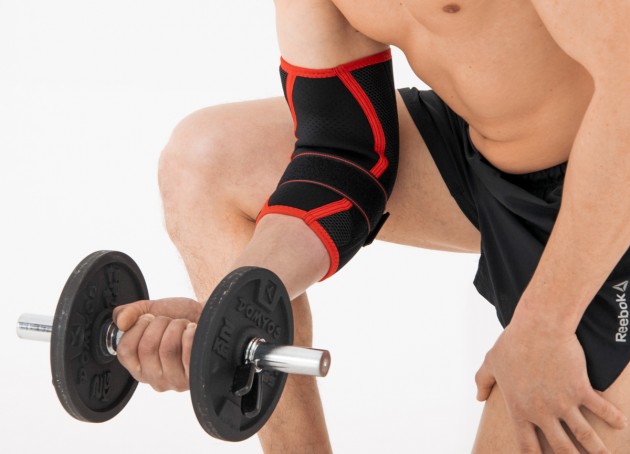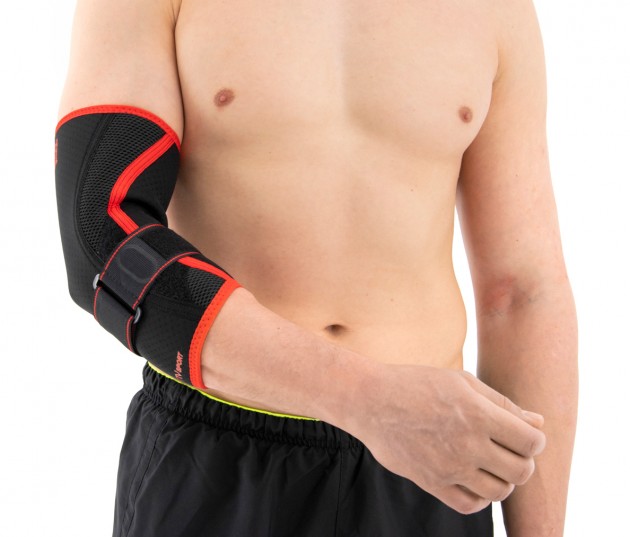 Available sizes
Size
Arm circumference
How to measure
S
26,5-28 cm
(10,4″-11″)
M
28,5-31 cm
(11,2″-12,2″)
L
31,5-34 cm
(12,4″-13,4″)
XL
34,5-36 cm
(13,6″-14,2″)
Total length of the product: 30 cm (11.8″)


Class I medical device in accordance with Regulation (EU) 2017/745 of the European Parliament and of the Council of 5 April 2017. on medical devices.