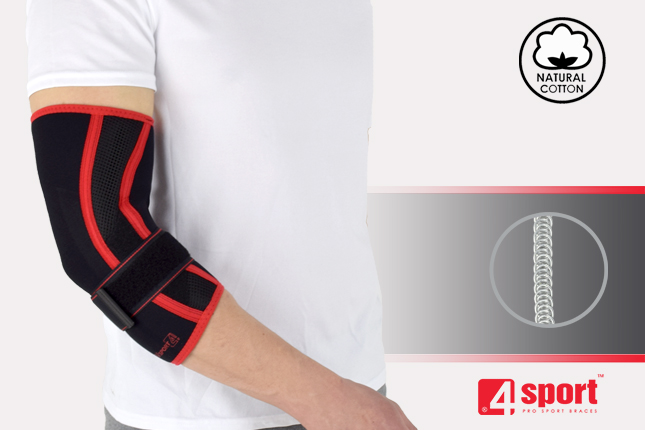 ANATOMIC ELBOW BRACE WITH ORTHOPAEDIC STAYS
Product description
Elbow brace is made of innovative, compression and skin-friendly fabric called CottonPren.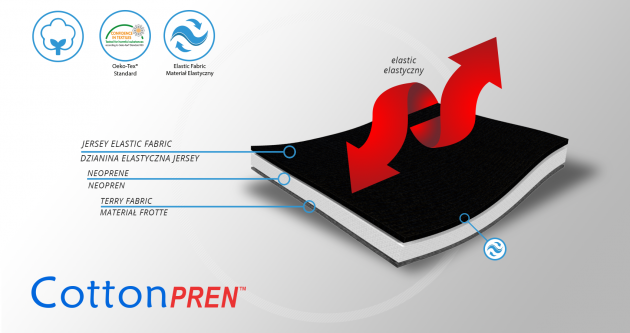 CottonPren is innovative and skin-friendly lamination. The devices, made of this material, provide excellent compression, good fitting and absorb shocks in joints and muscles. CottonPren is 3-layered spacer fabric consisted of external spandex with neoprene inside. The skin has contact with CottonPlush, providing high air permeability and maintaining the skin dry. this layer is skin-friendly what Oeko-Tex Standard 100 approved.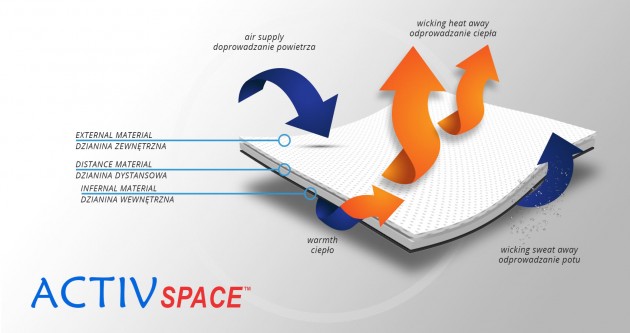 ActivSpace is a spacer, polyamide 3D lamination with high skin ventilation. It is very lightweight, consisted of 2 layers. Between them, we use polyamide braids with 4 mm width. ActivSpace is not elastic what improves stabilization. Inside the lamination, between 2 layers, the air flows freely, maintaining minimal water and moisture absorption. Waterproof material.
Available sizes
Size
Arm circumference
How to measure
S
26,5-28 cm
(10,4″-11″)
M
28,5-31 cm
(11,2″-12,2″)
L
31,5-34 cm
(12,4″-13,4″)
XL
34,5-36 cm
(13,6″-14,2″)
XXL
36,5-39 cm
(14,4″-15,4″)
XXXL
39,5-42 cm
(15,6″-16,5″)
Properties
Perfect stabilization of elbow joint, ease of pressure on muscles of forearm and hand, reduction of pain caused by overstress and old injuries. Maintenance of stable temperature and elastic pressure results in reduction of swelling, helps in healing of post-injury effusions and hematoma. Enables faster come back to wok and training. Provides protection in contact sports. Detainment of warmth, preventing body overcooling and overheating, Comfort of use – the support contains no thick fibres which can cause abrasions if pressed firmly on patient's skin. Simplicity of use- simple way to put the support on and take it off by the patient. The design of this support guarantees maximum comfort of use, no movement limitation for both women and men. The product is equipped with fastening tapes which provide additional support to the joint, VELCRO tapes which secure the product from uncontrolled opening.
Applying
- after injury and treatment of elbow joint and forearm
- in chronic severe pain syndrome of elbow joint caused by injury or overstress;
- chronic overstress and inflammation of epicondylitis (tennis elbow) – reduction of problems, help in healing process
- in sport: injury prevention and to increase the strength of arm in tennis, golf, badminton, team sports
- hard physical work connected with rotating movement of fore-arm and hand against resistance.
Downloads

Medical products class 1 – conforming the directive of the Board (93/42/EEC) concerning medical products. Producer of orthopedic and medical products, firm REH4MAT issued appropriate EC declaration of conformity.