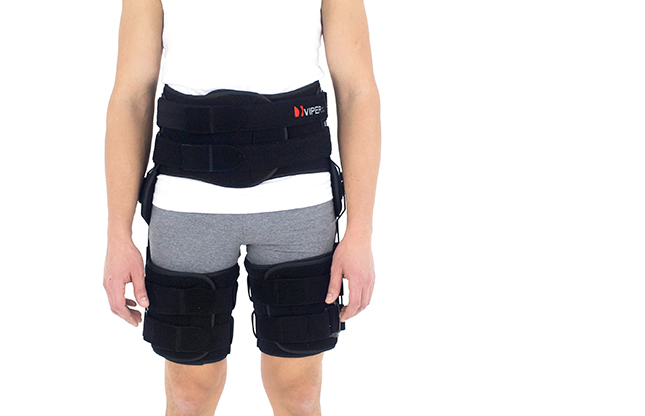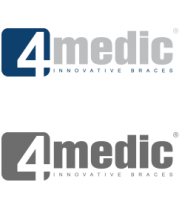 Hip brace

2 in 1

Class 1 medical device

Cotton

Full range of adjustment

Innovative

Latex-free

Press-slide

Recommended by specialists

Unicentric joint 1R

Universal size
VIPERdual
Bilateral hip brace with ROM and splint length adjustment
Adult hip dysplasia and dislocation
The hip is the largest "ball-and-socket" joint in the body. It is held together by ligaments, tendons, and a joint capsule. The hip joint is created by femoral head (ball) and acetabulum (socket). They are cover by smooth articular cartilage. It provides smooth and painless movement. The labrum creates a seal of the hip joint and keeps a natural fluid called synovial fluid inside the hip joint.
Hip dysplasia means that the hip joint is the wrong shape, or that the hip socket is not in the correct position to completely cover and support the femoral head. It causes painful hip instability and asymmetric movements.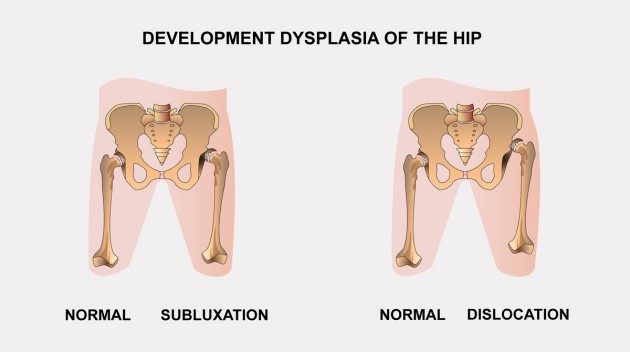 The first sign of hip dysplasia in an adolescent or young adult are typically hip pain and a limp. In rare cases, clicking and popping may be the presenting sign.
In medicine we use a number of different terms for hip dysplasia depending on severity and time of occurrence. These names include1:
Hip Dysplasia
Developmental Dislocation of the Hip (DDH)
Hip Dislocation
Developmental Dysplasia of the Hip (DDH)
Acetabular Dysplasia
Congenital Dislocation of the Hip (CDH)
Non-treated hip dysplasia may causes advanced hip deformations and disability!
To reduce pain and risk of hip deformations, we introduced to our offer VIPERdual (AM-SB/1RE) – innovative bilateral hip brace with range of motion adjustment.
Product description
VIPERdual brace stabilizes hips and provides immobilization o range of motion adjustment in every 15 degrees. The brace is made of ActiveDistance and equipped with universal hip part, two thigh straps and two 1-axial lateral splints with length and ROM adjustment in every 15 degrees.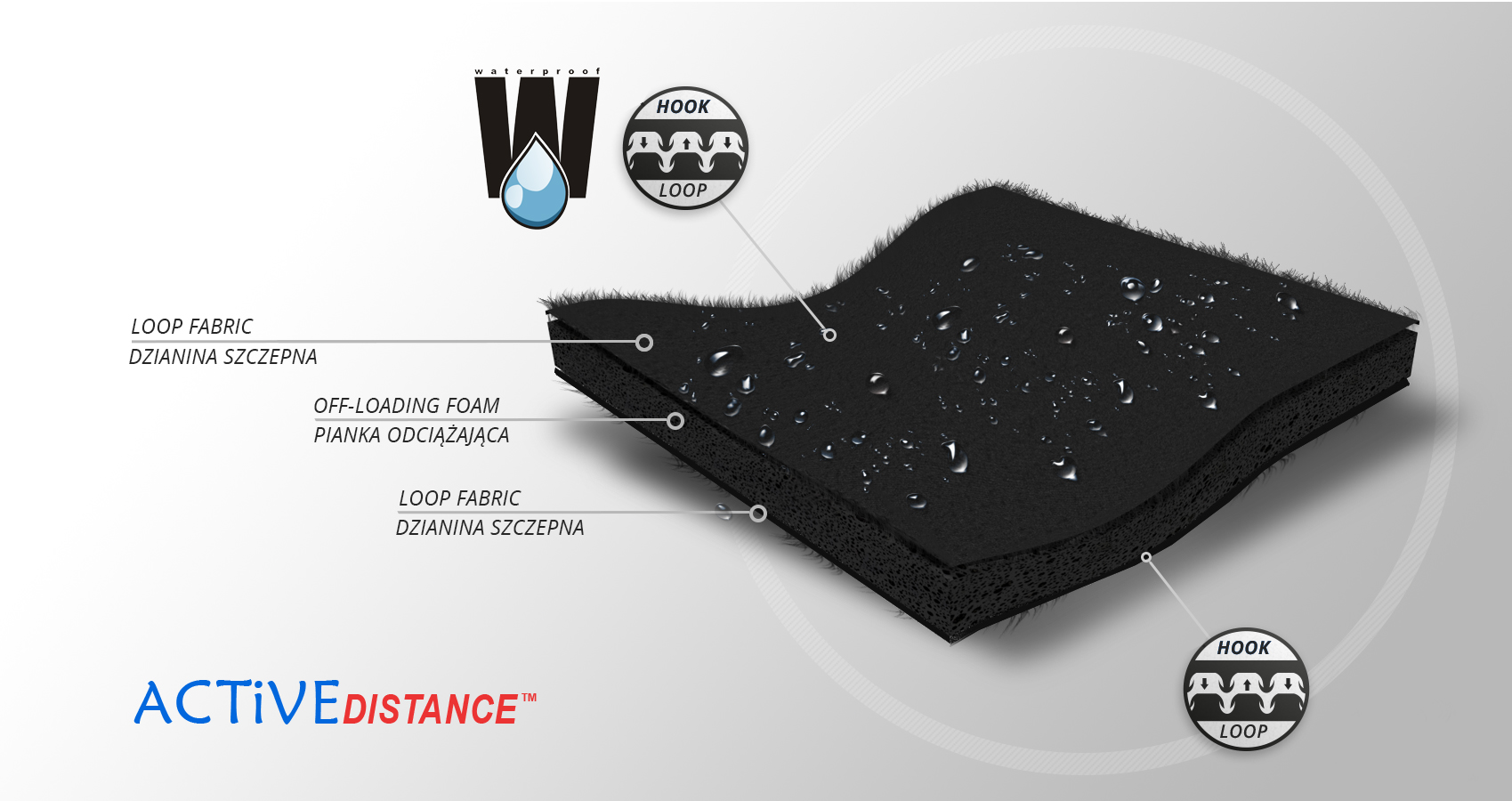 ActiveDistance™ is an technical off-loading lamination with 3-layered construction. It's made of EVA foam double-sided laminated with non-elastic polyamide layer that is easy to attach. This self-gripping function of ActiveDistance™ provides wide range of adjustment and perfect fitting. What is important, ActiveDistance™ is non-elastic fabric so it stabilizes your body in a perfect way. Thanks to using the comfort foam, the device is really soft what influences on the comfort of using it. Waterproof material.
Hip part is anatomic-shaped and universal size, so you can adjust it by cutting the excessive material off. Frontal panel fits to every body's shape.
Additionally, hip belt is equipped with two plastic lateral pads, where we assembled our orthopedic splints and two sets of circumferential straps.
Our bilateral brace VIPERdual is lightweight what increasing the comfort of use. Two monocentric splints are made of high quality aluminum hot covered by powder dye. The splints are anatomic-shaped and provide excellent stabilization.
The drop-locks provide range of motion adjustment in every 15 degrees what allows to place the leg in the required therapeutic position. The adjustment is done without any additional tools. The drop-locks are made of plastic with carbon fiber. They are light and neutral to the influence of sweat and salt, properly firm, assuring correct functioning of the device.
What's more, you can adjust the required length of the splints very easy. It's done by our special mechanism press-slide. You just need to press the special button and adjust the splint so that it would be fully comfortable for you.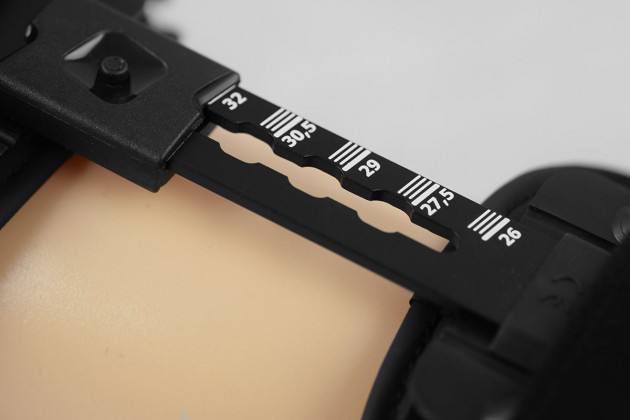 VIPERdual hip brace provides excellent off-loading with stabilization of hip joints and po-op control. The brace supports the hips while learning to walk and reduces the muscles contractures. Control of the range of motion and option of hip immobilization can stop the degeneration process and reduce the pain effectively.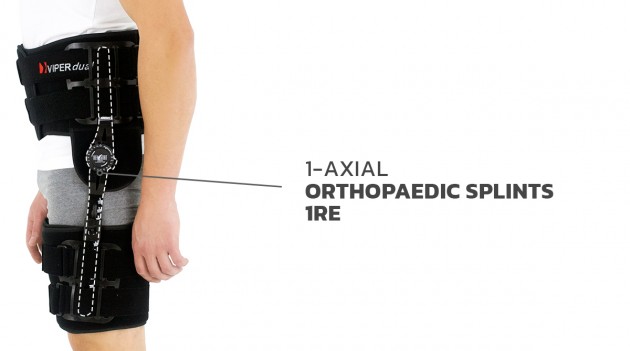 Purpose of use
hips dysplasia,
hips dislocation,
hips degeneration,
coxarthrosis,
in early rehabilitation and walk learning in patients after the hip surgery treatment
in rehabilitation of patients with muscle contractures of the hip joint due to the neurological or orthopedic reasons
in every case according to the physician's recommendation
Available sizes
Size
Waist circumference
How to measure
Universal
min 75 – max 125 cm
(min 29,5″ – max 49,2″)
Maximum user weight up to 75kg.
Total length of product:
min: 53 cm (20,9″)
max: 67 cm (26,4″)
Splints 1RE
Splints 1RE – single axis orthopedic splints, used mainly in knee joint, upper limb and hip joint braces. The characteristic quality of this splint is, apart from wide range of motion adjustment in every 15 degrees, is also hyperextension adjustment in the secured range of -15 and -30 degrees. The splints are characterized by perfect lateral joint stabilization and low weight. The set-up of the angle adjustment clock doesn't require any tools, and special safety system prevents the change of the angle by unauthorized people. The splints are made of high quality aluminium alloy and plastic with carbon fibre. They are light and neutral to the influence of sweat and salt, properly firm, assuring correct functioning of the device. The splint and its design are patented in European Union by Reh4Mat company.

Press-slide System – Regulation of the length of splint

Press-slide system is the another technological newness in our offer that we would like to introduce to You with a great pleasure. The regulator of the length of splint Press-slide is the element of orthopaedic braces, designed especially according to the innovative rule – MiniMax (minimum choice, maximum effect). That is why, orthopaedic devices equipped with Press-slide system may be characterized by small dimensions, very low weight and significant ergonomics of usage. What is more, the system was engineered to facilitate the extension or the shortening of the splint to the patient in the most easy and safe way. Press-slide was made of special kind of plastic strengthened by fiberglass and thanks to that solution its durability is much more noticeable than in case of aluminium. The regulation of splints is very easy – you just need to press the special button and regulate the splint so that it would be fully comfortable for you. To make that activity easier, on the surface of the lower limb splints we placed the centimeter scale that defines the distance between knee joint and the end of thigh splint and shin splint. Regarding upper limb braces, we placed the scale that simplifies the repeatable splint regulation.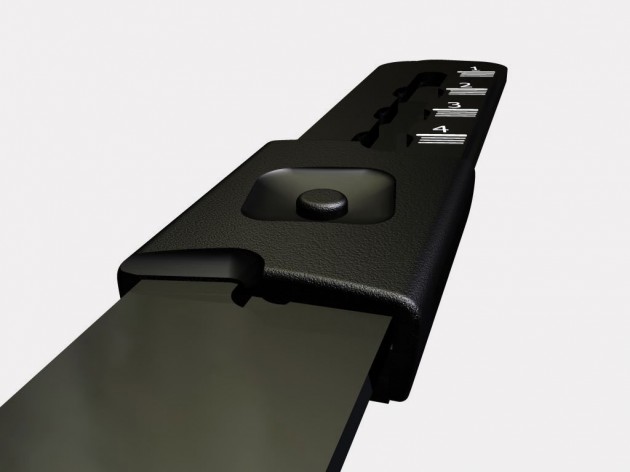 MiniMax principle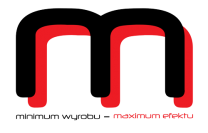 MiniMax is the first principle of REH4MAT that focuses on maximum effect in minimum device. Designing of our braces, we focus heavily on their effectiveness where, aside from functionality, the size of braces is significant. Unique constructions of our devices provide maximum safety and protection with little sizes. It allows to use comfortably our braces in sport shoes or under clothes.
____________
1 http://hipdysplasia.org/
Downloads

Medical products class 1 – conforming the directive of the Board (93/42/EEC) concerning medical products. Producer of orthopedic and medical products, firm REH4MAT issued appropriate EC declaration of conformity.