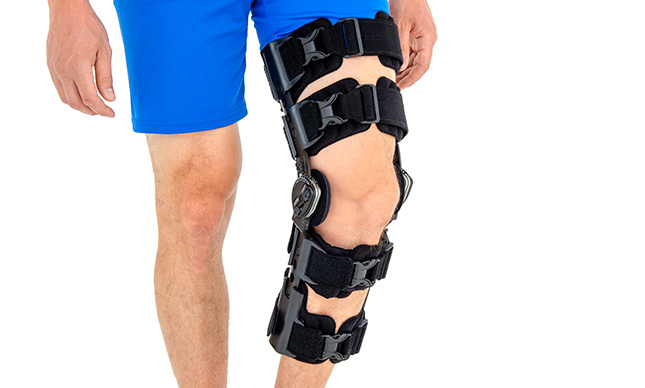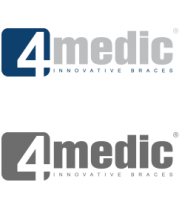 Knee brace

Cast replacement

Class 1 medical device

Double-sided

Full range of adjustment

Innovative

Recommended by specialists

Skin-friendly

Uniaxial orthopedic splints 1X

Universal size
4Range
UNIVERSAL KNEE BRACE WITH ROM ADJUSTMENT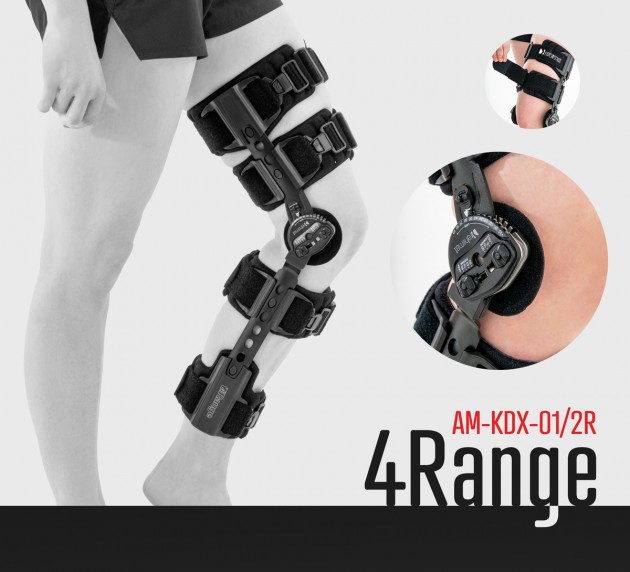 Knee arthroscopy
Arthroscopy allows to see the joint from the inside and gives most information than others. In diagnostic, doctor can take a joint fluid samples or a little bone to analysis. Later, doctor can provide therapeutic arthroscopy.
Anterior Cruciate Ligament (ACL) is the common reason of knee arthroscopy. The ACL ligament plays the role of drawer syndrome and rotation tibia control and knee joint proprioception. ACL surgery provides knee stabilization, perception and neuromuscular control1.
Sometimes, diagnostic arthroscopy is essential to insert special optic instrument into joint that allows to see the inside of the knee. During this arthroscopy the small fragments are cleared.
After surgery the knee is immobilized in special po-op knee brace. In the frist day, the patient can walk only with crutches with off-loading the leg. When the surgical drains are removed, the leg can be load a little. The ACL grafts take after 8-10 months, but the walking is possible earlier, but the rehabilitation is necessary from the beginning.
Product description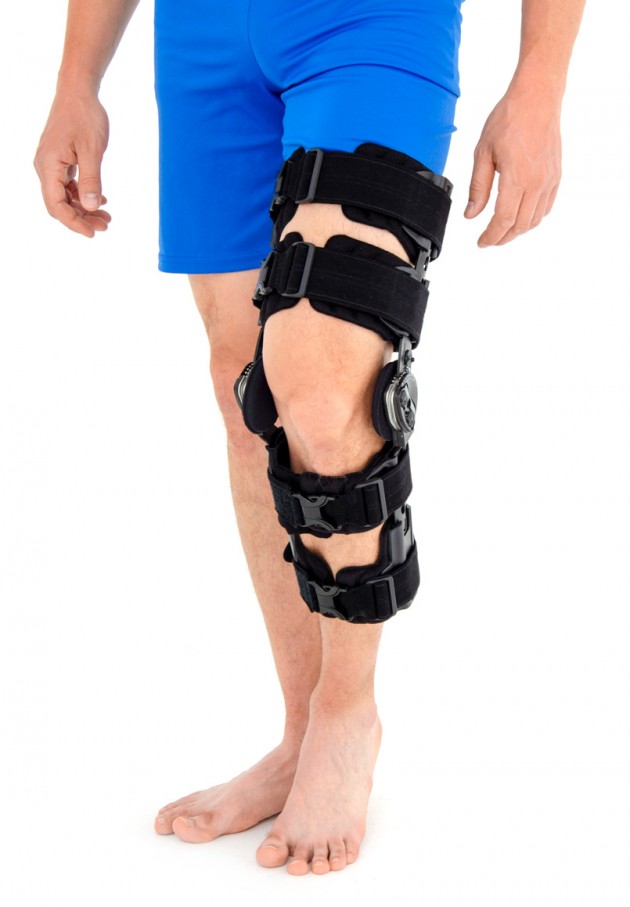 Our universal post-op after surgery knee brace with ROM adjustment 4Range it the best solution after surgery. Our knee brace is very light, openwork device that improves patient's comfort. The brace is equipped with two 1-axial splints 1X.  The drop-lock provides ROM adjustment in every 10 degrees without any tools.
In addition, the length of splints are adjusted that knee brace has universal size.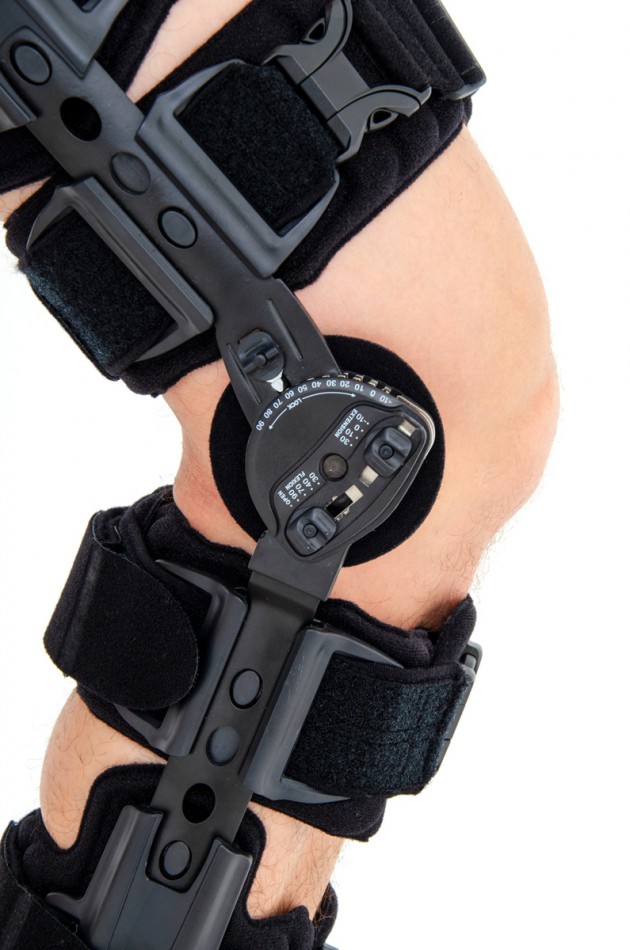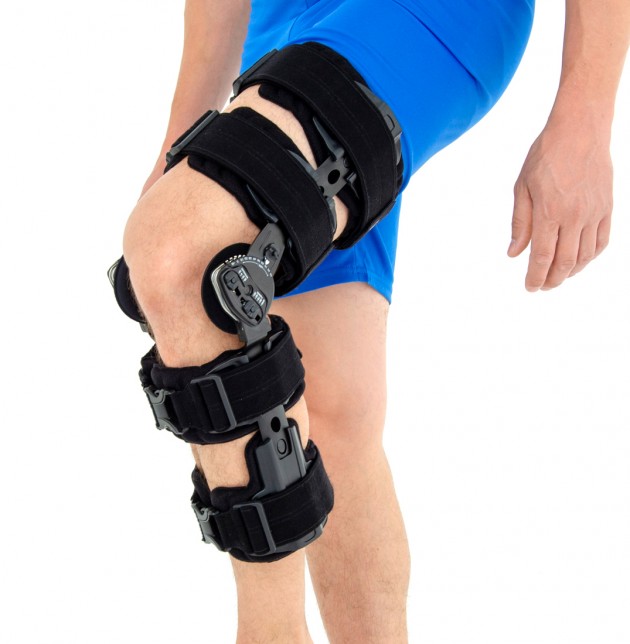 The device is equipped with soft pellotes with silicone that prevents against the slipping the brace off. The VELCRO tapes provide effective and excellent joint stabilization. Our po-op knee brace is easy to adjust even in patients with thigh and calf disproportions.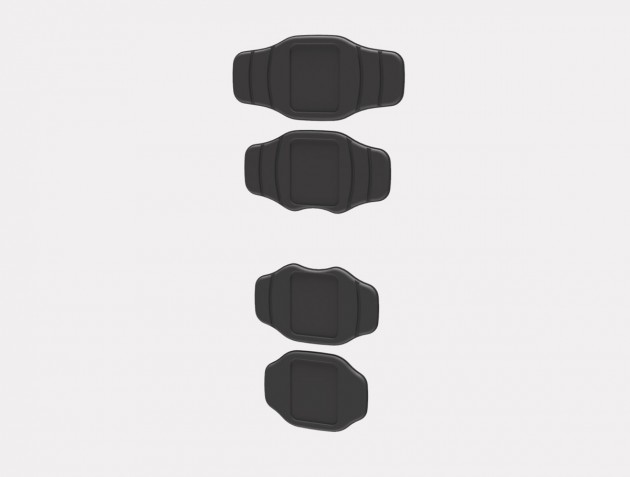 Our 4Range knee brace has system of frontal fast fastening what improves brace functionality and comfort of use.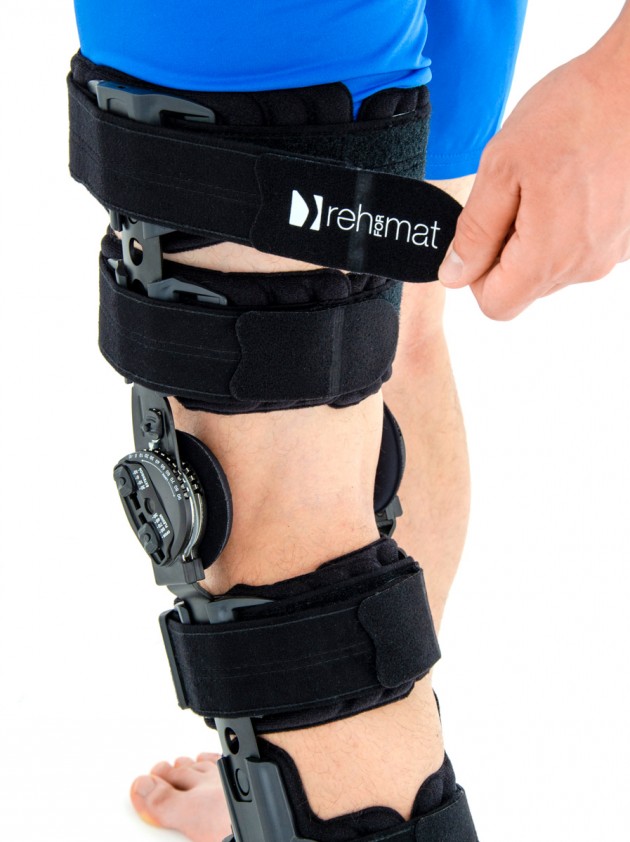 Our post-op knee brace is for both legs and has universal size.
The product is made of Active3D™.
Active3D™ is thermoformed fabric made of special foamed, cell-closed designed material. It reduces the pressure on the body or any abrasions made by orthopaedic stays and aluminum splints. It is fully waterproof fabric and does not absorb sweat. It's easy to clean. Due to its features, the fabric is an excellent product for making medical orthopaedic braces and orthoses. ACTIVE 3D™ has various external self-gripping layers. Our material has special, thermoformed properties and may be shaped according to the functional goals of the final braces.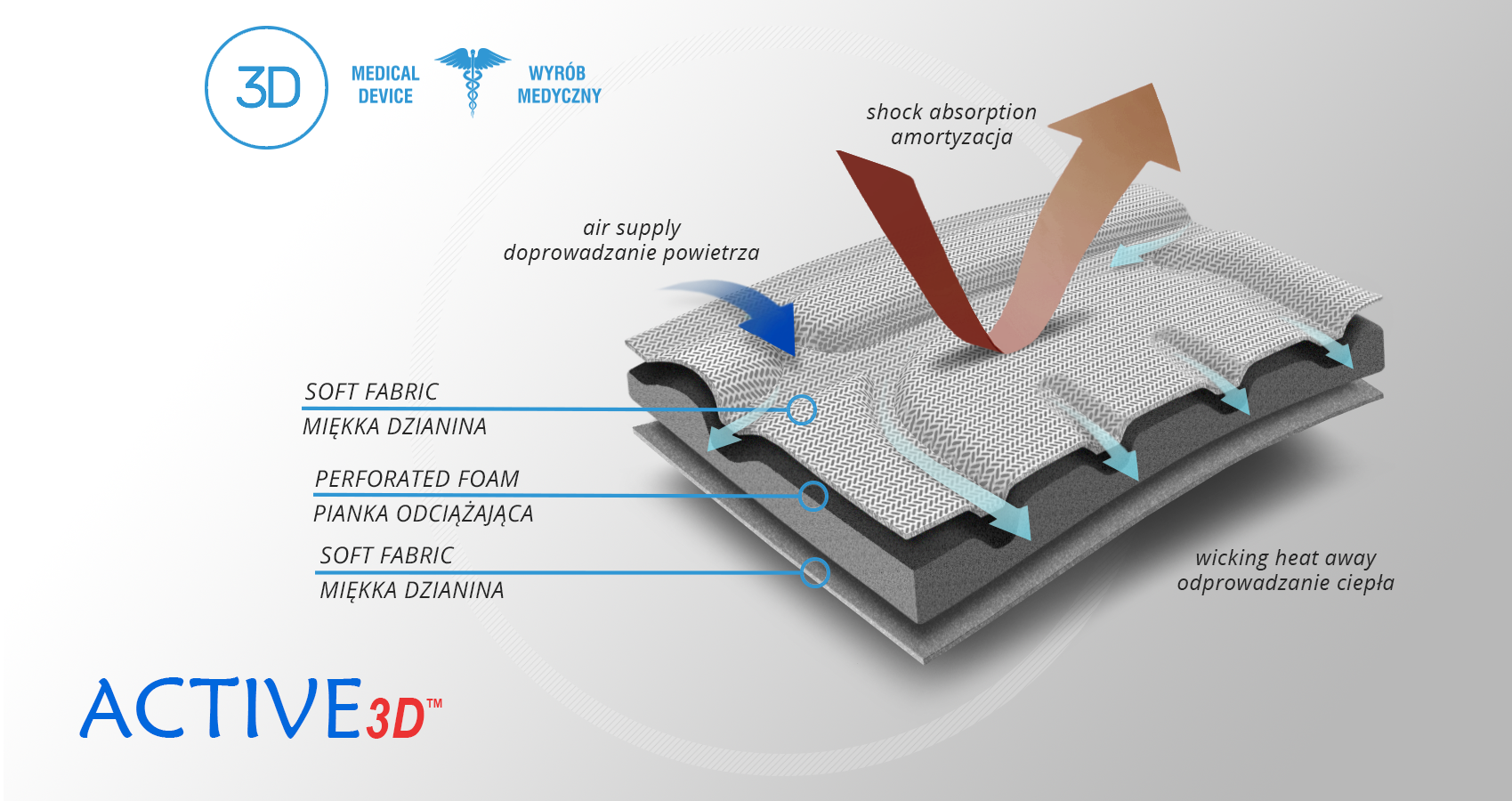 LOWER LIMB ORTHOSIS AM-KDX-01/2R is a product used to limit the mobility of the knee joint after surgery, treatment and healing of knee joint injuries and as immobilization if the patient is qualified for surgery. All diseases causing deformations within the lower limb exclude the use of the AM-KDX-01/2R brace due to the risk of permanent damage. In order to stabilize the limb in the case of deformation and degenerative changes, it is recommended to use professional steel orthoses, made in specialized orthopedic centers.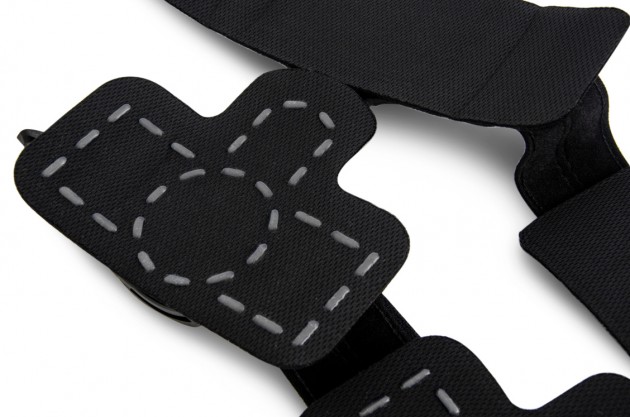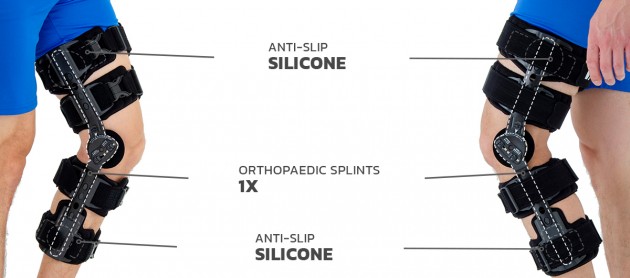 Purpose of use
- ligaments injuries (ACL)
- knee arthroscopy
- ligaments reconstruction/replacement (ACL)
- meniscus reconstruction
Size table
Size
(A) Thigh circumference 15 cm above the center of the patella
(B) Calf circumference 15 cm below the center of the patella
(C) Distance between knee joint interstice and groin
(D) Distance between knee joint interstice and shin
How to measure
Uniwersalny
min 40 –
max 75 cm
min 15,7″ – max 29,5″
min 30 –
max 60 cm
min 11,8″ – max 23,6″
min 22 –
max 27 cm
min 8,7″ – max 10,7″
min 26 –
max 35 cm
min 10,2″ – max 13,8″
Total length of product:
min 48 cm – max 62 cm (min 18,9″ cm – max 24,4″ cm)
Fits for both legs
____________________________
1. Barrack RL, Skinner HB. The sesnsory function of the knee ligaments. In: Daniem DM, Akeson WH, O'Connor JJ, editors. Knee ligaments: structure, function, injury and repair. New York: Raven Press; 1990. P.95-114
2. Barrack RL, Skinner HB, Buckley SL. Proprioception in the anterior cruciate dificient knee. Am J Sports Med. 1989;17:1-6
3. Bessette G, Hunter RE. The anterior cruciate ligamrnt. Orthopedics 1990;13:551-62
4. Halata Z, Wagner C, Baumann Kl. Sensory nerve endings in the anterior cruciate ligament of sheep. Anat Rec 1999;254(1):13-21
5. Valeriani M, Restuccia D, Di Lazarro V, Franceschi F, Fabbriciani C, Tonali P, et al. Clinical and neurophysiological abnormalities before and after reconstruction of the anterior cruciate ligament of the knee. Acta Neurol Scand 1999;99:303
REPLACEMENT ITEMS
- 3D pillow set
- set of straps and buckles
Press-slide System – Regulation of the length of splint

Press-slide system is the another technological newness in our offer that we would like to introduce to You with a great pleasure. The adjuster of the length of splint Press-slide is the element of orthopaedic braces, designed especially according to the innovative rule – MiniMax (minimum choice, maximum effect). That is why, orthopaedic devices equipped with Press-slide system may be characterized by small dimensions, very low weight and significant ergonomics of usage. What is more, the system was engineered to facilitate the extension or the shortening of the splint to the patient in the most easy and safe way. Press-slide was made of special kind of plastic strengthened by fiberglass and thanks to that solution its durability is much more noticeable than in case of aluminium. Adjustment of splints is very easy – you just need to press the special button and ajustd the splint so that it would be fully comfortable for you. To make that activity easier, on the surface of the lower limb splints we placed the centimeter scale that defines the distance between knee joint and the end of thigh splint and shin splint. Regarding upper limb braces, we placed the scale that simplifies the repeatable splint adjustment.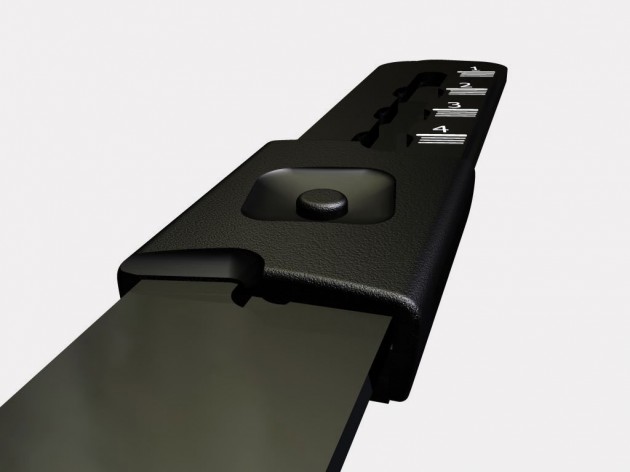 Splints 1X
Uniaxial orthopedic splints with adjustable joint mobility and the possibility of complete blocking of movable objects in the range from -10 to 90 degrees.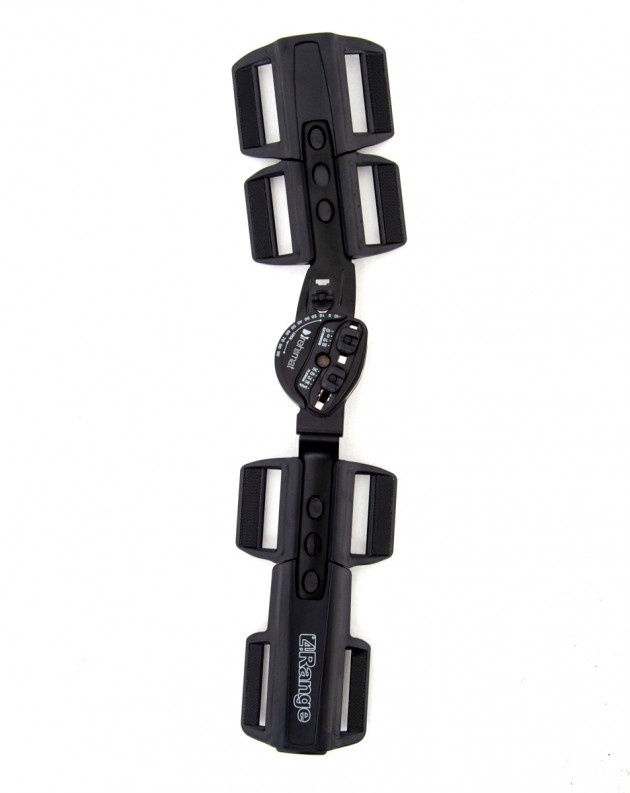 Downloads


Class I medical device in accordance with Regulation (EU) 2017/745 of the European Parliament and of the Council of 5 April 2017. on medical devices.