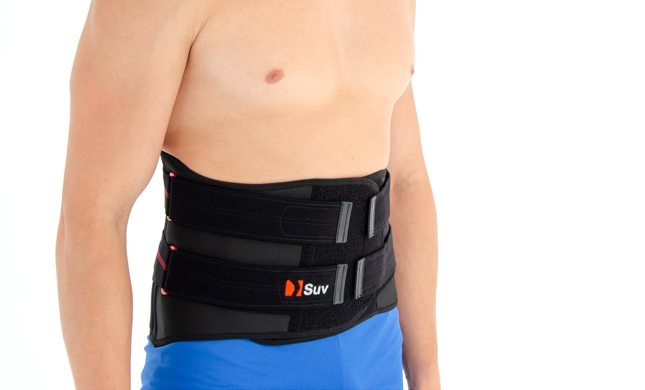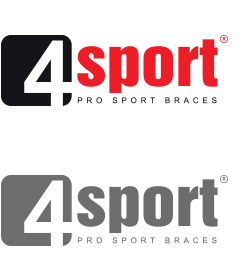 LSO

Anatomic stays

Breathable

Class 1 medical device

Compression

Innovative

Neurology

Orthopedics
SUV
MALE LUMBAR BACK BRACE WITH SUPPORT STRAPS
Product description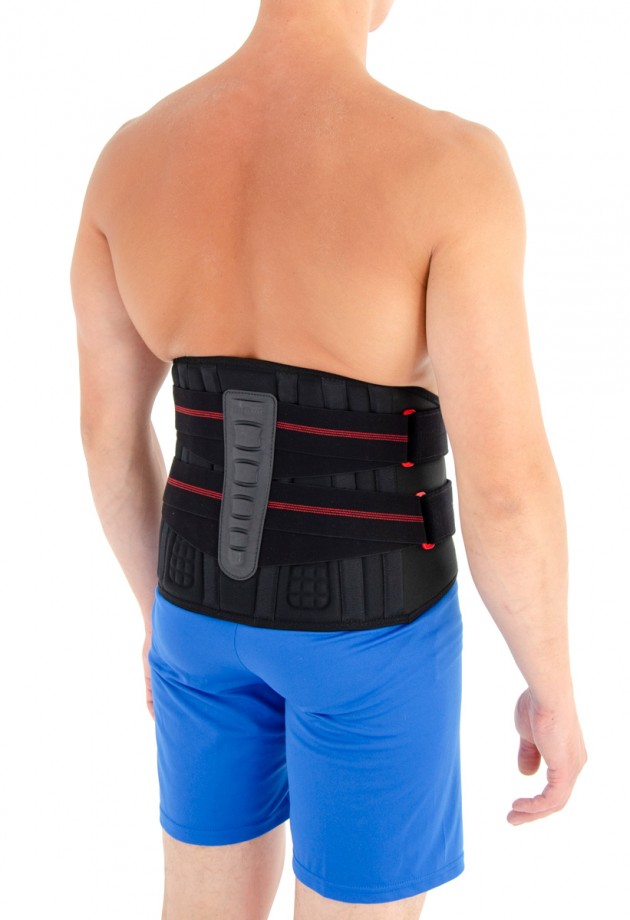 AM-SO-04 lumbar back support with fasteners for men – SUV was developed according to anatomical shape and provides adequate level of stabilization on lumbar area.
The Back part of support is made of innovative Active3D™.
Active3D™ is thermoformed fabric made of special foamed, cell-closed designed material. It reduces the pressure on the body or any abrasions made by orthopaedic stays and aluminum splints. It is fully waterproof fabric and does not absorb sweat. It's easy to clean. Due to its features, the fabric is an excellent product for making medical orthopaedic braces and orthoses. ACTIVE 3D™ has various external self-gripping layers. Our material has special, thermoformed properties and may be shaped according to the functional goals of the final braces.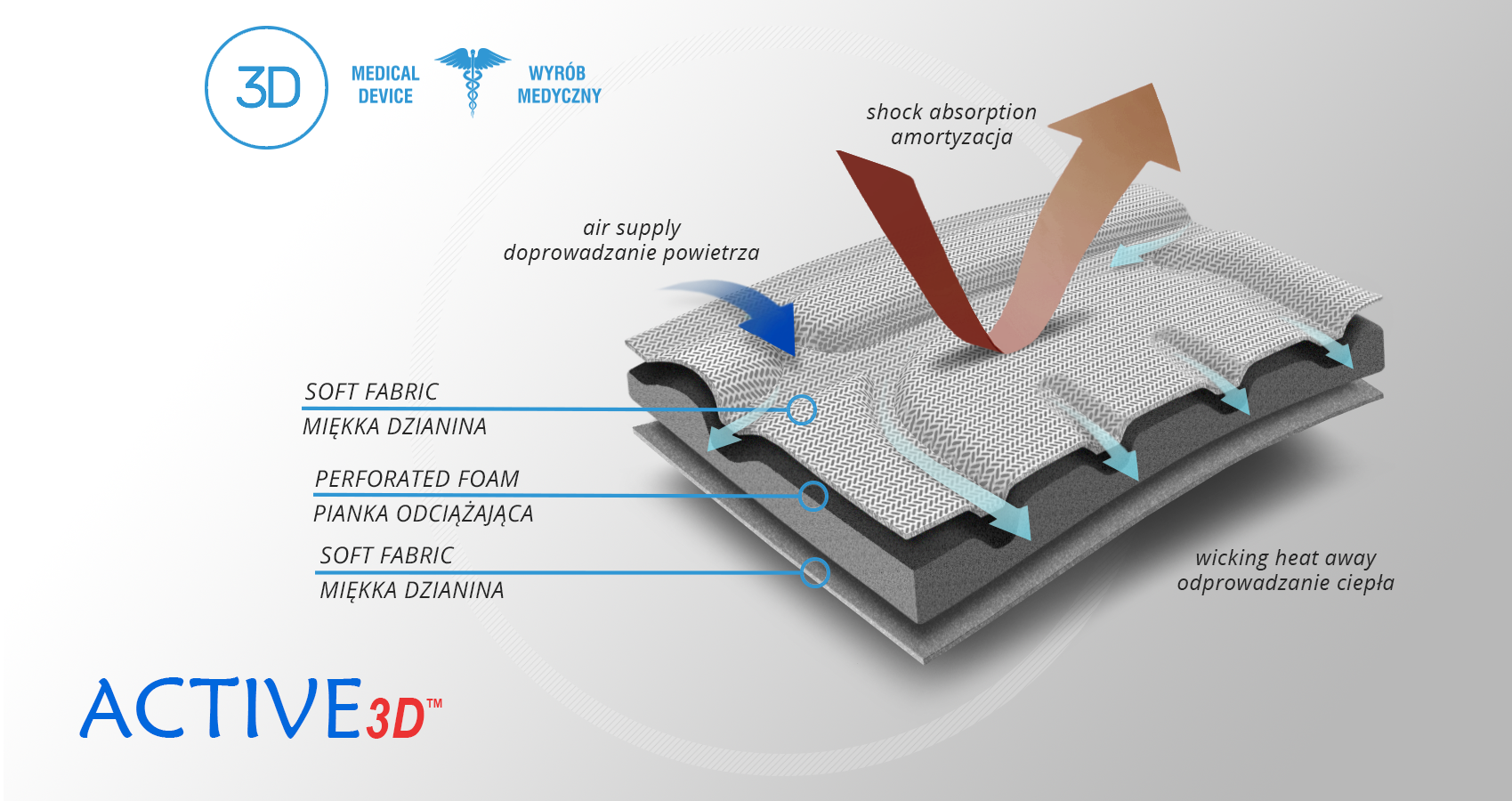 The orthosis is provided with anatomically shaped metal stays (sweat-resistant coating), which quantity depends on the size; 4 or 6 metal stays in the Back. The orthosis incorporates semi-rigid Back Plate which function is, to provide reinforcement of lumbar stabilization.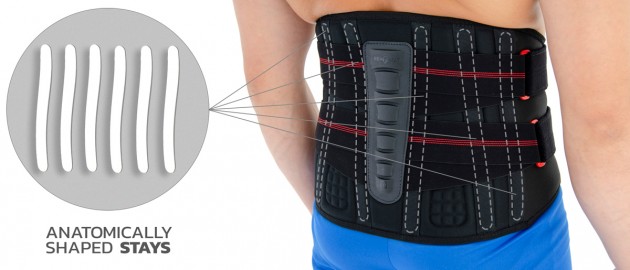 The lateral parts are made of AeroSpace™.
AeroSpace™ is an innovative new generation raw material. It is a distance elastic 3D knitted fabric consisting of two layers of facings and an interlacing that creates the appropriate thickness of the raw material and has relieving properties. The knitwear is made of the highest quality polyester yarn - guaranteeing high mechanical strength and spandex ensuring its proper flexibility. This material is characterized by a very low weight, high flexibility and a very large openwork structure, allowing for very easy drainage of sweat from the body and bringing fresh air to the skin. Products made of this raw material are neutral to the secured joint, do not heat or cool it, but ensure its proper compression and fit and reduce muscle vibrations generated during physical exertion. Its thickness and 3D structure perfectly relieves the orthopedic splints, stays or other elements mounted on the product and guarantees velvety softness to the touch.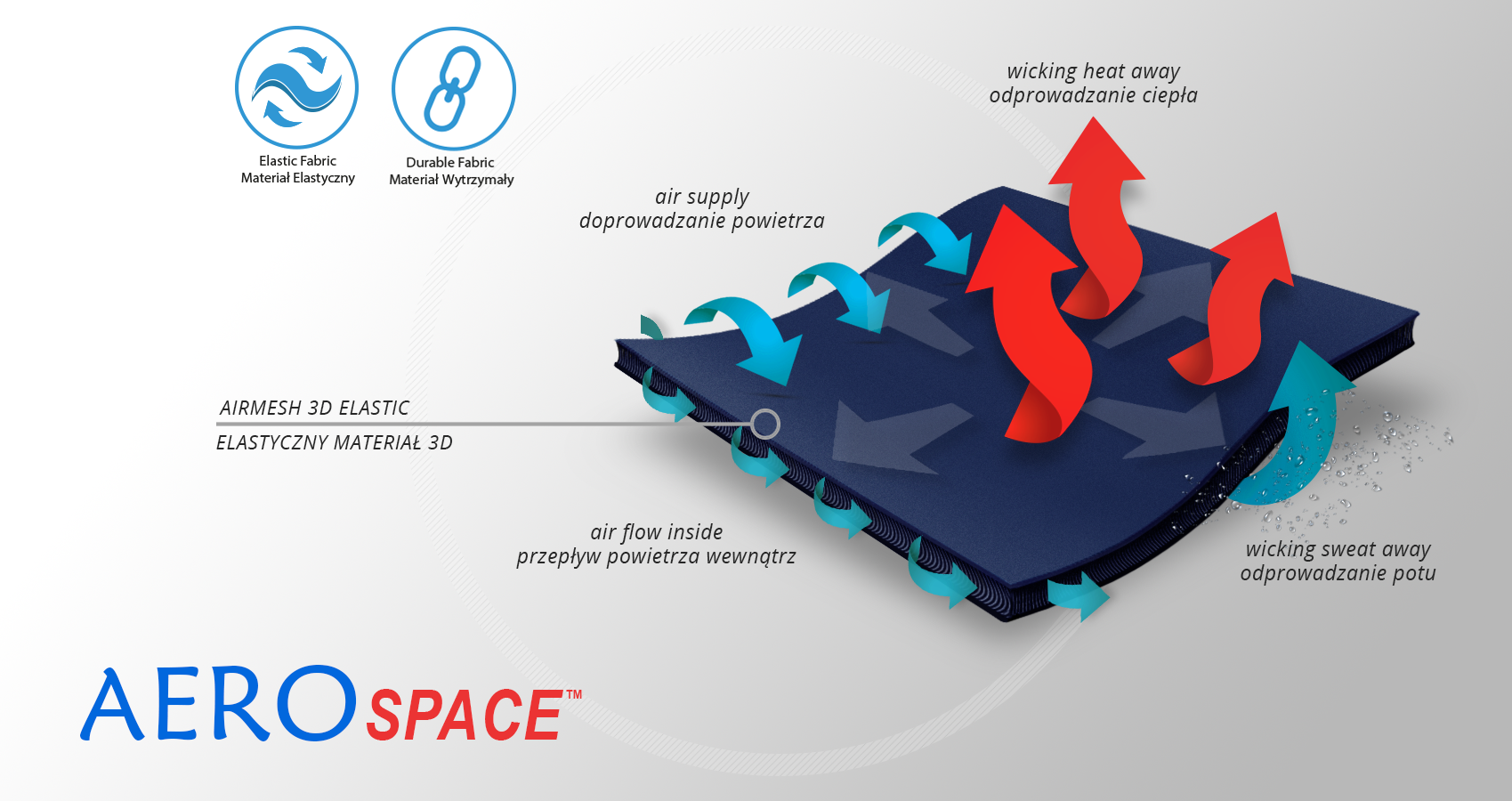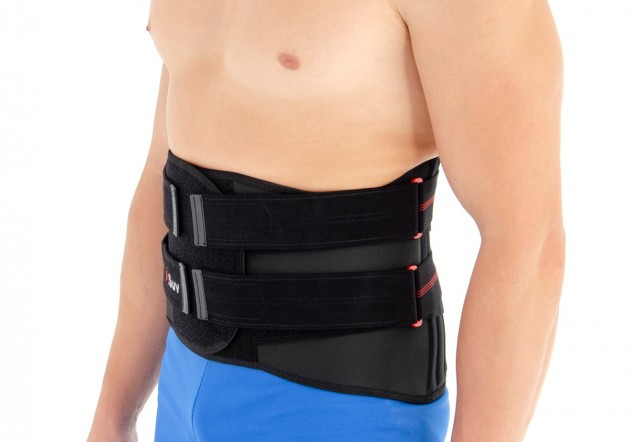 An asymmetric closure allows the perfect fitting on the patient body. The panel of closure is made of velcro laminate with comfortable semi-rigid foam located inside. The system GRIP & OPEN makes the orthosis easy to assemble and disassemble.
Easy to apply due to the closure system with hand grip pockets, especially developed for patients with hands disability.
The system of double tensioners made of AirRubber III™ stabilizes and regulates compression in the up and down part of orthosis, allowing improvement in adjustment and fitting to the patient´s body.
AirRubber III™ has unidirectional elasticity. It can be stretched, increasing the length, not width, what improves compression. Between the braids air flows freely and skin can breathe. In addition in high compression, these rubber braids provide a gentle massage for skin. Our orthopedic rubber is very friendly for skin.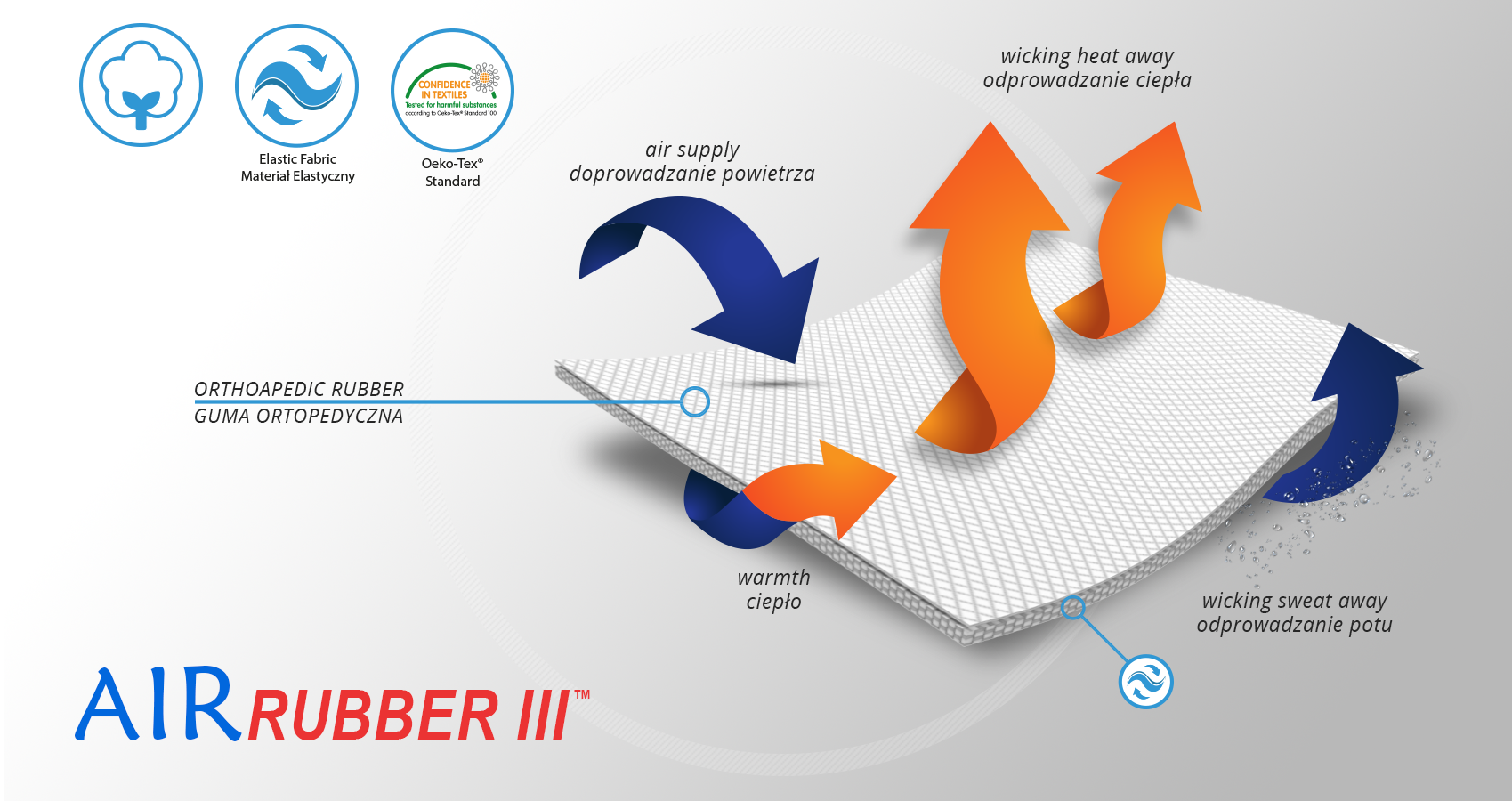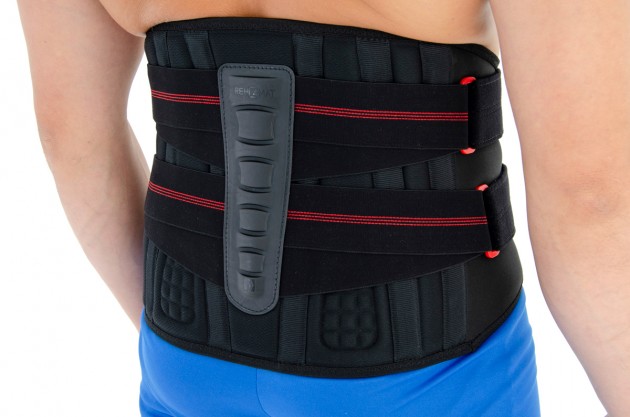 The back fasteners connected to the Lumbar Plate provide compression on lumbar area.
Optionally, the orthosis AM-SO-04 could be provided with:
– Suspenders – useful during the physical training or work.
Available sizes
Size
Waist circumference
How to measure
S
65-75 cm
(25,6″-29,5″)
M
75,5-85 cm
(29,5″-33,5″)
L
85,5-97 cm
(33,5″-38,2″)
XL
97,5-110 cm
(38,2″-43,3″)
XXL
110,5-125 cm
(43,3″-49,2″)
XXXL
125,5-145 cm
(49,2″-57,1″)
Total height of the product:
front: 19 cm (7,5″)
tył: 28 cm (11″)
Properties
– SKIN FRIENDLY PRODUCT – lumber support has been made of special orthopaedic rubber, containing mainly cotton, which is neutral to patient's skin
– EFFECTIVENSS OF STABILIZATION – the stabilization is exceptionally good thanks to the orthopaedic nibs, tightening rubber belts crossed at the back and anatomically shaped loin pillow.
– SAFETY – the front tightening rubber belts provide additional protection and the chances of the device to undo accidentally are eliminated.
– COMFORT OF USAGE – the limber support is very light and therefore comfortable to wear.
Indications
– Pre- and Post-Surgical Stabilization
– Degenerative Spinal pathologies on Lumbar area
– Disc Hernia
– Lumbar Muscles and Ligamentous Strains and Sprains
– Postural Support
– Chronic Low Back Pain
– Rehabilitation and Prevention
Downloads
Accessories
ACCESSORIES / PRODUCTS TO BE USED WITH


Class I medical device in accordance with Regulation (EU) 2017/745 of the European Parliament and of the Council of 5 April 2017. on medical devices.