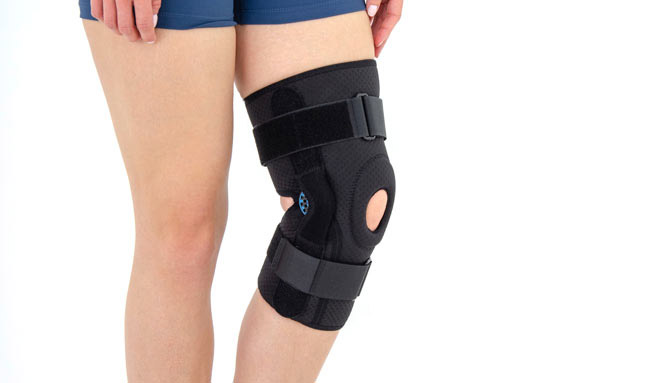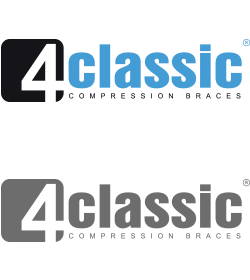 Knee brace

2 in 1

Anatomic patella donut

Breathable

Class 1 medical device

Latex-free

Unicentric joint 1R
REAR OPEN KNEE BRACE WITH ROM ADJUSTMENT IN EVERY 15 DEGREES
Product description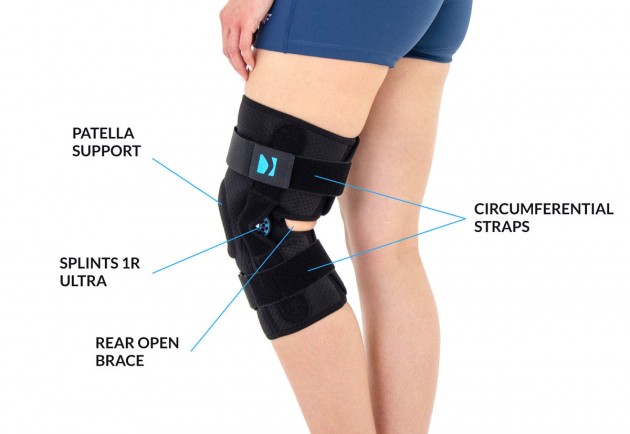 AS-KX-07 knee brace is made of ActivePren™ and AeroSpace™.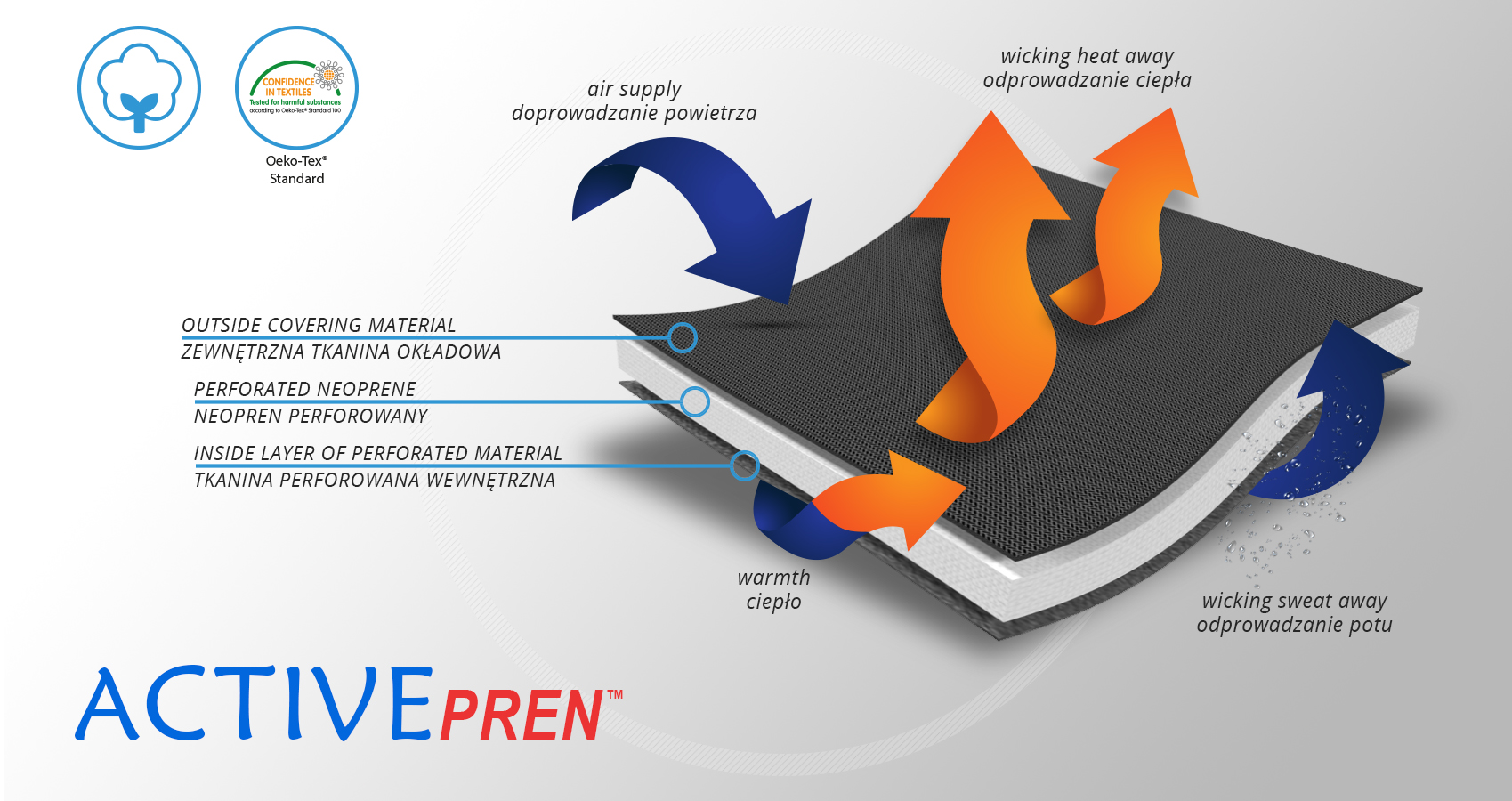 ActivePren™ is an active 3-layered fabric made of elastic jersey layer and perforated neoprene foam. This lamination is very soft and high elastic. Foam's perforation improves the air circulation and maintains great skin's condition. The skin can breathe freely and its required temperature is maintained because of AirSupply System. This material is not knitte, what prevents skin against the skin abrasions in the compression zones. Our braces, made of ActivePren are the most durable and provide the best stabilization in the market. WATERPROOF MATERIAL.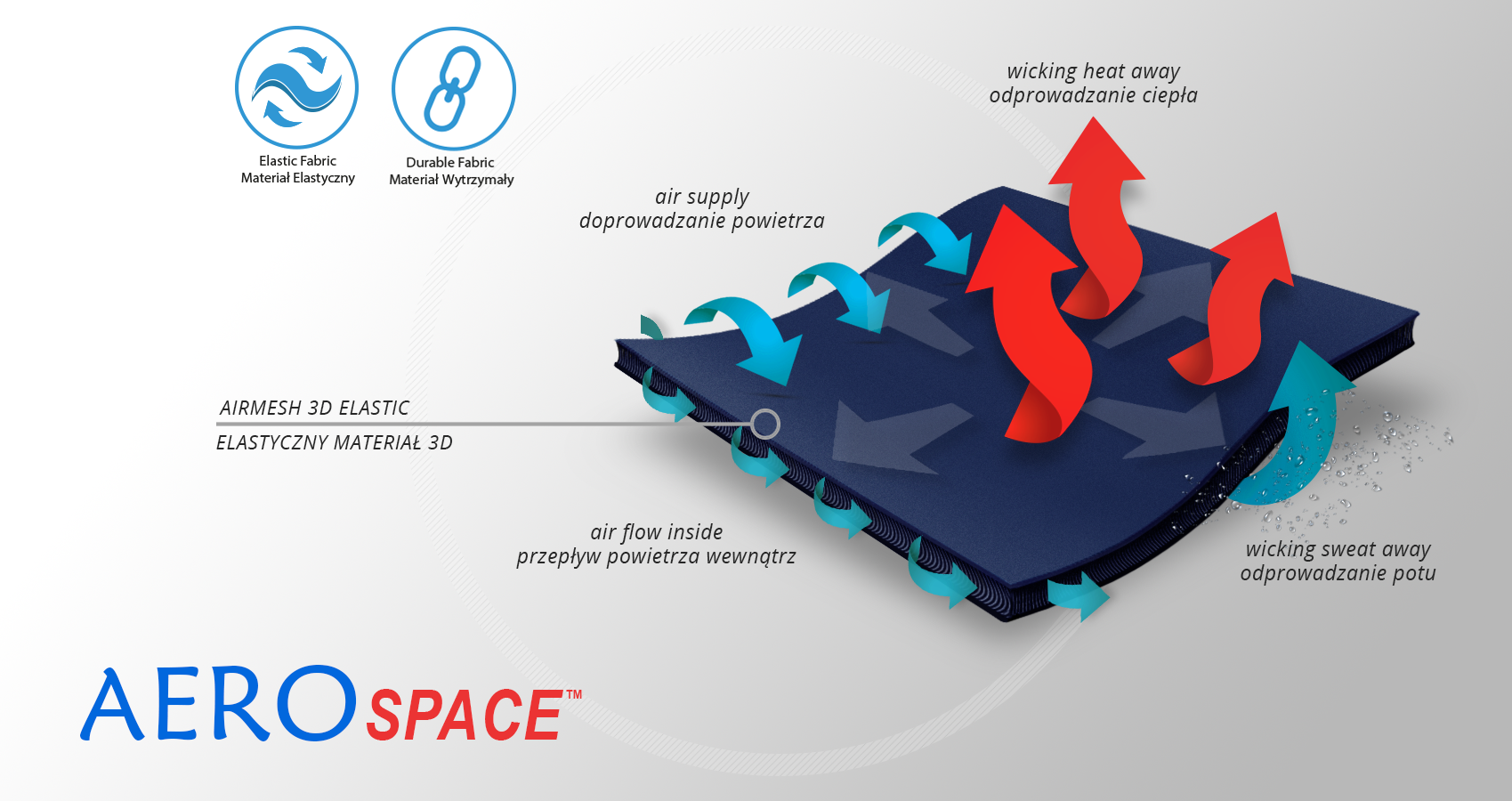 AeroSpace™ is an innovative new generation raw material. It is a distance elastic 3D knitted fabric consisting of two layers of facings and an interlacing that creates the appropriate thickness of the raw material and has relieving properties. The knitwear is made of the highest quality polyester yarn - guaranteeing high mechanical strength and spandex ensuring its proper flexibility. This material is characterized by a very low weight, high flexibility and a very large openwork structure, allowing for very easy drainage of sweat from the body and bringing fresh air to the skin. Products made of this raw material are neutral to the secured joint, do not heat or cool it, but ensure its proper compression and fit and reduce muscle vibrations generated during physical exertion. Its thickness and 3D structure perfectly relieves the orthopedic splints, stays or other elements mounted on the product and guarantees velvety softness to the touch.
Our brace construction is unique because it has wrap around knee brace function (it's easy to putting on) and closed brace function (very good patella and knee stabilization because of anatomic-shaped patella donut).
The brace is very good for drivers, because patient can sit into car seat, remove the brace very fast and easy and put it on before alighting from the car.
In addition, the brace has open popliteal fossa, what improves comfort of use and allows skin to breath.
AS-KX-07 brace is equipped with two pairs of circumferential straps and two sides splints that are easy to remove before washing.
The splints are made of carbon fibres and consists of special drop lock allowing for ROM adjustment in every 15° called 1R.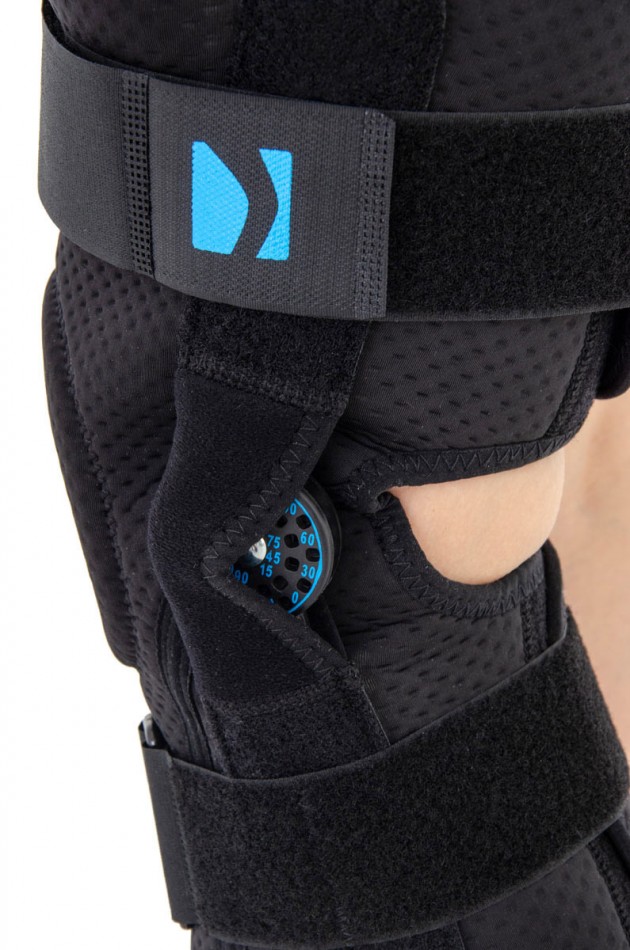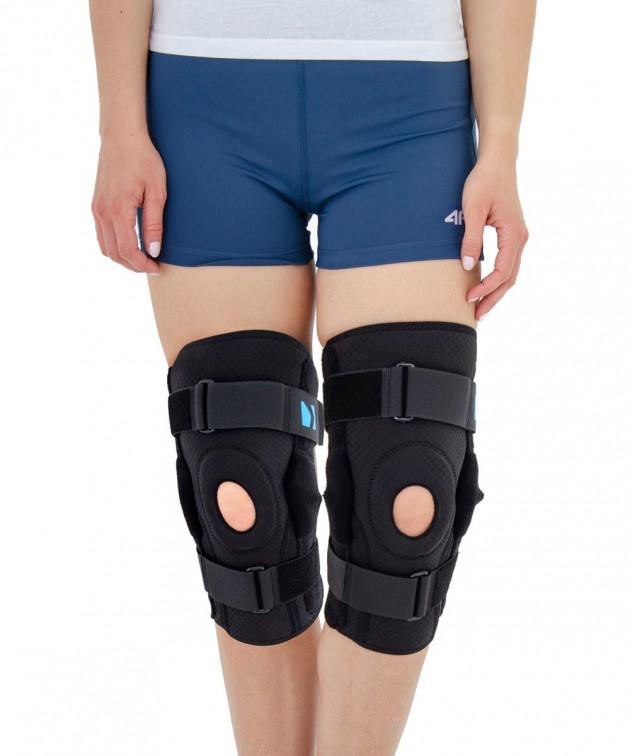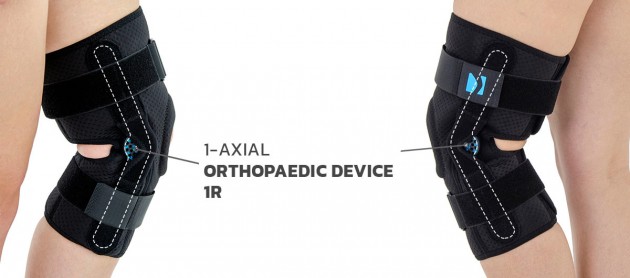 Purpose of use
AS-KX-07 brace should be applied in cases of:
knee dislocation,
knee twist and sprain,
side instability of the knee joint,
knee ligaments LCL, MCL and ACL injuries
knee ligaments reconstruction,
other surgeries (orthopedic).
Available sizes
Size
Knee circumference
How to measure
S
30-34 cm
(11,8″-13,4″)
M
34-38 cm
(13,4″-15″)
L
38-42 cm
(15″-16,5″)
XL
42-46 cm
(16,5″-18,1″)
XXL
46-50 cm
(18,1″-19,7″)
Total length: 34 cm (13,4″)
Technologia
TECHNOLOGICAL SYSTEMS
2in1 SOLUTION - full comfort, simply use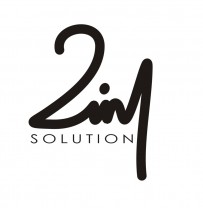 2in1 SOLUTION is another innovative solution that is aimed at perfect fitting of REH4MAT braces to different patients' needs. It is common knowledge that our main idea is to provide comfort and stabilization to the knee joint and ensure the most easy way of using our braces. That is why, work of our technologists has already ended with the real success! They have designed 2in1 SOLUTION and used it in some of our knee stabilizers. 2in1 SOLUTION is a unique project that connects both open knee brace function (it's easy to putting on) and closed brace function (very good patella and knee stabilization). To ensure such a great stabilization the braces was equipped with anatomic-shaped patella donut). An additional advantage of 2in1 SOLUTION is an unrepeatable design - open popliteal fossa, what improves comfort of use. Such a solution allows skin for breathing and as a result the braces are wearing in a free and effortless way.
STIFFENING
Splints 1R – stabilizing splints with ROM adjustment
1R splints – single axis orthopedic splints used in all knee joint and upper limb braces, where apart from adjustment of the flection and extension angle, high lateral stabilization of the joint is not required, but important if low weight of the brace. Due to the low weight the splints are successfully used in all braced for children. They are manufactured with high quality polyamide with carbon fibres, making the splints light and neutral to the influence of sweat and salt, properly firm therefore assuring correct functioning of the device. Adjustment of the flexion and extension angle is performed with special Allen screw in every 15°. Each brace is equipped with an Allen key, which is necessary for adjustment. Standard length of the braces is: 280 and 380 mm. The splint and its design are patented in European Union by Reh4Mat Company.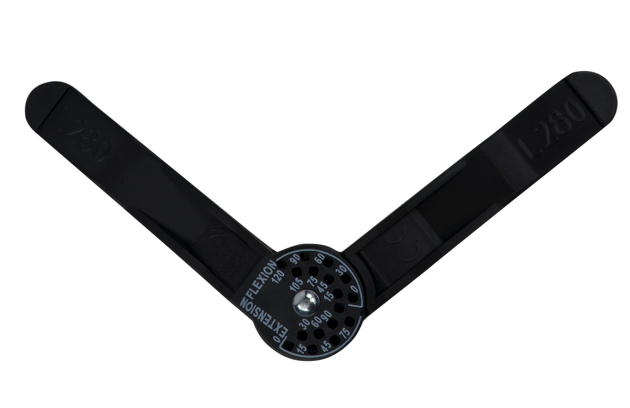 Downloads


Class I medical device in accordance with Regulation (EU) 2017/745 of the European Parliament and of the Council of 5 April 2017. on medical devices.