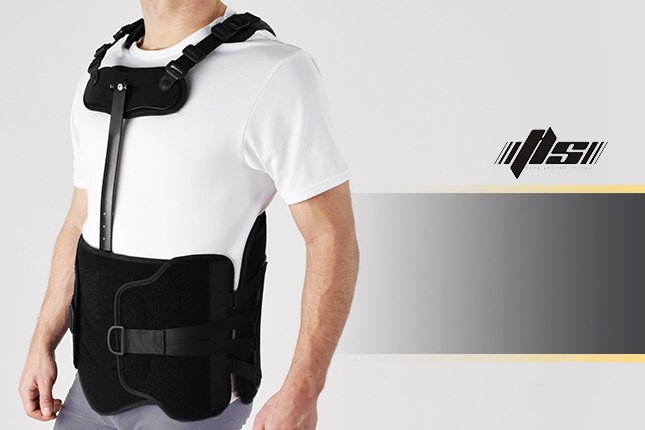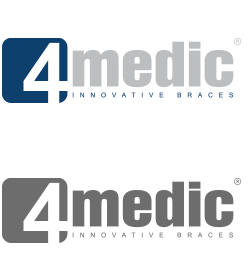 TLSO

Class 1 medical device

Efficiency

Innovative

Skin-friendly
CYGNET
FORMABLE TRUNK CORSET
ARE YOU LOOKING FOR PERFECT SPINE SUPPORT
BUT YOU NEED DIFFERENT LEVELS OF STABILIZATION?
CYGNET WILL SATISFY YOU FOR SURE!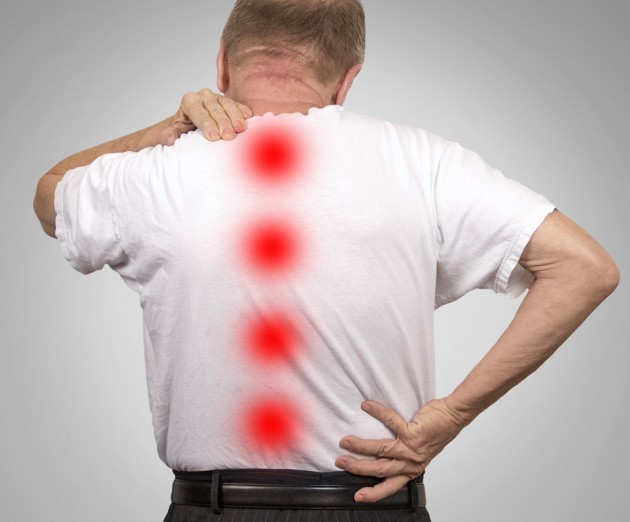 Product description
Special orthopaedic corset CYGNET (AR-WSP-02) is intended for post-operative or after-trauma immediate patient's supply. This is excellent trunk support in the chronic spine conditions.
CYGNET – provides full-circumferential rigid spine support from thoracic part (scapula area T2/T3) down to sacral part (S1).
TLSO orthosis creates 3-points force distribution which based on the rear forces and front forces.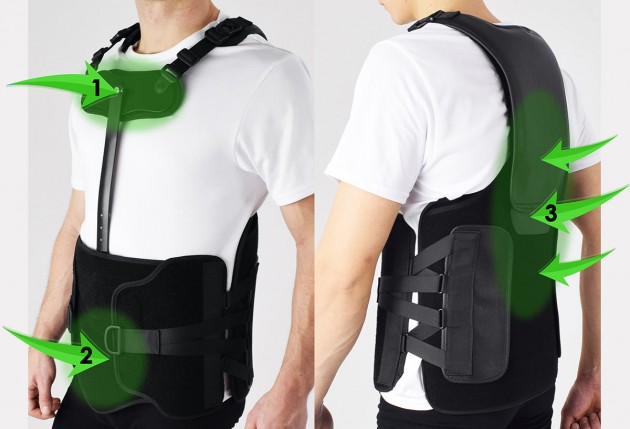 This solution creates special pressure which extracts upright position, increases the lumbar lordosis and limits the rotation movements. The corset is able to control and release the pain which is connected with anomaly or injury such as: osteoporosis, compression fractures, excessive kyphosis etc.
CYGNET (AR-WSP-02) is 3-functional orthosis, which is changed with patient's recovery.
FUNCTIONS OF CYGNET
1st STABILIZATION LEVEL (light)
First level of stabilization – (the lightest): formable corset equipped with double compression system TapeLacing.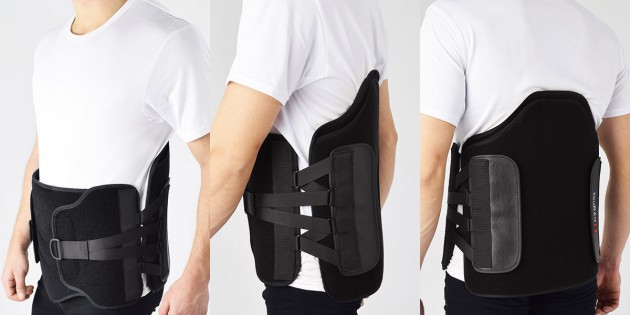 2nd STABILIZATION LEVEL (medium)
Second level of stabilization – (medium): formable corset equipped with double compression system TapeLacing, spine stabilizer and under-armpits.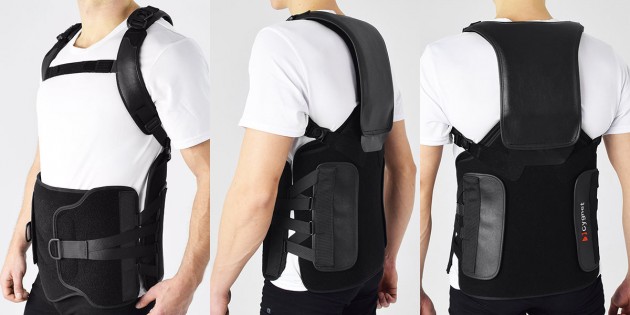 3rd STABILIZATION LEVEL (advanced)
Third level of stabilization – (the strongest): is the full brace equipment comprised: formable corset equipped with double compression system TapeLacing, spine stabilizer, abdominal pelotte and collarbone-pubic stabilizer.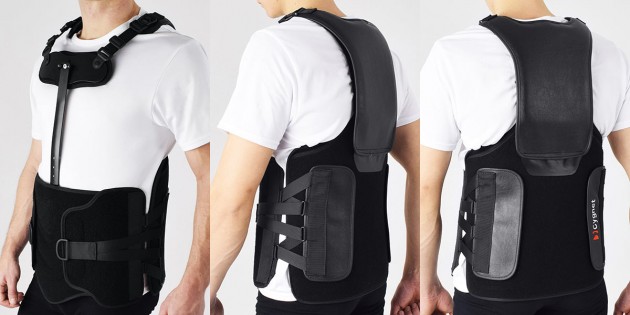 CYGNET corset is made of ActiveDistance™ and ActiveDistance II™.
ActiveDistance™ is an technical off-loading lamination with 3-layered construction. It's made of EVA foam double-sided laminated with non-elastic polyamide layer that is easy to attach. This self-gripping function of ActiveDistance™ provides wide range of adjustment and perfect fitting. What is important, ActiveDistance™ is non-elastic fabric so it stabilizes your body in a perfect way. Thanks to using the comfort foam, the device is really soft what influences on the comfort of using it. Waterproof material.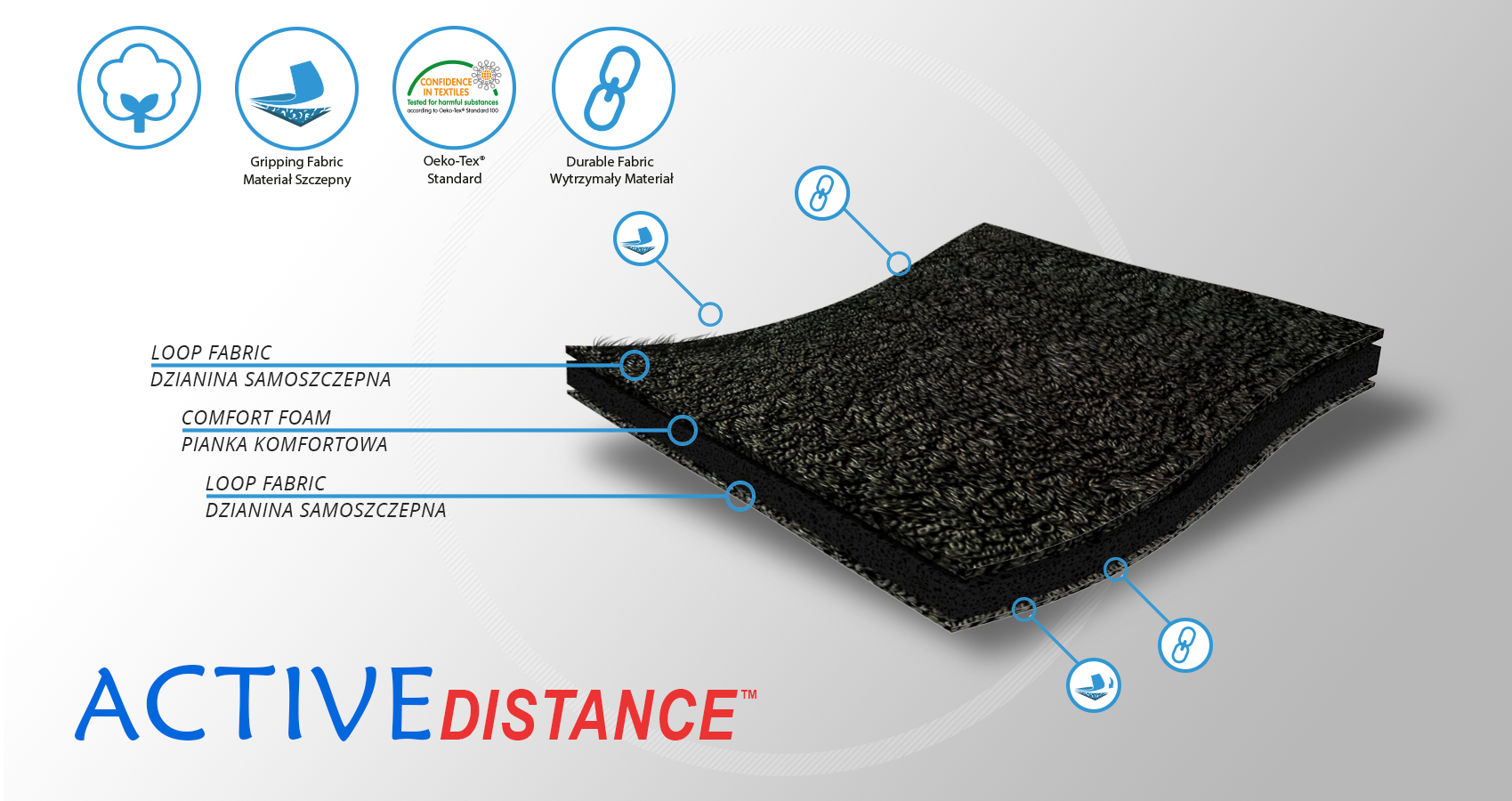 ActiveDistance II™ is an active 3-layered fabric made of non-elastic polyamide self-gripping layer, comfort foam and cotton terry. The last one layer is responsible for maintaining your skin dry. This material is skin-friendly and has the Oeko-Tex Standard 100 certificate. Self-gripping function of ActiveDistance II™ allows to fit the braces precisely.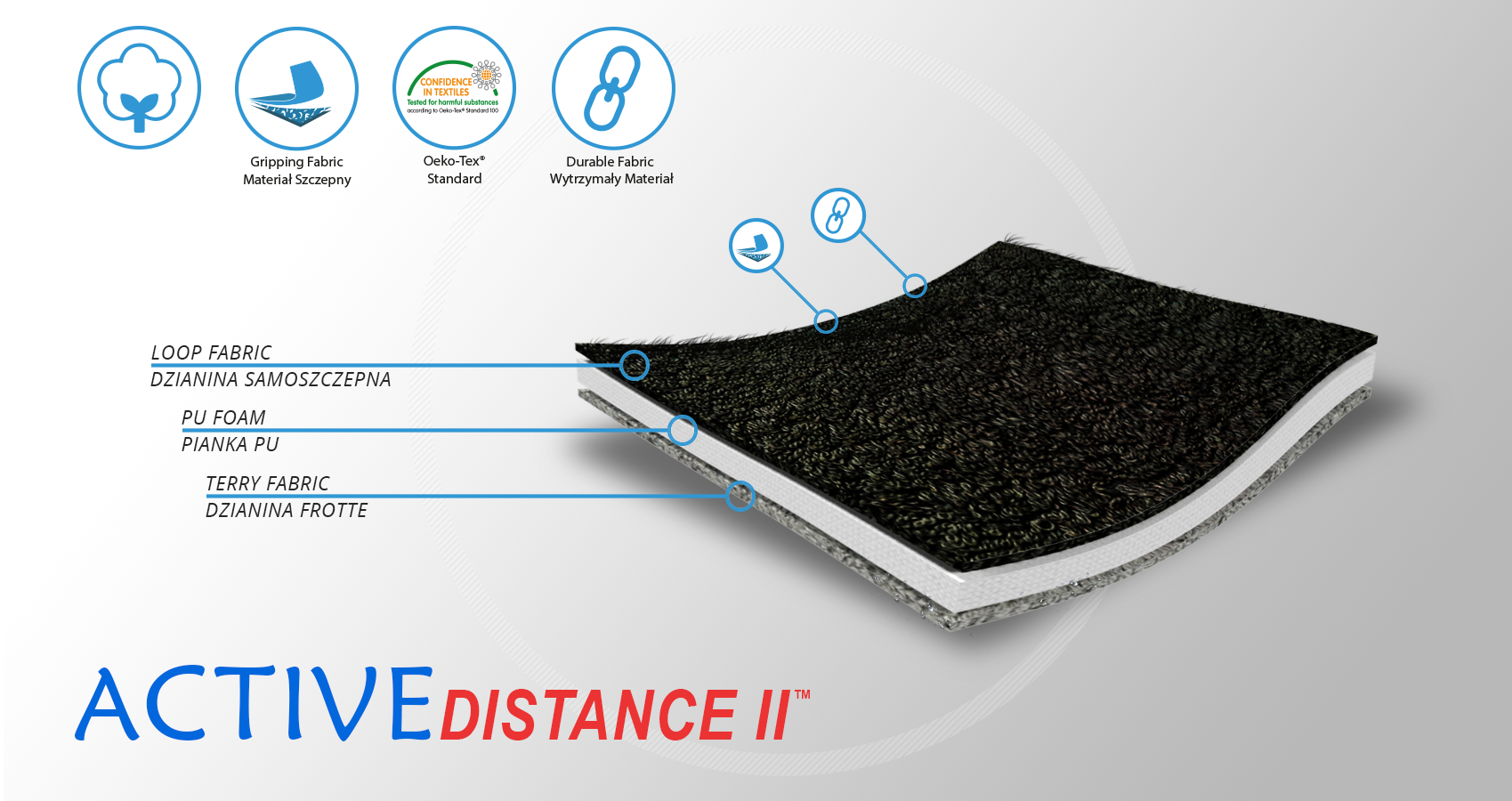 The internal side of the material is covered by cotton. The external material is easy to attach what allows to achieve modular construction and fit the corset to individual patient's needs.
In the rear part occurs anatomic formable pelotte made of high quality of aluminium. You can form it according to the needs.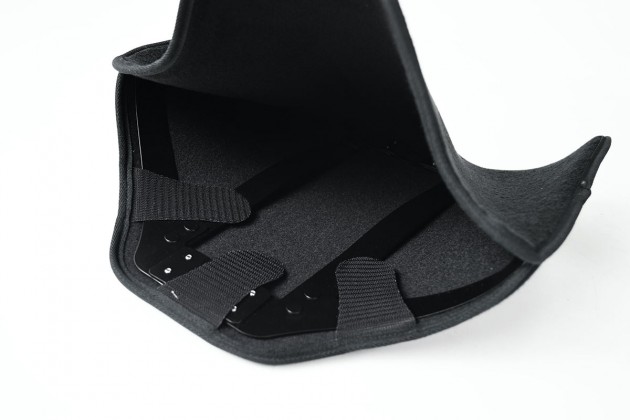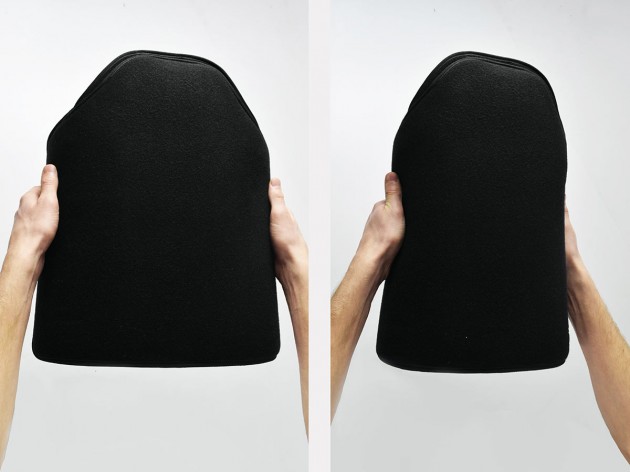 In the front part is abdominal insert made of pocket with pubic support connected with collarbone-pubic stabilizer. There are later panels which are attached to the abdominal pelotte and equipped with rigid element which facilitates unstrapping.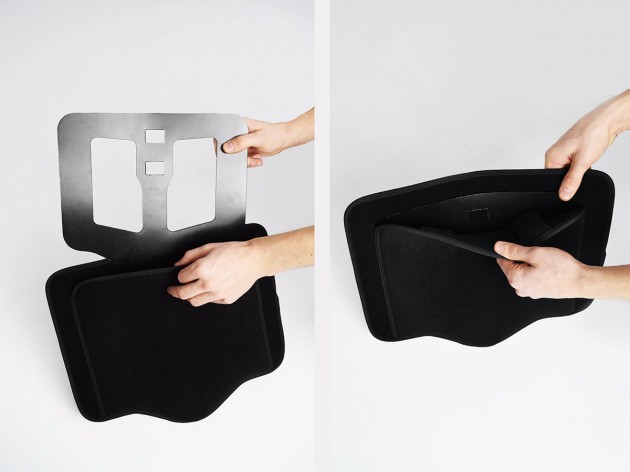 There is compression system TapeLacing allowing to set required compression. This system is attached by Velcro tapes in the required position. It's great solution for people with abdominal and hip disproportions.

Spine brace CYGNET has Quick-release system equipped with non-elastic circumferential straps with Velcro ends what allows to putting the brace on and off easy.

The chest pelottes system is equipped with shoulder straps and under-armpits.
The CYGNET is the best modular device on the market. The chest pelottes support thoracic spine as an TLSO. When the patient is in better shape is it possible to not use the chest pelottes. In this option, the brace supports the spine as an LSO.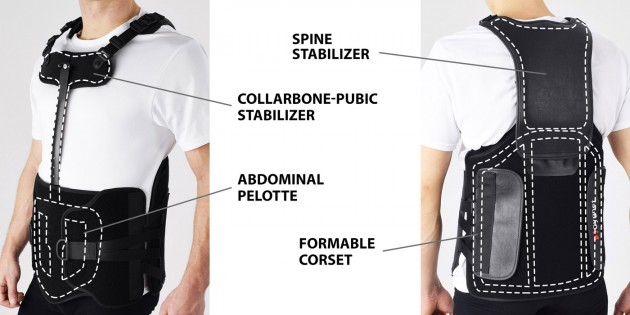 Purpose of use
– Spine fractures
– pre- and post-Surgical Stabilization
– osteoporosis
– deformed vertebrae
– acute Back Pain
– spondylolithesis
– spondylolysis
– spine Instability
– disc Hernia
– degenerative Spinal pathologies
– rehabilitation and Prevention
Available sizes
Size
Height from Jugular notch to Suprapubic
Waist circumference
How to measure
S
42-60 cm
(16,5″-23,6″)
65-85 cm
(25,6″-33,5″)
M
50-67 cm
(19,7″-26,4″)
85,5-110 cm
(33,5″-43,3″)
L
57-74 cm
(22,4″-29,1″)
110,5-145 cm
(43,3″-57,1″)
Size
Total height of the soft element
front
rear
S
28 cm (11″)
40 cm (15,7″)
M
32 cm (12,6″)
47 cm (18,5″)
L
57 cm (22,4″)
Technologia
TECHNOLOGICAL SYSTEMS
TLS - TapeLacing Compression System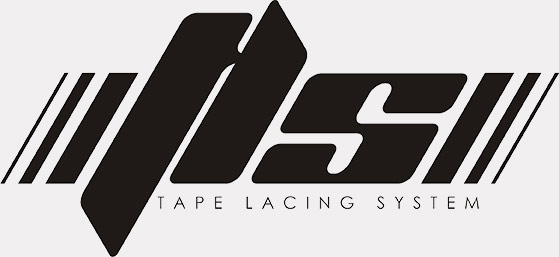 TapeLacing Compression System was created to adjust the best joint support and stabilization. The system allows to adjust different levels of compression according to patient's needs. This adjustment is smooth what provides comfort of use the brace. The TLS System is a combination of metal grommets, nylon tapes and Velcros. The additional equipment is the special element that is easy to attach what allows to modify device's shape or circumference. You can achieve required compression with a single pull strap. One easy pull securely forms the brace to the patient's torso and provides intra-abdominal compression, reducing the load on intervertebral discs. TLS System is the compression solution so you can use it only after putting the brace on the body. ATTENTION: Our TapeLacing Compression System is very effective with big interaction strength so it's necessary to use it with caution.
Downloads
Accessories
ACCESSORIES / PRODUCTS TO BE USED WITH


Class I medical device in accordance with Regulation (EU) 2017/745 of the European Parliament and of the Council of 5 April 2017. on medical devices.