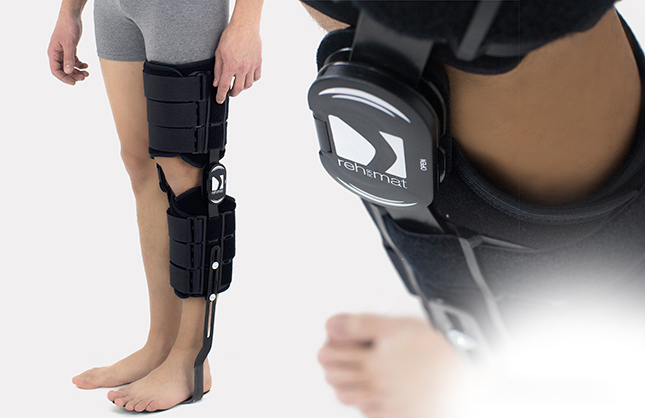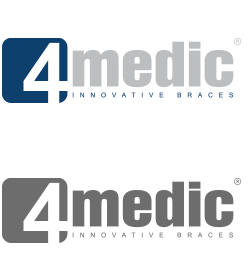 Lower limb brace

Class I medical device

Durable

Full range of adjustment

Innovative

Latex-free

Polycentric joint 2R

Press-slide

Recommended by specialists

Skin-friendly
KAFO BRACE FOR LOWER LIMB WITH SPLINTS 2R AND DYNAMIC FOOT MADE OF CARBON FIBRE
Description
It is made of two sets of pelottes enabling easy put on and off fitting to the limb. It is equipped with orthopaedic splints with system of fixation and Velcro tapes. The pelottes are made of
ActiveDistance II™
. This is a soft material but non-elastic, ideal for construction of modular supports, where the function of flection control in the knee joint and function of full lock in upright standing position is very important. The fabric does not stretch giving the patient feeling of safety. The supports do not cause sores or excoriation.
It stabilizes and releases stress from the knee and ankle joint, prevents foot drop. It enables controlled gradual increase of movement range in the knee joint. It is easy to fit even in case of patients with great size disproportion between thigh and shin and oversize of the knee joint. Instruction of use is given by the leading doctor.
When to use the support
In case of severe instability and degenerative changes of the knee joint combined with paresis of the foot.
In paresis of lower limbs – in upright standing and learning to walk in case of patients with neurological or orthopaedic problems.
As immobilization during the process of rehabilitation after treatment of the knee due to injury and illness, in case of patients with paresis of the foot or whole lower limb.
In prevention and treatment of contractures of the knee joint and ankle due to paresis or degenerative changes.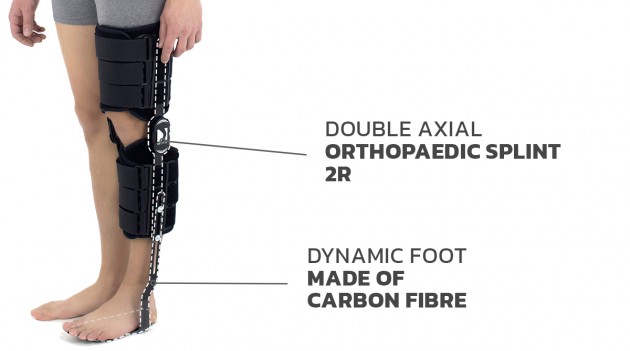 Sizes
TABLE 1
Size
(A) Minimum and maximum thigh circumference 15 cm above the patella
(B) Minimum and maximum calf circumference 15 cm below the patella
How to take measure
Single size
min 40 cm – max 75 cm
(min 15,7″ – max 29,5″)
min 30 cm – max 55 cm
(min 11,8″ – max 21,7″)
TABLE 2
Size
(C) Distance between knee joint interstice and groin
(D) Minimum and maximum distance between knee joint interstice and lateral foot rim
How to take measure
S
min 27 cm
(min 10,6″)
min 34 cm – max 45 cm
min 13,4″ – max 17,7″)
M
min 31 cm
(min 12,2″)
min 40 cm – max 51 cm
(min 15,7″ – max 20″)
L
min 34 cm
(min 13,4″)
min 42 cm – max 54 cm
(min 16,5 – max 21,2″)
XL
min 34 cm
(min 13,4″)
min 49 cm – max 61 cm
(min 19,2 – max 24″)
TABLE 3
Size
Foot length
How to measure
S
22-23,5 cm
(8,7″-9,25″)
M
24-25,5 cm
(9,4″-10″)
L
26-27,5 cm
(10,2″-10,8″)
XL
28-29,5 cm
(11″-11,6″)
TABLE 4
Size
Total length of product
S
min 61 cm – max 70 cm
min 24″ – max 27,6″ cm
M
min 71 cm – max 80 cm
min 28″ – max 31,5″
L
min 75 cm – max 86 cm
min 29,5″ – max 33,9″
XL
min 81 cm – max 90 cm
min 31,9″ – max 35,4″
Left/right side available.
It is available to match different sizes from tables 2 and 3
Technology
MATERIALS
ActiveDistance II™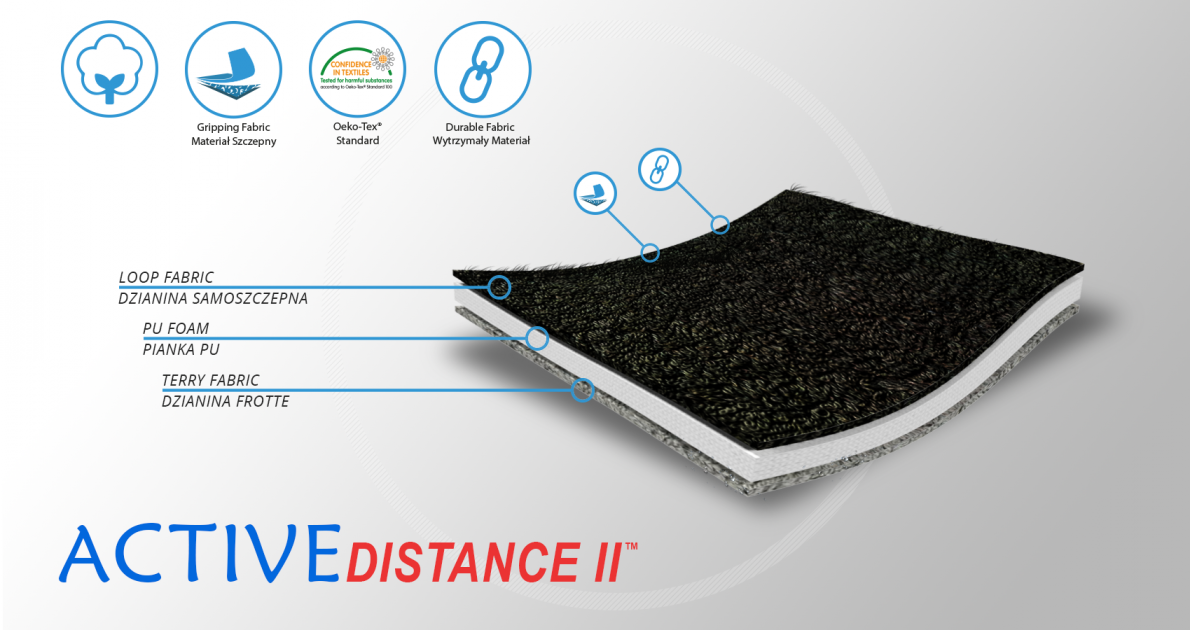 ActiveDistance II™ is an active 3-layered fabric made of non-elastic polyamide self-gripping layer, comfort foam and cotton terry. The last one layer is responsible for maintaining your skin dry. This material is skin-friendly and has the Oeko-Tex Standard 100 certificate. Self-gripping function of ActiveDistance II™ allows to fit the braces precisely.
TECHNOLOGICAL SYSTEMS
STIFFENINGS
Splint 2R
Splints 2R – double axis polycentric splints, with rack gear which reflects the anatomic knee movement. Such splints are used in all knee joint braces where apart from angle adjustment lateral joint stabilization is also important. The splints are manufactured with high quality of aluminium alloy with sanded, durable cover which is neutral to the influence of sweat and salt. Required flexion and extension angle in every 20° is set by using the special pins. The splints are equipped with special oval covers to prevent the pins from falling out as well as from changing of the angle by unauthorized people. Standard length of the splints is 390 mm, but the braces with longer splints are additionally equipped with lateral stabilization of the knee joint. The splint and its design are patented in European Union by Reh4Mat Company.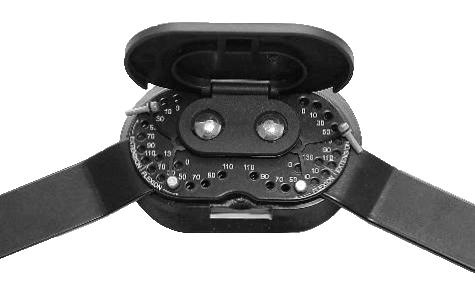 PADDINGS
3D supports
3D relief supports are independent technical solutions to relieve the rigid elements of a given orthosis. These elements are made of supporting foams or EVA foam. These foams are connected with various types of skin-friendly materials and materials with an adhesive function. These pads have the appropriate shape and color adapted to the type of orthosis. They relieve both metal elements of orthoses, such as splints, stays, underwires and orthopedic drop locks, as well as other elements that should not come into direct contact with the patient's skin. These pads have an anatomical shape and are made of comfortable foam with proper hardness and elasticity, guaranteeing the proper therapeutic effect.
Downloads
Accessories
ACCESSORIES / PRODUCTS TO BE USED WITH


Class I medical device in accordance with Regulation (EU) 2017/745 of the European Parliament and of the Council of 5 April 2017. on medical devices.