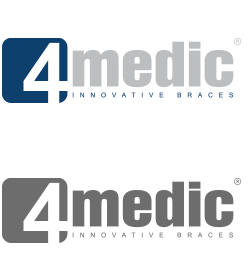 Lower limb brace

Class I medical device

Dial joint 1RE

Durable

ER

Full range of adjustment

Innovative

Minimum device - maximum effect

Press-slide

Skin-friendly

Universal size
4Scope
POST-OP KNEE BRACE WITH ROM ADJUSTMENT
Description
Anterior cruciate ligament injures (torn ACL)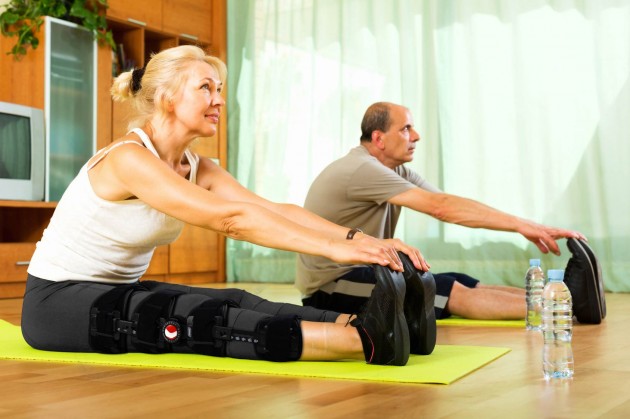 Active people often suffer from torn ACL. In USA is done more than 100 000 knee repairs (arthroscopies) every year1. Usually, it's connected with the athletes, who train a lot of pivoting motions (soccer, basketball, American football) and skiers.
Two cruciate ligaments: anterior (ACL) an posterior (PCL) play a key role in knee stabilization. ACL prevents against shifting of the tibia (translation) with the femur and controls the rotation. The function of the PCL is to prevent the femur from sliding off the anterior edge of the tibia and to prevent the tibia from displacing posterior to the femur. Two more ligaments MCL and LCL stabilize the knee in the frontal plane. Two meniscus (medial and lateral) help to absorb forces during activity so that the bone surfaces are not damaged.
The ACL injury might be isolated (rarely) or in connection with MCL, meniscus or articular cartilage damage.
Undesirable but common injury position is called 'no return', which involves valgus knee with contradirectional rotation femur and shin.
In case of severe ACL injury, often common with meniscus, the treatment bases on the surgery – arthroscopy. After this repair, there is necessary to immobilize the joint in special post-op knee brace. The best knee brace solution is our new 4Scope (AM-KDX-01/1RE) knee brace with range of motion adjustment.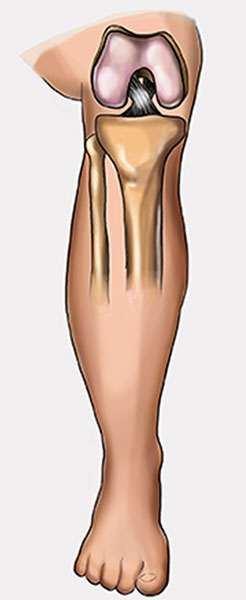 Anterior cruciate ligament ACL before the injury
Torn ACL in 1st degree – the fibres of the ACL are stretched but infact without knee instability
Product's descirption
Our universal knee brace 4Scope (AM-KDX-01/1RE) is the best solution for post-op immobilization.
4Scope is lightweight brace to the patient's leg. It's equipped with monocentric splints providing flexion and extension control. The splints are made of hot covered high quality aluminium. They are anatomic-shaped what provides perfect fitting and stabilization.
The knee brace has full range of motion hinges from 30 degrees of extension to 120 degrees of flexion with 15 degrees increments. You can change the ROM easy without any additional tools. Hinges are made of plastic with carbon fibres what makes them lightweight and neutral for the skin.
4Scope is one size, because of telescopic splints and innovative press-slide system.
The knee brace has two thigh and calf straps with anatomic-shaped buckles. The straps have length adjustment what improves the perfect fitting even in people with massive thighs and smaller calves and other disproportions.
What's more, anti-slip silicone system prevents against the brace slipping.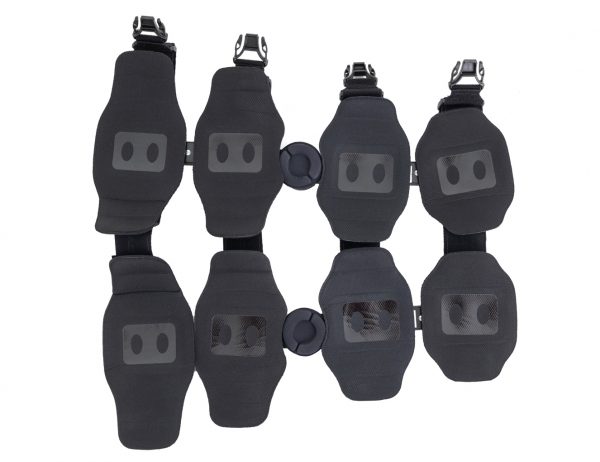 4Scope is equipped with system of quick release buckles for ease of application. The system allows to 'remember' the length of every strap. After putting the brace on again, the system ensures the same brace fitting and compression. Buckles can be opened with one hand.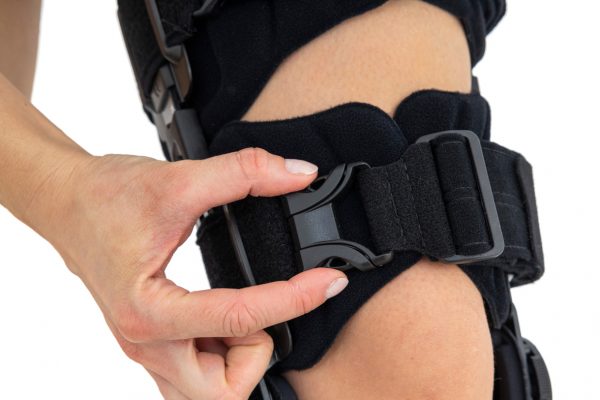 Post-op knee brace 4Scope is universal size item for both legs to accommodate a wide variety of patients.
The product is made of Active3D™.
LOWER LIMB ORTHOSIS AM-KDX-01/1RE is a product used to limit the mobility of the knee joint after surgery, treatment and healing of knee joint injuries and as immobilization if the patient is qualified for surgery. All diseases causing deformations within the lower limb exclude the use of the AM-KDX-01/1RE brace due to the risk of permanent damage. In order to stabilize the limb in the case of deformation and degenerative changes, it is recommended to use professional steel orthoses, made in specialized orthopedic centers.

Indications
– ligaments injuries (ACL)
– knee arthroscopy
– ligaments reconstruction/replacement (ACL)
– meniscus reconstruction
REPLACEMENT ITEMS
– 3D pillow set
– set of straps and buckles
__________________________
1 Owings MF, Kozak LJ. Ambulatory and inpatient
Sizes
Universal size
Size range
(A) Minimum and maximum thigh circumference 15 cm above the patella
(B) Minimum and maximum calf circumference 15 cm below the patella
(C) Distance between knee joint interstice and groin
(D) Distance between knee joint interstice and shin
How to measure
min 40 cm – max 75 cm
(min 15,7″ – max 29,5″)
min 30 cm – max 60 cm
(min 11,8 – max 23,6″)
min 28 – max 32,5 cm
(min 11″ – max 12,8″ cm)
min 28 – max 34,5 cm
(min 11″ – max 13,6″ cm)
Total length of product:
min 56 cm – max 67 cm (min 22″ cm – max 26,4″ cm)
Gallery
Technology
MATERIALS
Active3D™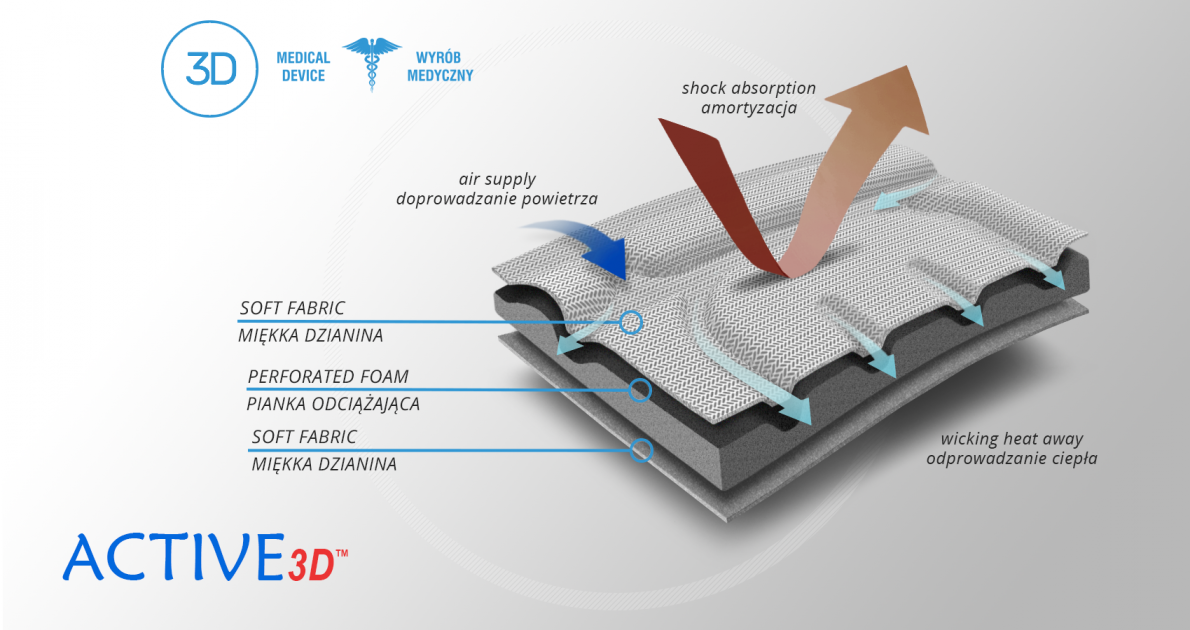 Active3D™ is thermoformed fabric made of special foamed, cell-closed designed material. It reduces the pressure on the body or any abrasions made by orthopaedic stays and aluminum splints. It is fully waterproof fabric and does not absorb sweat. It's easy to clean. Due to its features, the fabric is an excellent product for making medical orthopaedic braces and orthoses. ACTIVE 3D™ has various external self-gripping layers. Our material has special, thermoformed properties and may be shaped according to the functional goals of the final braces.
TECHNOLOGICAL SYSTEMS
Press-slide System – Regulation of the length of splint

Press-slide system is the another technological newness in our offer that we would like to introduce to You with a great pleasure. The adjuster of the length of splint Press-slide is the element of orthopaedic braces, designed especially according to the innovative rule – MiniMax (minimum choice, maximum effect). That is why, orthopaedic devices equipped with Press-slide system may be characterized by small dimensions, very low weight and significant ergonomics of usage. What is more, the system was engineered to facilitate the extension or the shortening of the splint to the patient in the most easy and safe way. Press-slide was made of special kind of plastic strengthened by fiberglass and thanks to that solution its durability is much more noticeable than in case of aluminium. Adjustment of splints is very easy – you just need to press the special button and ajustd the splint so that it would be fully comfortable for you. To make that activity easier, on the surface of the lower limb splints we placed the centimeter scale that defines the distance between knee joint and the end of thigh splint and shin splint. Regarding upper limb braces, we placed the scale that simplifies the repeatable splint adjustment.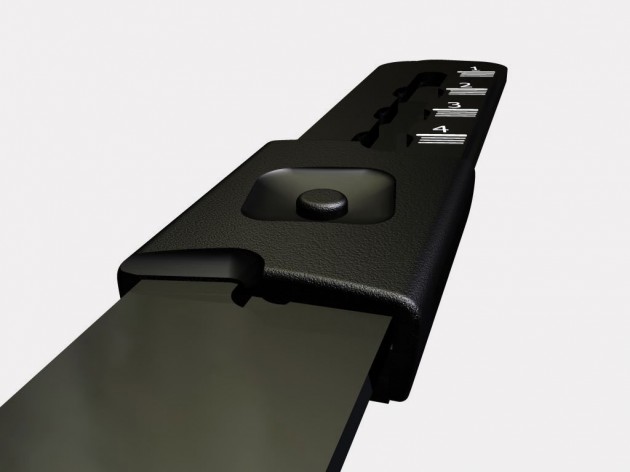 STIFFENINGS
Splint 1RE
Splints 1RE – single axis orthopedic splints, used mainly in knee joint, upper limb and hip joint braces. The characteristic quality of this splint is, apart from wide range of motion adjustment in every 15 degrees, is also hyperextension adjustment in the secured range of -15 and -30 degrees. The splints are characterized by perfect lateral joint stabilization and low weight. The set-up of the angle adjustment clock doesn't require any tools, and special safety system prevents the change of the angle by unauthorized people. The splints are made of high quality aluminium alloy and plastic with carbon fibre. They are light and neutral to the influence of sweat and salt, properly firm, assuring correct functioning of the device. The splint and its design are patented in European Union by Reh4Mat company.

PADDINGS
3D supports
3D relief supports are independent technical solutions to relieve the rigid elements of a given orthosis. These elements are made of supporting foams or EVA foam. These foams are connected with various types of skin-friendly materials and materials with an adhesive function. These pads have the appropriate shape and color adapted to the type of orthosis. They relieve both metal elements of orthoses, such as splints, stays, underwires and orthopedic drop locks, as well as other elements that should not come into direct contact with the patient's skin. These pads have an anatomical shape and are made of comfortable foam with proper hardness and elasticity, guaranteeing the proper therapeutic effect.
Downloads
Accessories
ACCESSORIES / PRODUCTS TO BE USED WITH


Class I medical device in accordance with Regulation (EU) 2017/745 of the European Parliament and of the Council of 5 April 2017. on medical devices.