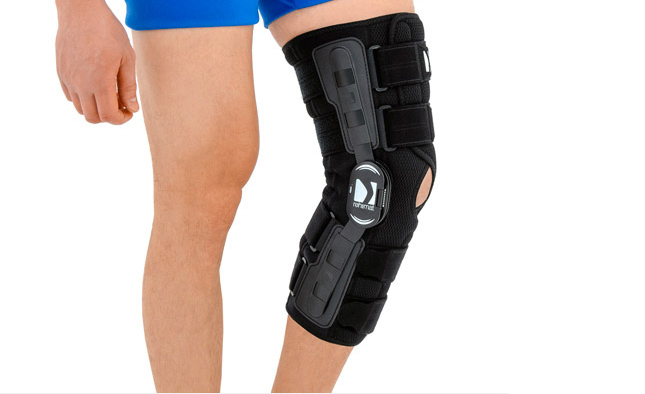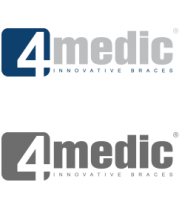 Knee brace

Breathable

Class 1 medical device

Hyperextension brace

Innovative

Polycentric joint 2R
HYPEREXTENDED KNEE BRACE
Hyperextended knee
Hyperextension of the knee occurs when the leg excessively straightens at the knee joint, putting stress on the knee structures and the back of the knee joint. It can occur to anyone, but it's more common among athletes due to a direct blow to the knee in contact sports or due to repetitive pressures lading to the stress fracture.
Hyperextended knee is instable, swollen and painful. It is not physiological joint position leading to soft tissues degeneration, including ACL, PCL, MCL and LCL ligaments. If you suffer from hyperextension of the knee, you have to wear our specialist hyperextended knee brace OKD-02.
Product description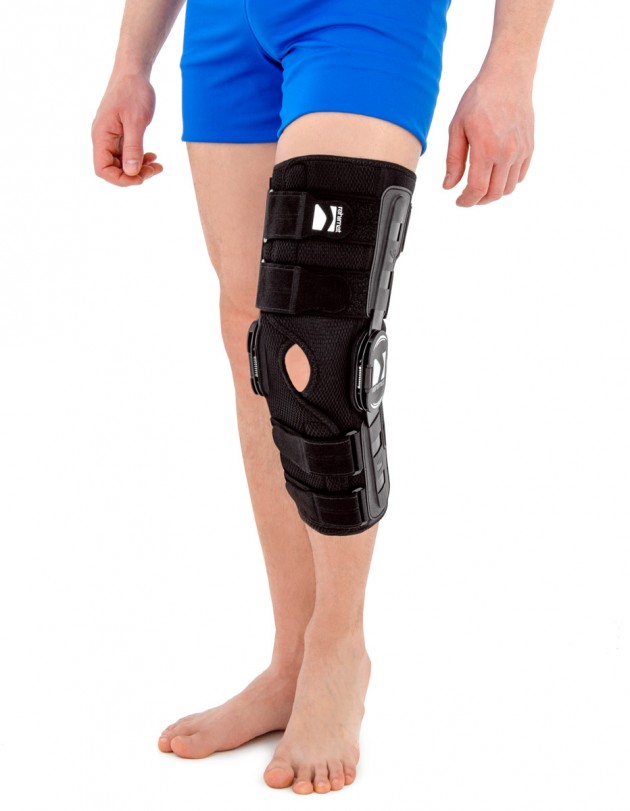 Hyperextended knee brace OKD-02 is a really great product. It offers full range of motion adjustment of the knee joint. The brace is equipped with innovative hyperextended joint mechanism which prevents against knee overextension.
Hyperextended knee brace OKD-02 is made of breathable, innovative fabric ProSIX™.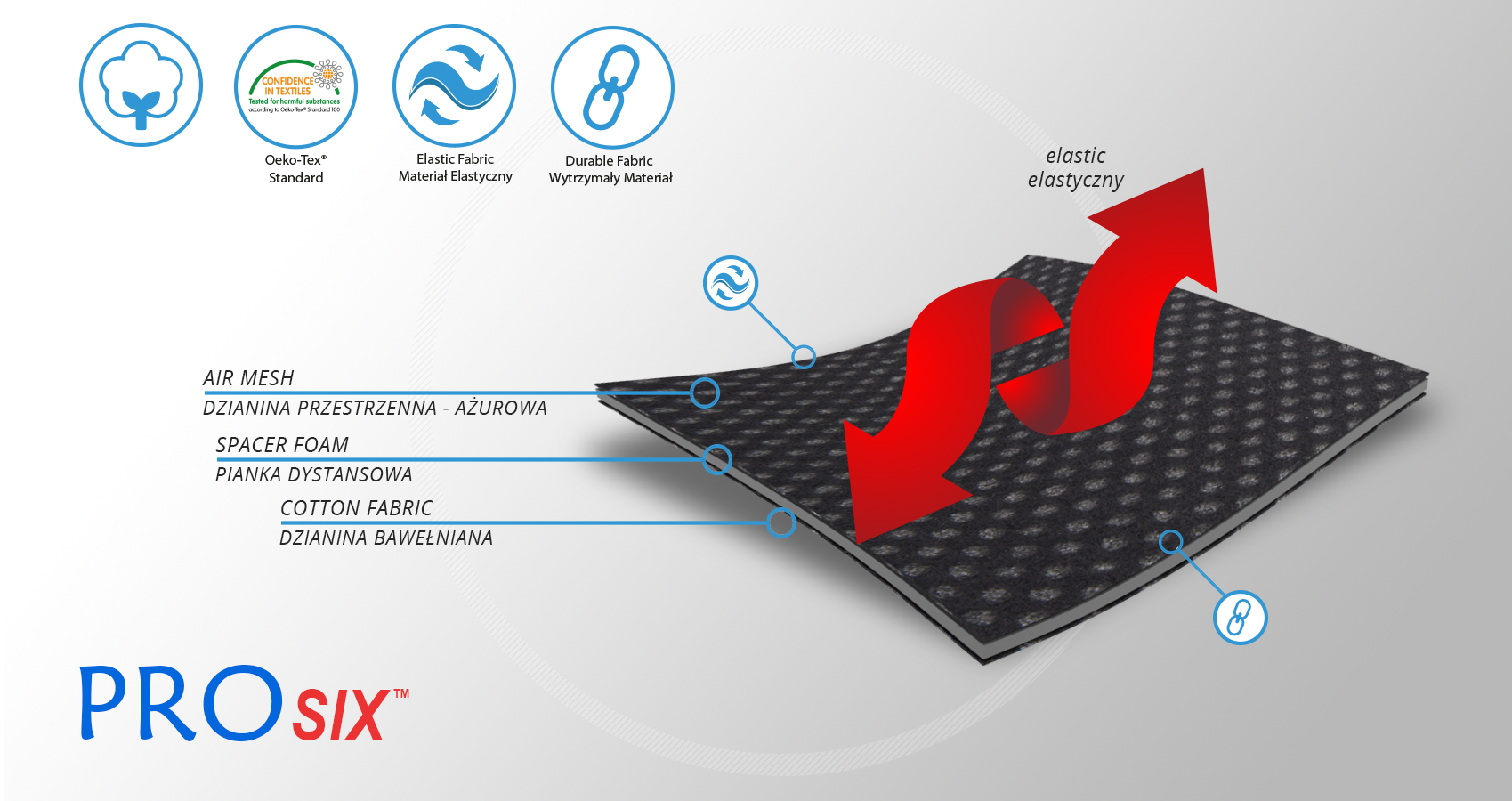 ProSix™ is an innovative fabric 3D, elastic in all directions and fitting to the limb precisely. External layer is 3D material providing excellent stabilization. There is duothermic spacer foam providing high air permeability and compression inside. The skin has contact with cotton that is breathable and soft. ProSix™ is friendly and neutral for the skin and has Oeko-Tex Standard 100 certificate.
The side parts are made of fabric called CottonPren™.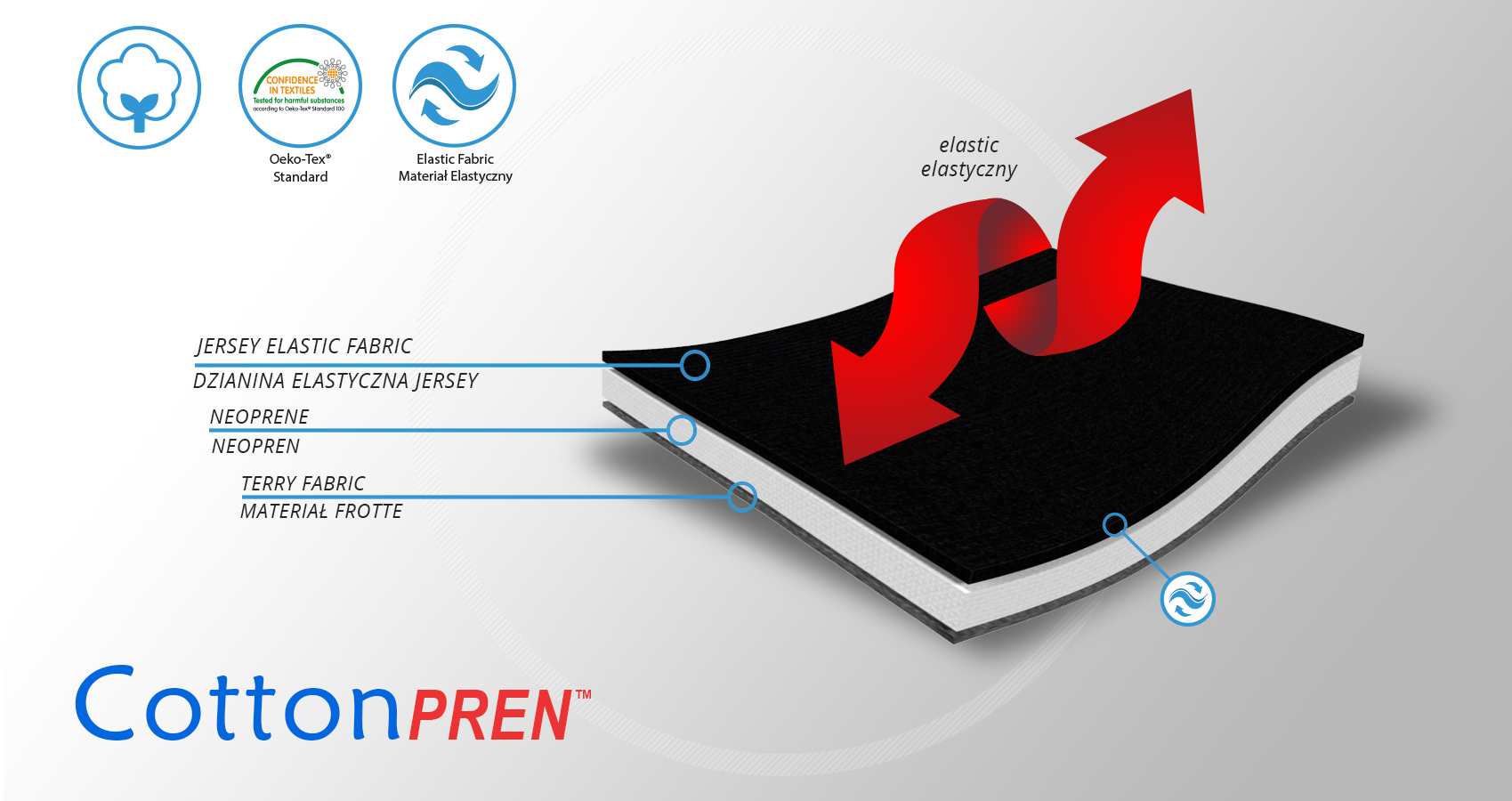 CottonPren™ is innovative and skin-friendly lamination. The devices, made of this material, provide excellent compression, good fitting and absorb shocks in joints and muscles. CottonPren™ is 3-layered spacer fabric consisted of external spandex with neoprene inside. This fabric is made of comfort neoprene foam with polyester lining and internal elastic terry. The skin has contact with CottonPlush, providing high air permeability and maintaining the skin dry. this layer is skin-friendly what Oeko-Tex Standard 100 approved. It's soft and elastic what improves the compression. The fabric is very durable and can be washed time and time again without any loss of the elasticity. It makes your skin dry and it's environment-friendly, because doesn't contain chlorine.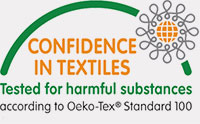 Our long knee brace supports the joint in case of sprained, strained or dislocated knee and also as a prevention. It is equipped with two, anatomic shaped aluminum splints with 2R drop lock. This hinge offers full range of motion control in each 20 degrees.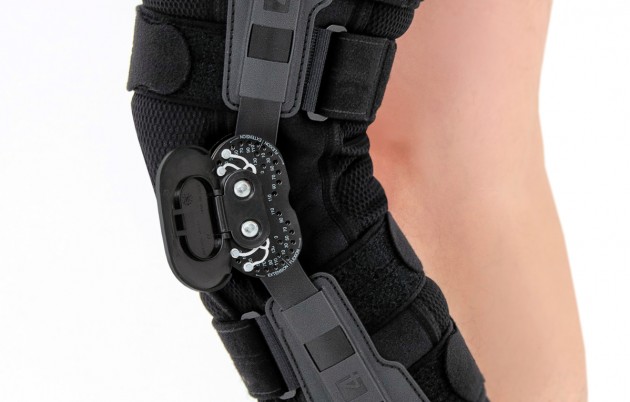 What's more, the hinge has special metal spring which creates excellent hyperextended joint mechanism. This solution absorbs shocks and prevents against sudden knee extension. It supports tissues and cartilage surfaces inside the knee joint, including both meniscus. Our knee brace OKD-02 prevents against knee hyperextension and does not limit the joint natural motion.
OKD-02 hyperextended knee brace is recommended to everyone who suffers from the knee instability. It prevents the knee hyperxtension, supports the joint and PCL ligament. Lateral stabilization provides excellent support for knee during activity and support of the meniscus reduces swelling and inflammation.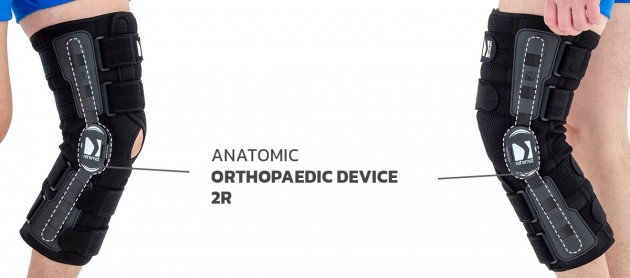 Purpose of use
- knee sprain and strain
- knee dislocation
- knee fractures
- sprained and torn ligaments (ACL, PCL, LCL, MCL)
- knee inflammation
- meniscus injury
Available sizes
Size
(A) Thigh circumference 15 cm above the center of the patella
(B) Calf circumference 15 cm below the center of the patella
How to measure
S
40 – 44 cm
30 – 34 cm
M
44,5 – 48 cm
34,5 – 38 cm
L
48,5 – 52 cm
38,5 – 42 cm
XL
52,5 – 56 cm
42,5 – 46 cm
2XL
56,5 – 60 cm
46,5 – 50 cm
Total length of the product: 46 cm
Fits for both legs.
Splints 2R – stabilizing splints with ROM adjustment
Splints 2R – double axis polycentric splints, with rack gear which reflects the anatomic knee movement. Such splints are used in all knee joint braces where apart from angle adjustment lateral joint stabilization is also important. The splints are manufactured with high quality of aluminium alloy with sanded, durable cover which is neutral to the influence of sweat and salt. Required flexion and extension angle in every 20° is set by using the special pins. The splints are equipped with special oval covers to prevent the pins from falling out as well as from changing of the angle by unauthorized people. Standard length of the splints is 390 mm, but the braces with longer splints are additionally equipped with lateral stabilization of the knee joint. The splint and its design are patented in European Union by Reh4Mat Company.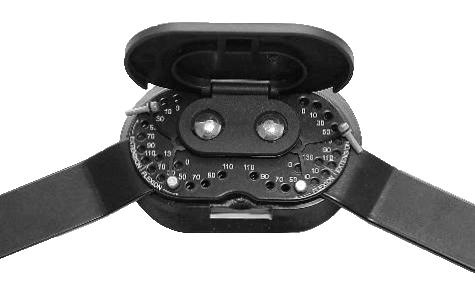 Downloads


Class I medical device in accordance with Regulation (EU) 2017/745 of the European Parliament and of the Council of 5 April 2017. on medical devices.