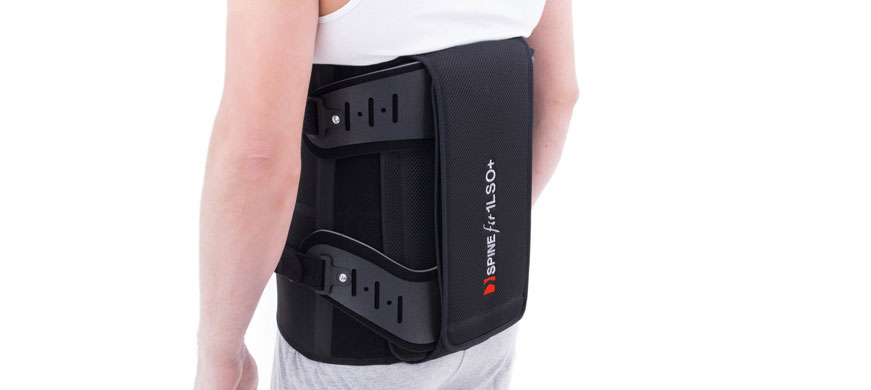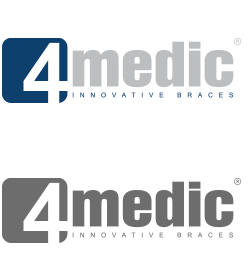 LSO

Breathable

Class I medical device

Durable

Full range of adjustment

Innovative

Latex-free

Minimum device - maximum effect

Recommended by specialists

Skin-friendly
SPINEfit 1LSO+
MODULAR ORTHOPEDIC ORTHOSIS
Description
ARE YOU A DOCTOR OR PHYSIOTHERAPIST? DON'T YOUR PATIENTS LIKE TRADITIONAL AND UNCOMFORTABLE JEWETT CORSETS?
ARE YOU LOOKING FOR DURABLE, STABLE BUT UNIVERSAL SOLUTION?
MEET OUR INNOVATIVE SPINAL ORTHOSES SYSTEM CALLED SPINEfit, THAT PROVIDES YOUR PATIENTS COMFORT AND SAFETY EVERYDAY!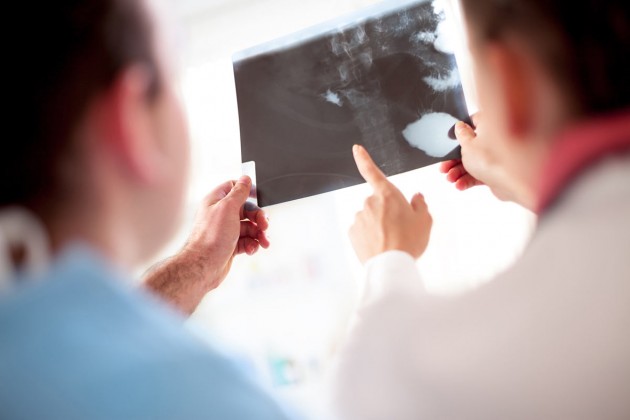 WHAT ARE THE MODULAR ORTHOPEDIC ORTHOSES SPINEfit?
SPINEfit corsets are innovative orthopedic orthoses for patient after spine injuries or conditions. This universal brace system bases on REH4MAT rule: MiniMax (minimum device, maximum effect). Our SPINEfit corsets provide excellent stabilization and great fitting.
Our orthoses are anatomic-shaped and off-loads the spine precisely.
Because of modular construction, you can add or remove unnecessary elements to achieve required stabilization, according to rehabilitation process of your patient. You are free to adjust required height or width.
This special construction makes our SPINEfit corsets really elastic, easy to adjust and very lightweight!
SPINEfit provides many interesting features such as time saving, great fitting and efficiency. That is why, it's the best solution for your spine!
Our braces SPINEfit are created to immobilize the spine in sagittal and partly frontal plane and to supports the backbone in the particular parts, depending on the condition.
MS-T-01/LSO PLUS – MODULAR SPINE ORTHOSIS SPINEfit 1LSO+
It's a very firm thoracolumbar brace with height and circumferential adjustment. The application area is from fifth thoracic vertebrae (T5) to fifth lumbar vertebrae (L5).
T5 – L5 STABILIZATION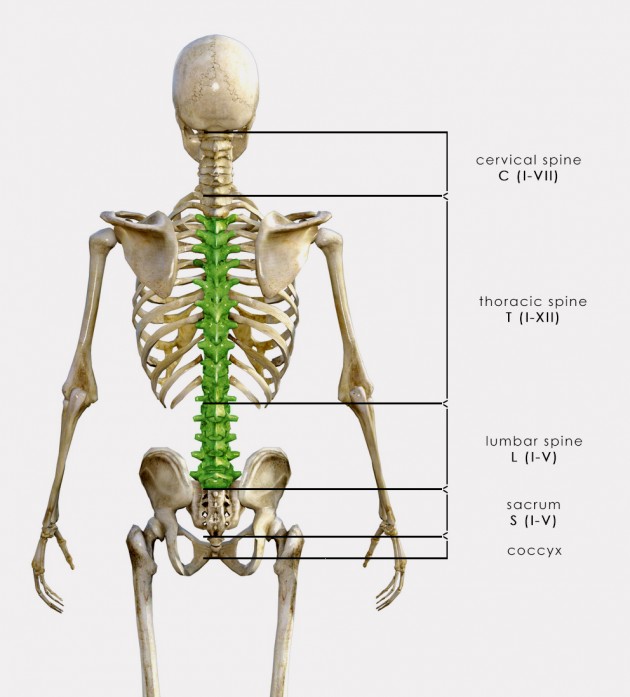 The orthosis doesn't extend over the rib cage anteriorly what allows patient to breath freely. Rear firm metal frame stabilizes thoracolumbar spine.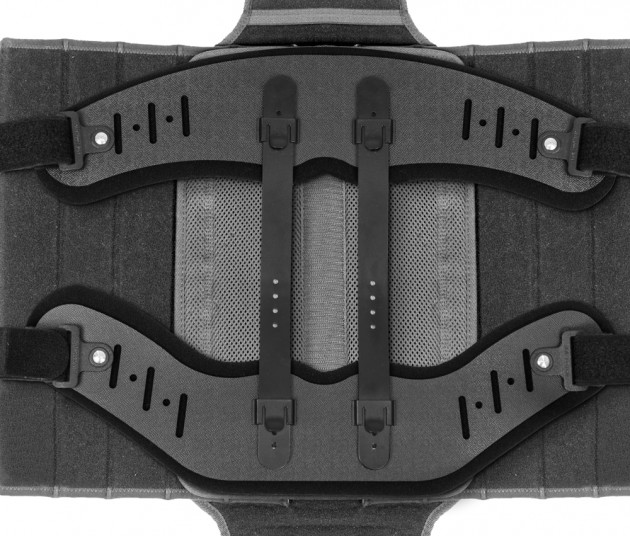 The rigid posterior construction, consists of 4 elastic elements made of plastic, provides a robust framework, to offer fitting to body precisely and stabilizing the backbone in the sagittal and frontal plane.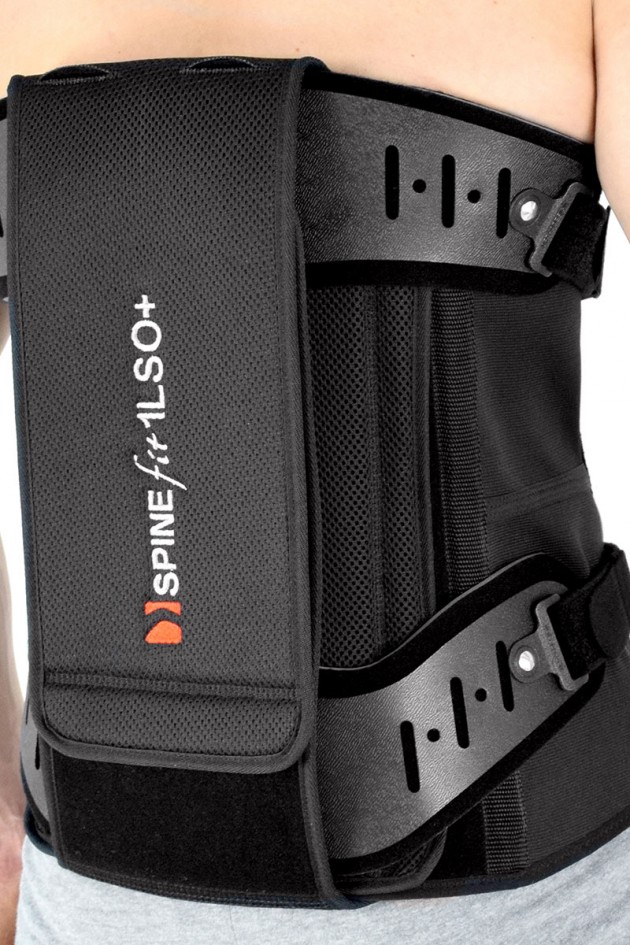 Spine thoracolumbar elastic brace is a compressive element of the orthosis. It's made of orthopedic rubber AirRubber, equipped with stays and orthopedic splints, straps and circumferential adjustment.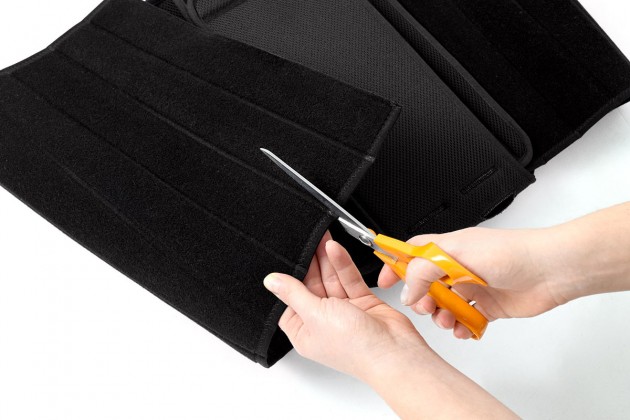 Rear metal frame with height adjustment has special cover, made of skin-friendly lamination ACTIVE EXPANSE. There is also possibility to adjust the brace's circumference.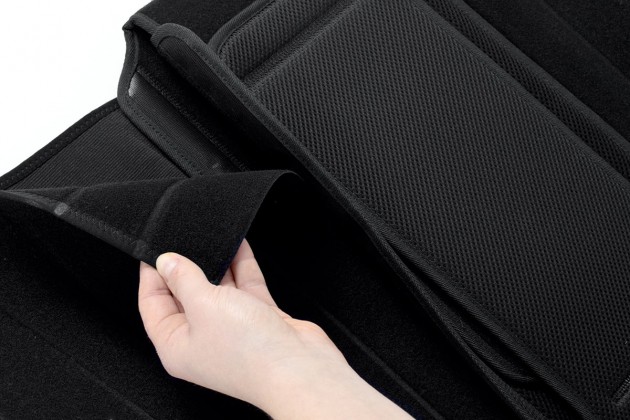 The plastic semi-rigid elements of SPINEfit 1LSO+ have removable polyamide buckles that allows to achieve patient's anatomic shape.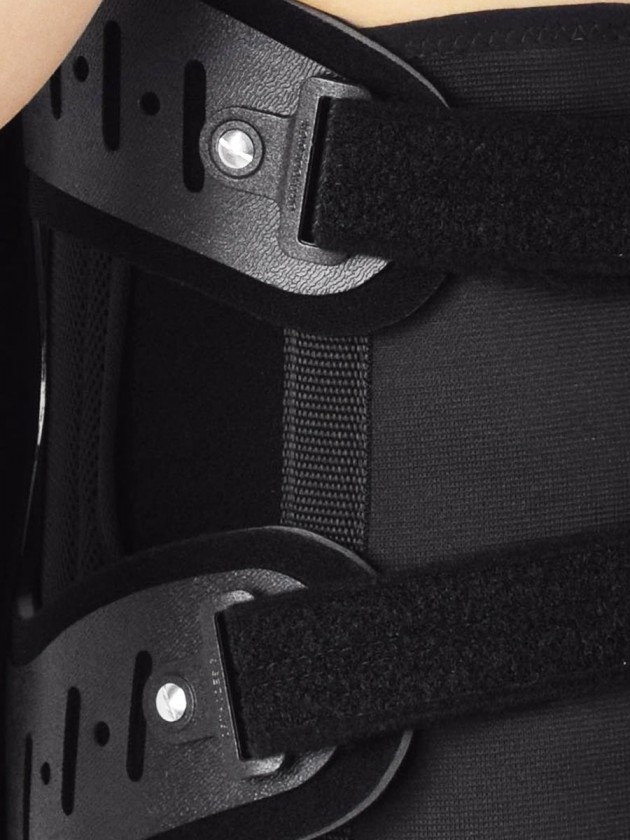 When you need to adjust the circumference you can remove the buckles and assemble them in the required place. When it's necessary, you can cut off the excessive part of plastic elements.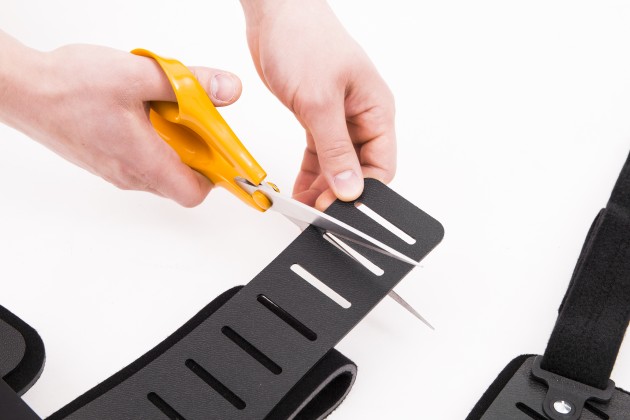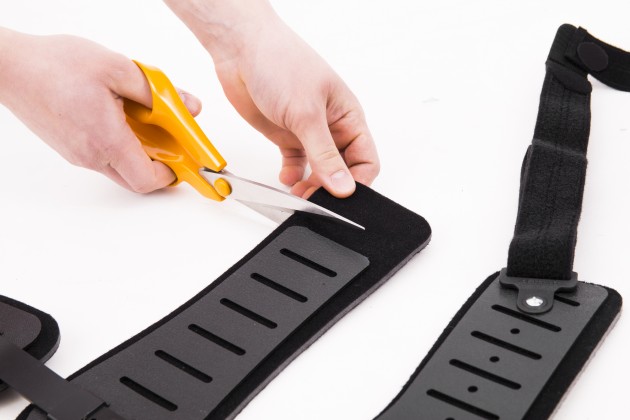 The buckles are connected with easy to attach straps with length adjustment.
Also, you can attach additional polyamide buckles in the front part of the orthesis, what improves the compression level.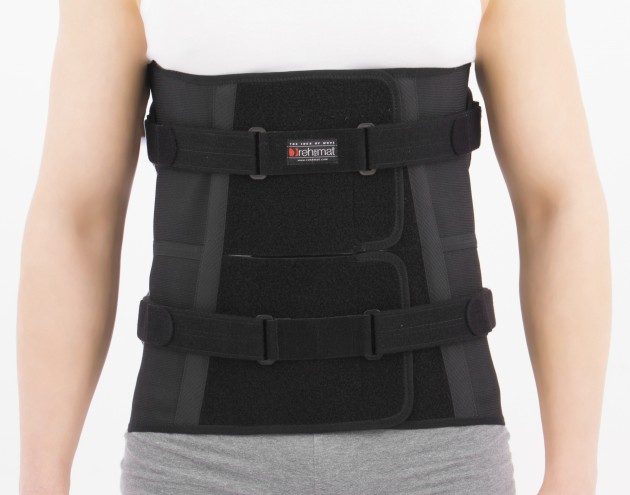 Different from the SPINEfit 1LSO, our brace SPINEfit 1LSO+ is two-part and has 2 independent frontal fastenings, what allows to adjust the level of compression of lower and upper abdominal parts.
MS-T-01/LSO PLUS – MODULAR SPINE ORTHOSIS SPINEfit 1LSO+ – characteristics:
Firm stabilization of thoracolumbar spine (L5-T9)
Elastic brace with circumferential adjustment
Free rib cage what allows to breath
Adjusted height of rear frame
Adjusted anterior straps
Easy adjusted and application
High durability
Perfect fitting for particular patients
Basing on MiniMax rule (minimum device, maximum effect)
Targeting therapy – support and immobilization only in the place of injury and pain. The brace doesn't limit the patient's range of motion where it's unnecessary.
SPINEfit 1LSO+ BRACE IS THE NEW QUALITY IN SPINE INJURY TREATMENT AND MANAGEMENT.
Purpose of use
Severe L-S and Th painful syndrome
Multi-level discopathy
Spine instability
Lumbar spondylolisthesis
Sciatica
Spine cancer
Thoraco and sacrolumbar degeneration
After surgeries (orthopedics, neurosurgery)
After cast immobilization
Some postural defects
MiniMax principle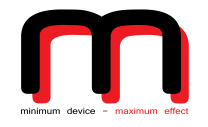 MiniMax is the first principle of REH4MAT that focuses on maximum effect in minimum device. Designing of our braces, we focus heavily on their effectiveness where, aside from functionality, the size of braces is significant. Unique constructions of our devices provide maximum safety and protection with little sizes. It allows to use comfortably our braces in sport shoes or under clothes.
Sizes
Size
Waist circumference
Distance from T5 to the coccyx
How to measure
M
65-145 cm
(25,6″-57,1″)
38-41 cm
(15″-16,1″)
L
45-48 cm
(17,7″-18,9″)
Gallery
Technology
MATERIALS
ActiveExpanse™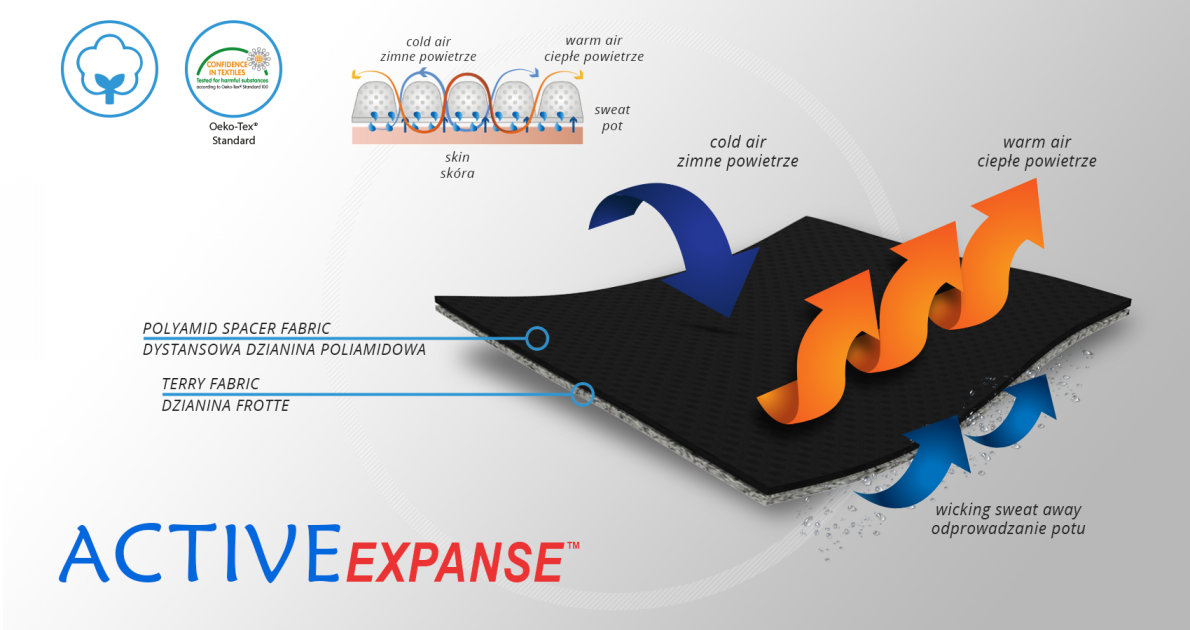 ActiveExpanse™ is an innovative, active 3D lamination with high air permeability. This spacer material is light made of 2 parts: external polyamide durable 3D layer and skin-friendly cotton layer with Oeko-Tex Standard 100 certificate. ActivExpanse™ is not elastic what improves stabilization. External 3D spacer layer is hypoallergenic and provides high air permeability and minimal water and moisture absorption. Our medical devices made of this fabric are very comfortable.
AirRubber™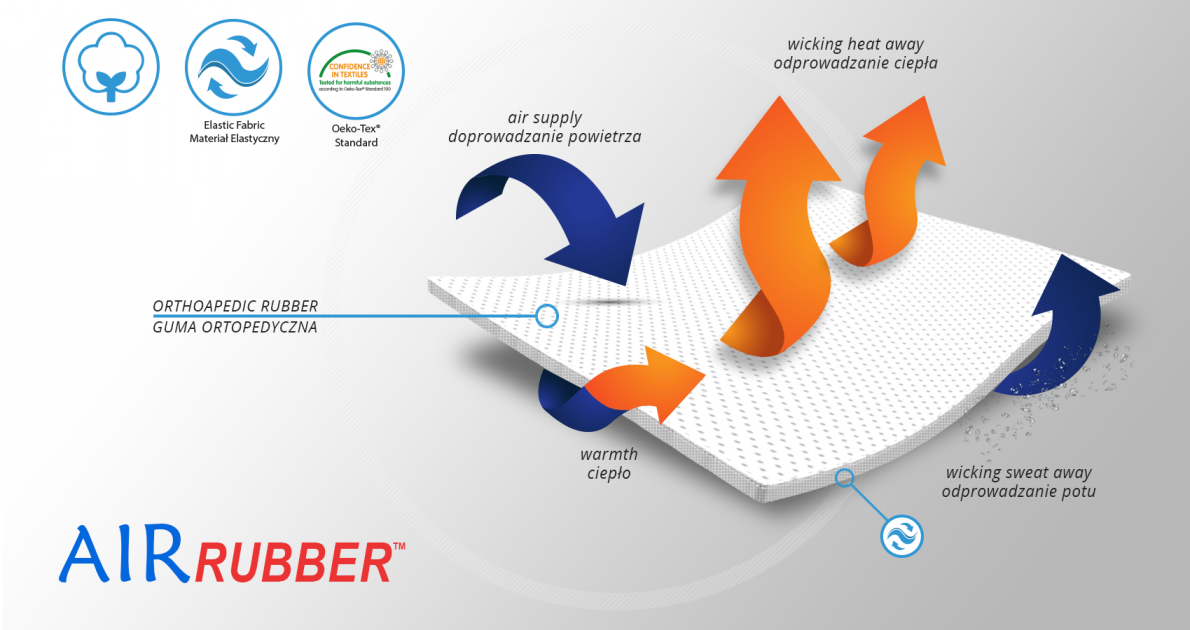 AirRubber™ has unidirectional elasticity and it's breathable. This lamination is perforated. Between the braids air flows freely and skin can breathe. In addition in high compression, these rubber braids provide a gentle massage for skin. Our orthopedic rubber is very friendly for skin.
STIFFENINGS
Plastic stays
They come in various widths and thicknesses, are made of various types of plastics, such as polyamide, ABS or acrylic, and these features determine their stiffness. Thanks to their design, they are resistant to water, moisture and sweat. Products equipped with them can be washed without having to remove them from the orthosis. Our plastic stays work only in one direction, perfectly stabilize the laterally protected part of the body, adjusting to it at the same time and have a memory function, thanks to which they always return to their original shape. This function causes the stays in the orthosis to stabilize the swollen limb immediately after the injury and after the swelling has come off. The plastic stays cannot bend and that is why, they cannot correct the body posture or the secured joint.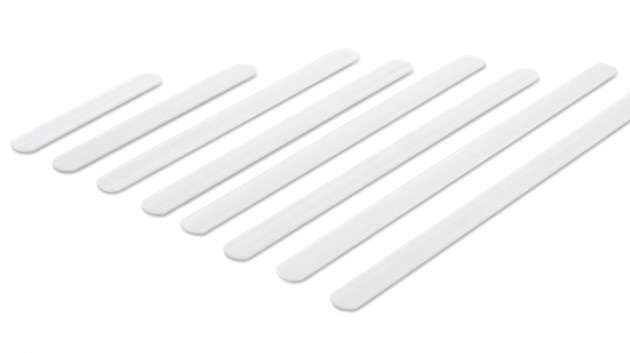 Spine frame with a regulation
The set consists of two elastic supports made of ABS, to which regulators for the spine splints are attached, two spine splints with adjustment holes and rotary buckles for attaching stabilizing belts. The spine splints are made of a special aluminum alloy which has been additionally covered with a durable powder coating that is neutral to the patient's skin.
Supports made of ABS
Setting up
Downloads
Accessories
ACCESSORIES / PRODUCTS TO BE USED WITH
ON OUR WEBSITE WE PRESENT MEDICAL DEVICES.
USE THEM ACCORDING TO THE INSTRUCTIONS FOR USE OR LABEL.


Class I medical device in accordance with Regulation (EU) 2017/745 of the European Parliament and of the Council of 5 April 2017. on medical devices.
MANUFACTURER / ADVERTISING ENTITY: REH4MAT SŁAWOMIR WROŃSKI