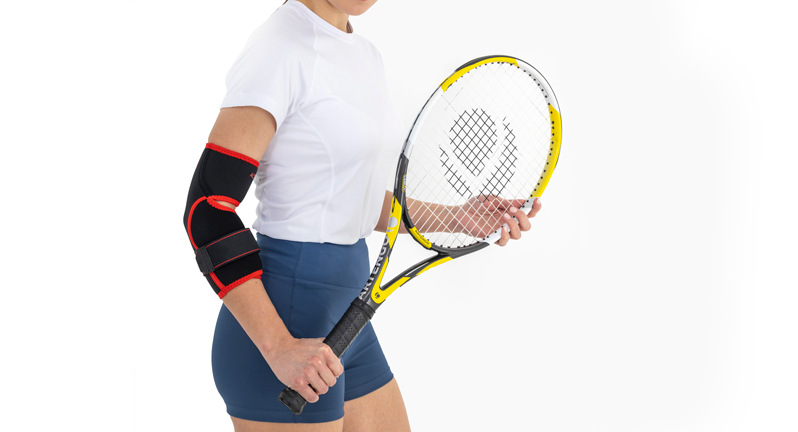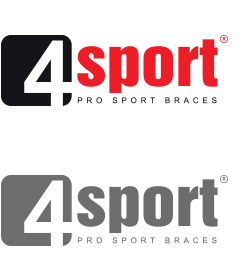 Elbow brace

Tennis/golfer's elbow

Breathable

Class I medical device

Compression

Silicone pad
ANATOMIC BRACE FOR TENNIS OR GOLFER'S ELBOW
Description
Tennis Elbow / Golfer's Elbow
Tennis elbow is the humerus lateral epicondylitis. It springs from an overuse of the extensor or supinator muscles of the forearm and wrist and it's caused by repetitive twisting of forearm and elbow and torqueing motions. The injury is called from tennis, because the backhand motion is the most direct impact of this condition, but it occurs in other sports.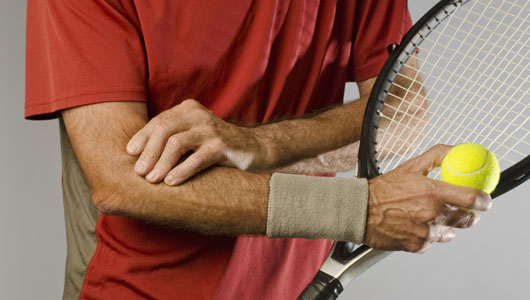 Golfer's elbow is the humerus medial epicondylitis. It is the result of overuse stress of the musculotendinous junction in the elbow's medial side. The origin of name is from golf, because a lot of clinicians believe that too strong grip of the golf's stick causes increase stress on the wrist flexor muscles and, simultaneously, on the tendon at the elbow. However, we can see this injury also in baseball or weightlifting.
The best solution to prevent and treat the enthesopathy is our elbow brace AS-L-01.
Product description
Elbow support AS-L-01 is made of AeroSpace III™ and ActivePren™.
What's more, our tennis and golfer's elbow brace AS-L-01 has special silicone insert providing therapeutic vibration with every move. It reliefs the tendon's pain. Depending on condition, the silicone insert can be attach on the lateral side of the joint (tennis elbow) or on the medial side (golfer's elbow). Besides, we use the special circumferential strap providing excellent compression and therapeutic efficiency of silicone in the inflammation area.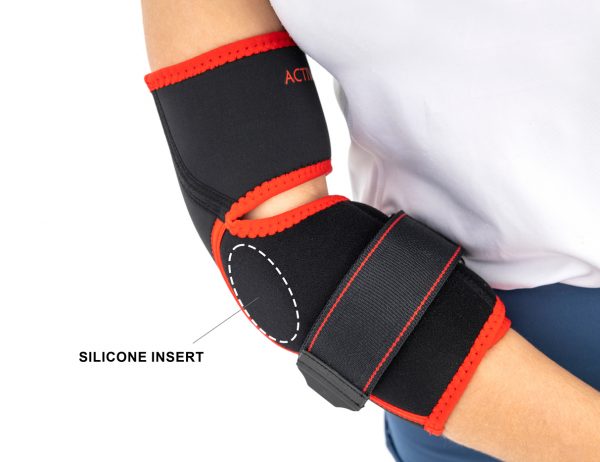 AS-L-01 elbow brace:
provides targeted compression
helps reduce pain and elbow strain
is comfortable and easy to apply
permits continued activity
Purpose of use
tennis elbow
golfer's elbow
elbow inflammation
Sizes
Size
Arm circumference
How to measure
XS
23,5-26 cm
(9,3″-10,2″)
S
26,5-28 cm
(10,4″-11″)
M
28,5-31 cm
(11,2″-12,2″)
L
31,5-34 cm
(12,4″-13,4″)
XL
34,5-36 cm
(13,6″-14,2″)
XXL
36,5-39 cm
(14,4″-15,4″)
Total length of the product: 25 cm (9.8″)
Gallery
Technology
MATERIALS
ActivePren™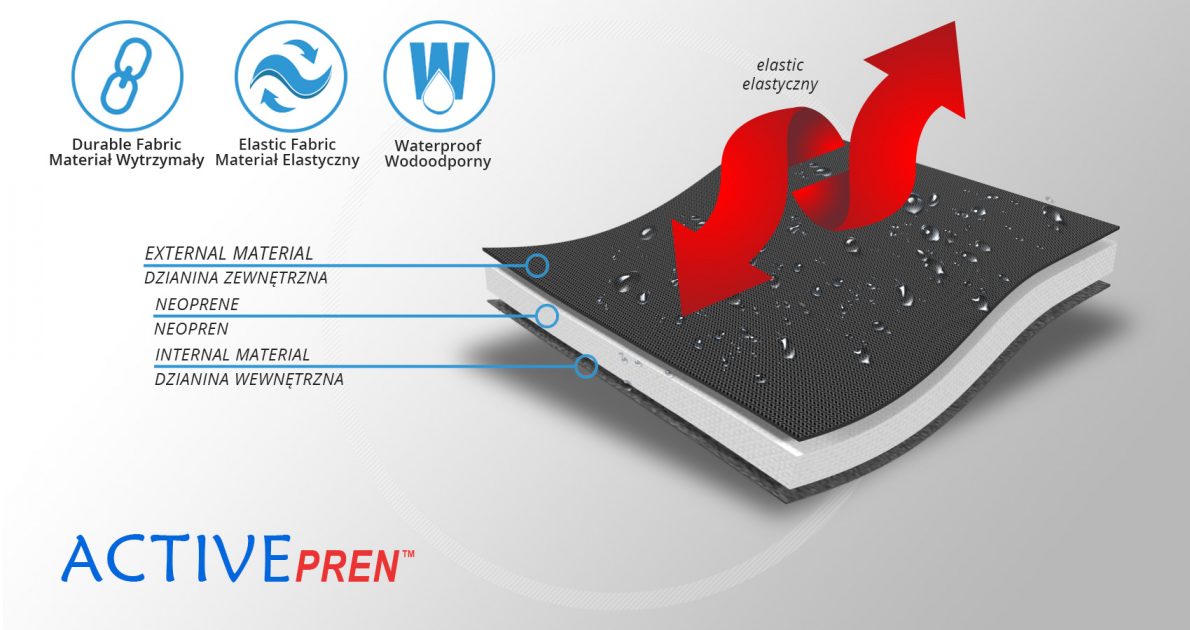 ActivePren™ is an active three-layer material consisting of two elastic jersey cover fabrics and a core made of neoprene foam. This material is characterized by softness and high flexibility. A very important advantage of this material is the fact that it is not a knitted product, it does not have thick fibers, so that the weaves of the material do not imprint on the patient's skin and do not cause abrasionsin places of high compression. Products made of ActivePren are the strongest and most effective stabilizing orthoses available on the market.
AeroSpace III™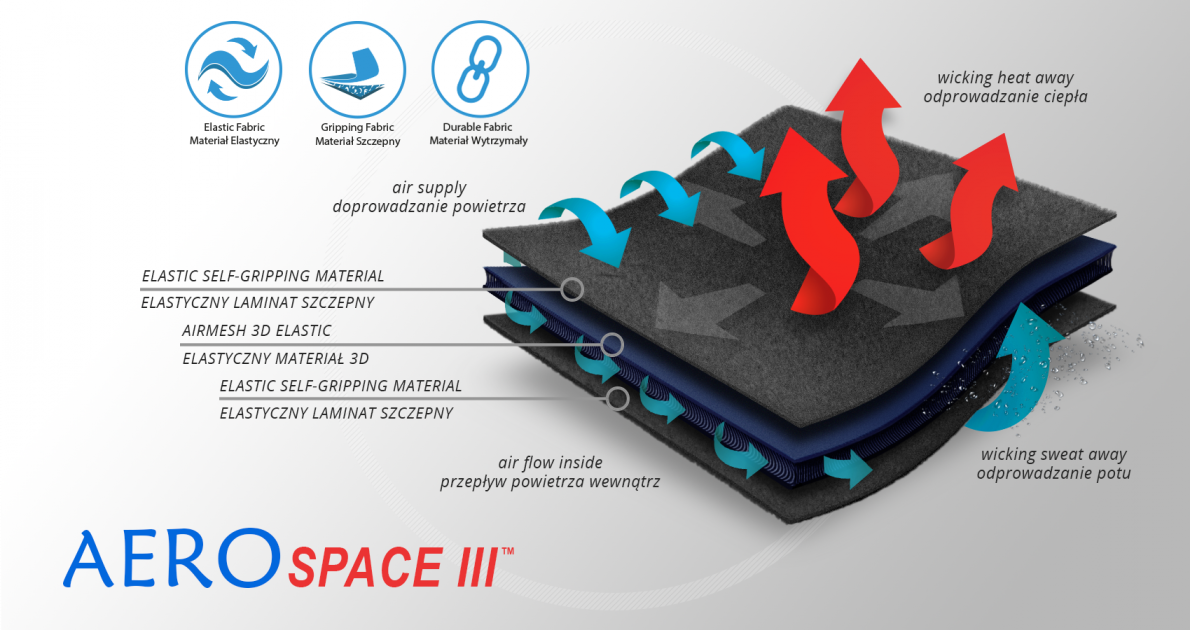 AeroSpace III™ is an innovative new generation raw material. It is a distance elastic 3D knitted fabric consisting of two layers of facings and an interlacing that creates the appropriate thickness of the raw material and has relieving properties. The knitwear is made of the highest quality polyester yarn - guaranteeing high mechanical strength and spandex ensuring its proper flexibility. AeroSpaceIII ™ has an external and internal self-gripping layer what makes it easy to adjust each product to individual patient's needs. This material is characterized by a very low weight, high flexibility and a very large openwork structure, allowing for very easy drainage of sweat from the body and bringing fresh air to the skin. Products made of this raw material are neutral to the secured joint, do not heat or cool it, but ensure its proper compression and fit and reduce muscle vibrations generated during physical exertion. Its thickness and 3D structure perfectly relieves the orthopedic splints, stays or other elements mounted on the product and guarantees velvety softness to the touch.
TECHNOLOGICAL SYSTEMS
PROTECT BY SILICONE

PADDINGS
Tennis elbow oval silicone pads
Oval silicone pads with massage function used to eliminate the effects of tennis elbow injury. These pads have an anatomical shape and are made of silicone with the appropriate hardness and elasticity, guaranteeing the proper therapeutic effect.
Downloads


Class I medical device in accordance with Regulation (EU) 2017/745 of the European Parliament and of the Council of 5 April 2017. on medical devices.