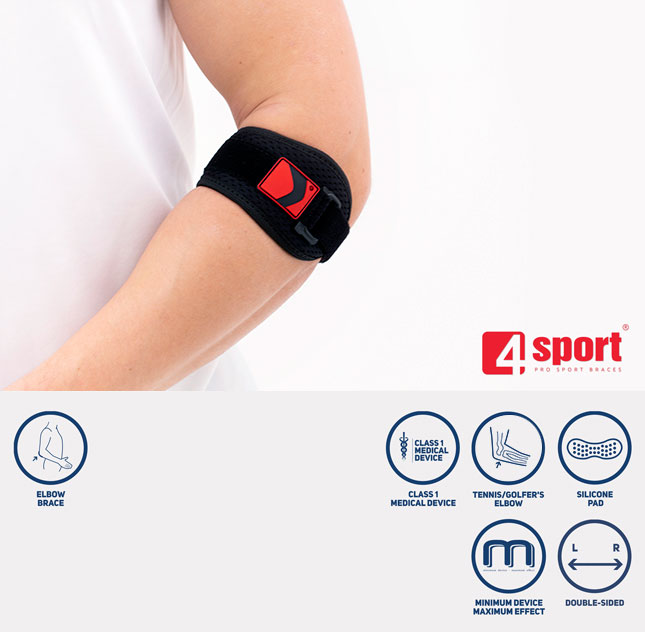 Tennis elbow brace
Product description
Tennis elbow develops as an result of lateral epicondyle inflammation in effect of forearm and wrist extensors and supinator muscle. It is called from tennis because it occurs in forehand movement but it's possible in other sports (baseball, squash) and non-athlete activities.
Golf elbow is caused by micro-injuries of the medial epicondyle. Patient suffers from inflammation and pain, sometimes severe, on the inner part of the elbow. A lot of researchers claim that too tightly squeezing the stick causes stress of the forearm and wrist flexors that is why we call this condition Golfer's elbow.
Innovative construction of AM-LX-02 brace allows the silicone pelottes pressure on the afflicted muscles and tendons. Clinical trails show that over 80% of our patients feel relief during using our elbow brace.
The pelottes make a pressure on the muscles insertions and micro-massage during performance. Polyamide clamp and VELCRO tape facilitate pressure force adjustment. One pelotte is mounted to the device but the second is adjustable what allows to set the brace precisely. After adjustment, it is necessary to remove the plastic security what mounts the pelotte in the required position for good and prevents against the brace slipping.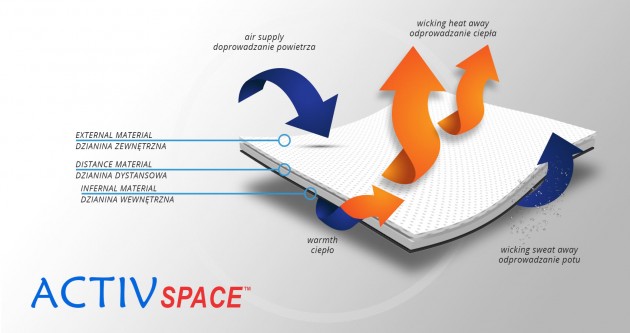 ActivSpace is a spacer, polyamide 3D lamination with high skin ventilation. It is very lightweight, consisted of 2 layers. Between them, we use polyamide braids with 4 mm width. ActivSpace is not elastic what improves stabilization. Inside the lamination, between 2 layers, the air flows freely, maintaining minimal water and moisture absorption. Waterproof material.
Purpose of use
Available sizes
Size
Forearm circumference
How to measure
Single size
min 22 cm - max 33 cm
(min 8,7″ – max 13″)
Downloads

Medical products class 1 – conforming the directive of the Board (93/42/EEC) concerning medical products. Producer of orthopedic and medical products, firm REH4MAT issued appropriate EC declaration of conformity.