The product is available while stocks last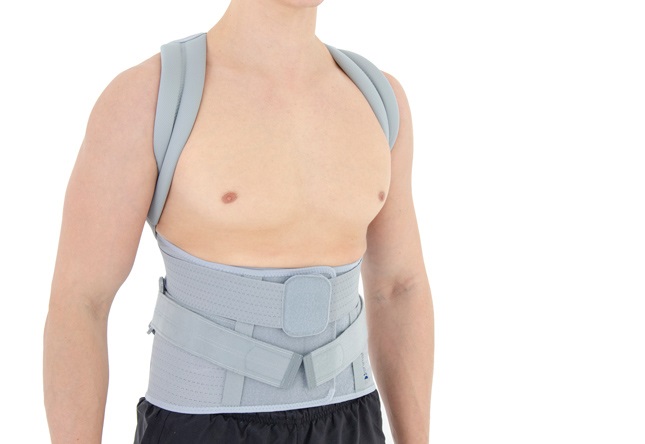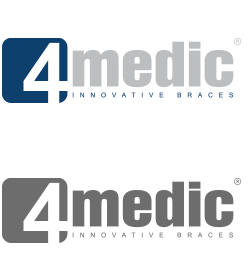 TLSO

Breathable

Class I medical device

Innovative

Invisible

Recommended by specialists

Skin-friendly
Two
TLSO BACK SUPPORT
Description
TLSO BACK SUPPORT with additional reinforcement was developed according to anatomical shape and to provide high level stabilization and immobilization of Torso-Lumbo-Sacral area of spine.
An asymmetric closure allows the perfect fitting on the patient body. The panel of closure is made of velcro laminate with comfortable semi-rigid foam located inside, additionally provided with two elastic whalebones. The system GRIP & OPEN makes the orthosis easy to assemble and disassemble.
The lateral sides are made of strong perforated orthopaedic rubber with unidirectional elasticity called AirRubber™.
The Back Support is provided with anatomically shaped metal stays (sweat-resistant coating), which quantity depends on the size; 2 or 4 metal stays and metal Frame for Spine.
The Back part of support is made of innovative Active3D™.
The brace was developed according to anatomic shape in order to provide the best fitting and to improve the stabilization level of dorso-lumbo-sacral region of spine. The shoulder straps pull back the shoulders reminding of correct position and offer full stabilization of front-back spine.
The systems of three layers elastic tensioners are designed to offer a greater support and stabilization on lumbo-sacral area.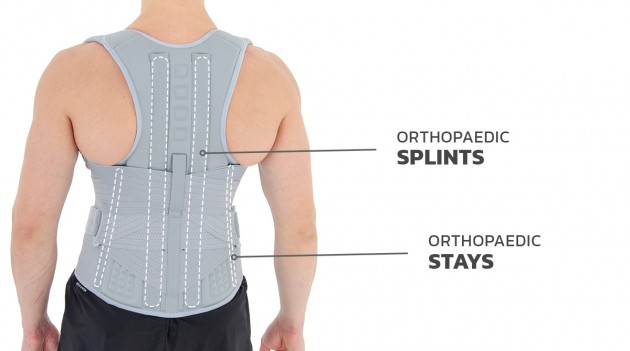 Properties
– PATIENT-FRIENDLY PRODUCT – The lumber support is made of cotton orthopaedic rubber containing mainly cotton which is neutral to the skin.
– HIGH EFFECTIVENSS OF STABILIZATION – thanks to the anatomically shaped nibs it was possible to achieve very effective stabilization of the chest and also loin-back area.
– SAFETY – the front securing tapes increase the safety of usage of the product and eliminate the possibility of the uncontrolled opening of the device.
– COMFORT OF USAGE – the product is skin-color therefore comfortable to use and hardly noticeable on patient's body. The stabilization of both: chest and loin-back area eliminates the necessity of usage of other less comfortable ortthopaedic devices.
Indications
– Pre- and Post-Surgical Stabilization
– Degenerative Spinal pathologies
– Disc Hernia
– Osteoporosis
– Spondylolithesis
– Spondylolysis
– Acute Back Pain
– Spine Instability
– Rehabilitation and Prevention
Sizes
Size
Waist circumference
Height (A)
How to measure
S
65-75 cm
(22,6″-29,5″)
43 cm
(16,9″)
M
75-85 cm
(29,5″-33,5″)
46 cm
(18,1″)
L
85-97 cm
(33,5″-38,2″)
49 cm
(19,3″)
XL
97-110 cm
(38,2″-43,3″)
52 cm
(20,5″)
XXL
110-125 cm
(43,3″-49,2″)
55 cm
(21,7″)
XXXL
125-145 cm
(49,2″-57,1″)
Size
Total height of the product
front
rear
S
20 cm (7,9″)
47 cm (18,5″)
M
50 cm (19,7″)
L
54 cm (21,3″)
XL
57 cm (22,4″)
XXL
59 cm (23,2″)
XXXL
Gallery
Technology
MATERIALS
Active3D™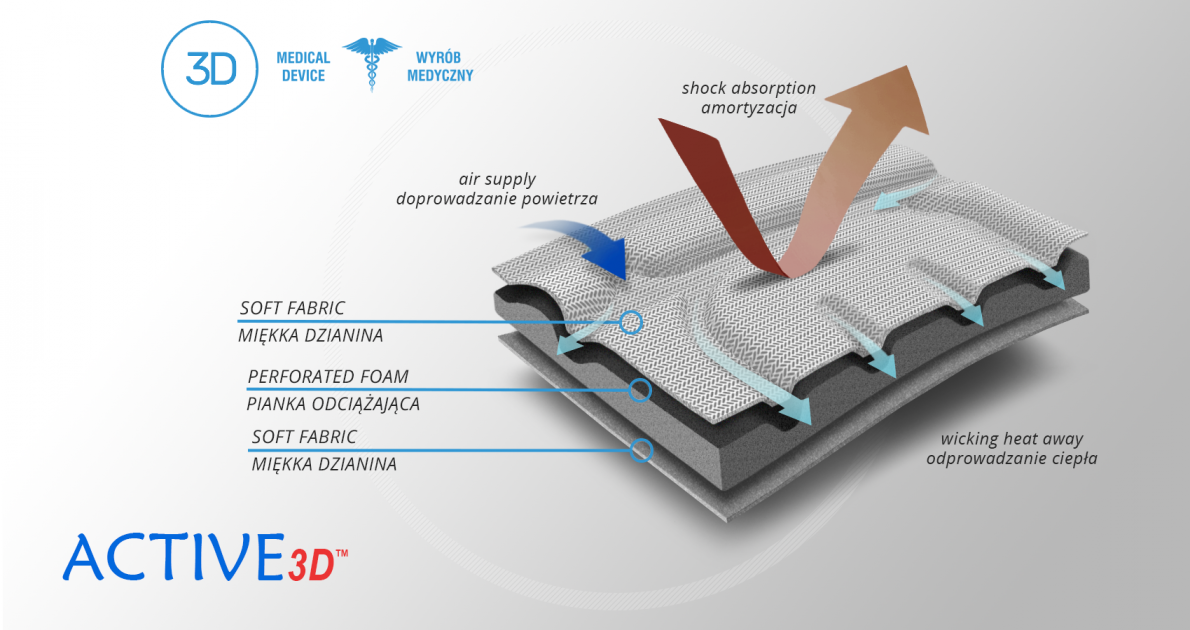 Active3D™ is thermoformed fabric made of special foamed, cell-closed designed material. It reduces the pressure on the body or any abrasions made by orthopaedic stays and aluminum splints. It is fully waterproof fabric and does not absorb sweat. It's easy to clean. Due to its features, the fabric is an excellent product for making medical orthopaedic braces and orthoses. ACTIVE 3D™ has various external self-gripping layers. Our material has special, thermoformed properties and may be shaped according to the functional goals of the final braces.
AirRubber™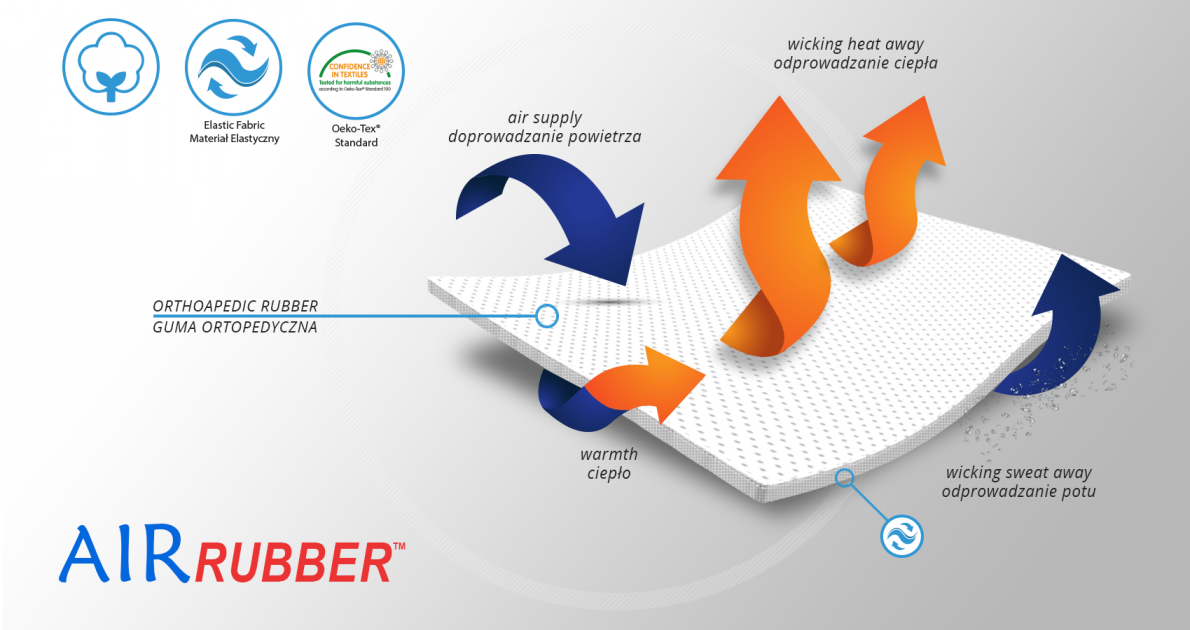 AirRubber™ has unidirectional elasticity and it's breathable. This lamination is perforated. Between the braids air flows freely and skin can breathe. In addition in high compression, these rubber braids provide a gentle massage for skin. Our orthopedic rubber is very friendly for skin.
STIFFENINGS
Orthopedic profiled stays
Orthopedic stays are made of special spring steel, covered with a plastic coating and have rounded and protected ends. They can come in various widths and thicknesses as well as different hardness. They can be pre-shaped or flat. They work in one direction and adapt to the shape of the body while stabilizing the laterally protected part of the body. They are perfectly protected against corrosion, so they are resistant to water, moisture and sweat. Products equipped with them can be washed without removing them from the orthosis. They adjust to the body. The orthopedic stays cannot bend and that is why, they cannot correct the body posture or the secured joint.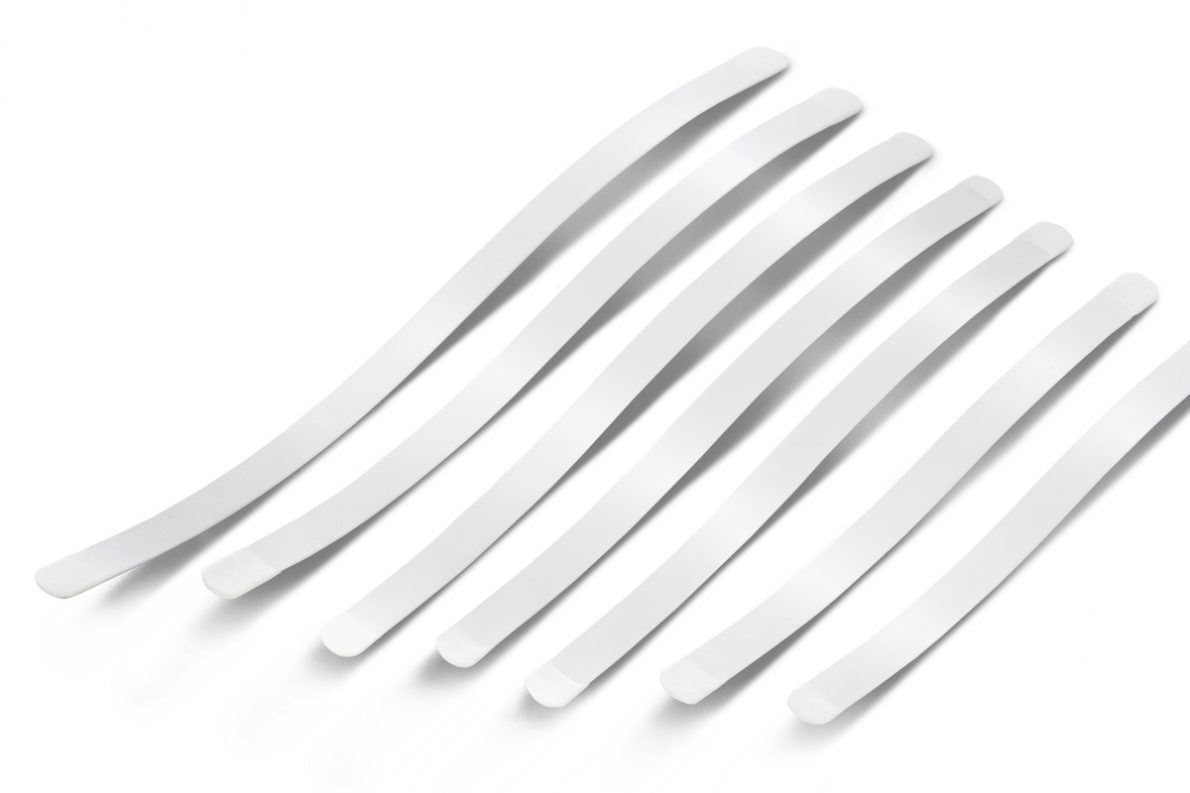 Plastic stays
They come in various widths and thicknesses, are made of various types of plastics, such as polyamide, ABS or acrylic, and these features determine their stiffness. Thanks to their design, they are resistant to water, moisture and sweat. Products equipped with them can be washed without having to remove them from the orthosis. Our plastic stays work only in one direction, perfectly stabilize the laterally protected part of the body, adjusting to it at the same time and have a memory function, thanks to which they always return to their original shape. This function causes the stays in the orthosis to stabilize the swollen limb immediately after the injury and after the swelling has come off. The plastic stays cannot bend and that is why, they cannot correct the body posture or the secured joint.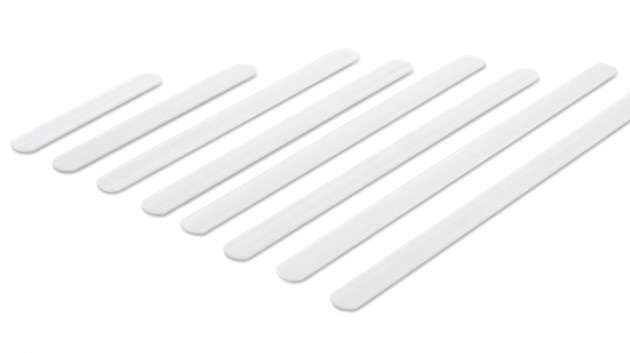 Profiled aluminum stays, spine stabilizers
These are splints and orthopedic stays of various thickness and width, which are made of various types of aluminum alloys. All these splints and stays, before mounting to a given orthosis, have been pre-profiled, which allows for fitting the product to the body of a specific patient. However, for the correct operation of the device, they should be precisely bent to the patient's body by an orthopedist, physiotherapist or orthopedist technician. Only this action guarantees the proper protection and support of the patient's body.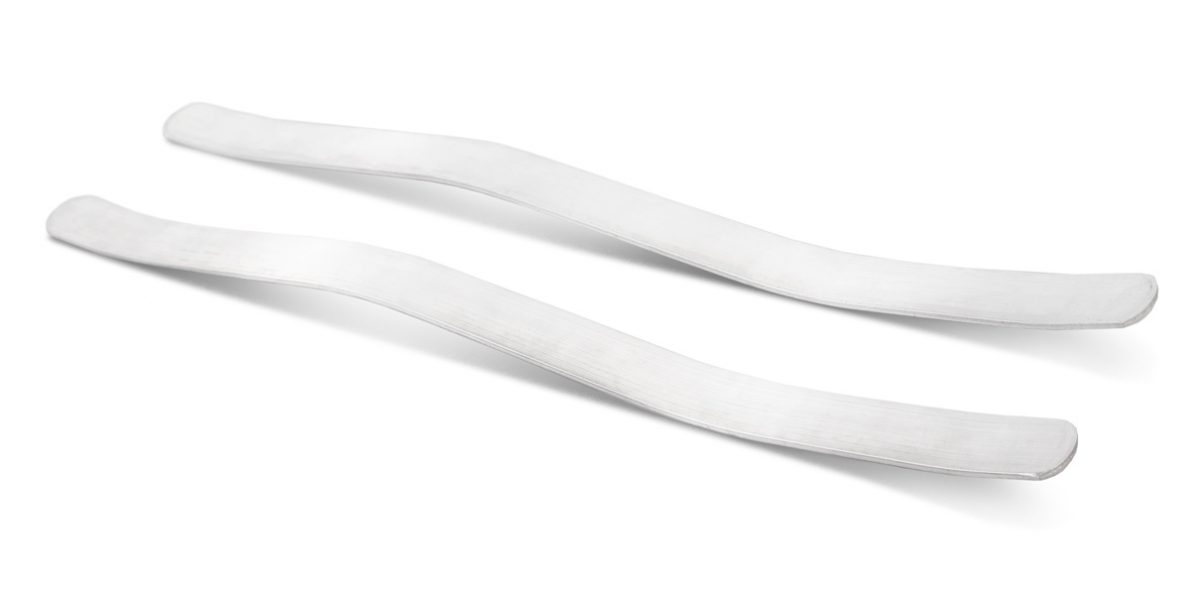 PADDINGS
3D supports
3D relief supports are independent technical solutions to relieve the rigid elements of a given orthosis. These elements are made of supporting foams or EVA foam. These foams are connected with various types of skin-friendly materials and materials with an adhesive function. These pads have the appropriate shape and color adapted to the type of orthosis. They relieve both metal elements of orthoses, such as splints, stays, underwires and orthopedic drop locks, as well as other elements that should not come into direct contact with the patient's skin. These pads have an anatomical shape and are made of comfortable foam with proper hardness and elasticity, guaranteeing the proper therapeutic effect.
Downloads
Accessories
ACCESSORIES / PRODUCTS TO BE USED WITH


Class I medical device in accordance with Regulation (EU) 2017/745 of the European Parliament and of the Council of 5 April 2017. on medical devices.